Lucha Libre Volcanica entertains Puget Sound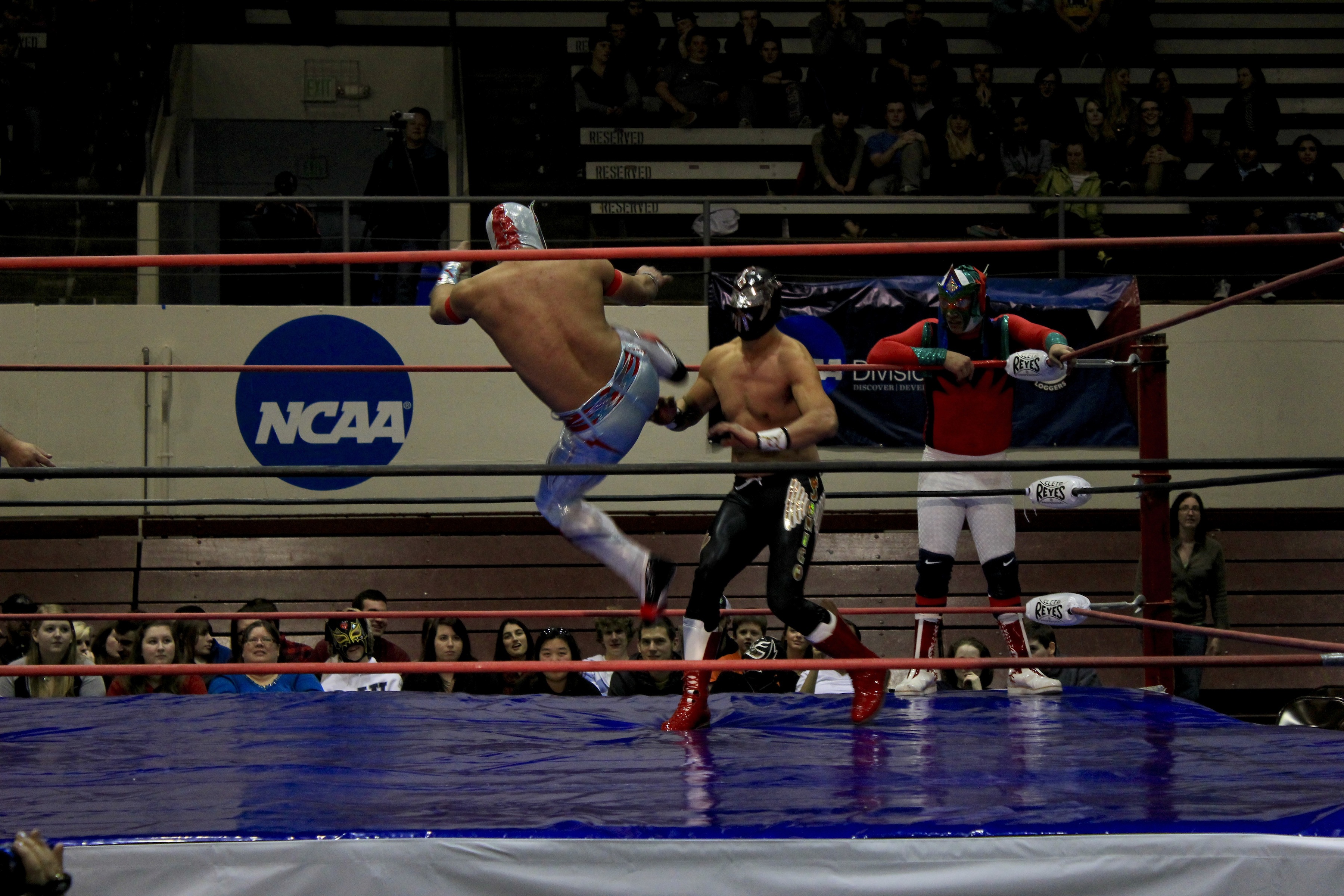 Spandex. Dropkicks. Masked heroes. High-flying action. On Saturday, Feb. 19, the University of Puget Sound's Fieldhouse was treated to a performance by Lucha Libre Volcánica.
Based in Renton, Wash., Lucha Libre Volcánica is the premier Lucha Libre troupe in the Pacific Northwest.
Club coach Jose Gomez began his career by touring Mexico as a professional wrestler for years. Gomez was one-half of the team known as Los Guerreros del Futuro. After moving with his family to the Northwest, Gomez began the club in October 2010. What began as lessons for two students has grown to a club of more than 20. Gomez trains his fighters in a small makeshift wrestling-ring in his garage.
After much planning, Gomez's brother lined up a show with the University of Puget Sound. One of the wrestlers is a member of CHispA (Community for Hispanic Awareness) as well as the Puget Sound Circus Club (the wrestler's name is not shared in order not to reveal his Lucha identity.)
Puget Sound's Circus Club has a good relationship with Lucha Libre Volcánica, and according to club president Phillip Brenfleck, "A few people in Circus have been 'roped' into doing Lucha in the past and really enjoy it…. The whole community is really friendly."
After hasty preparation, Circus Club began doing a lot of advertising for Lucha De Sound and even performed an "ambient" routine including handstands and acrobatics before the wrestling started.
"While the organization of the event was a little last minute, it was an absolute blast and my performers loved it," said Brenfleck. "A lot of people came up to them and said things like 'I don't know how you do it, but that was absolutely amazing. You rock!' CHispA was incredibly accommodating and even saved my kids front row seats."
Eventually the time came for the main event. Puget Sound students, as well as a surprising number of community members, flooded the gym and took their seats in the chairs surrounding the ring as well as in the balcony on each side.
Students were highly enthused by the prospect of Luchador wrestling, and it did not take much encouragement to get students off their feet and cheering for the wrestlers.
Onlookers were treated to high-flying kicks from wrestlers such as Peligro, La Bestia and Aguila del Sur" They were transfixed by the massive jumps from the ring corners from wrestlers such as Corazon de Aguila, Vagabundo and Wolverine.
Wrestlers smashed each other over the head with chairs, exchanged menacing punches and gripped one another in torturous holds. At the end of the night, it seemed that the audience had had their fill of high-flying, acrobatic, violence.
As the night came to an end, most students were satisfied, and the night ended up being a very successful one, despite being free.
"We helped them solicit the donation boxes around the audience before and after the show," Brenfleck said, "and as far as I know, the amount of donations they got for the event was incredible."
With the help of Circus Club, CHispA and Lucha Libre Volcánica, Puget Sound was able to celebrate a rich Hispanic tradition.
PHOTO COURTESY/DYAN WITWICKI
Tags :
live entertainment
Puget Sound
Tacoma