Dr. Hulbert celebrates 25th year at Puget Sound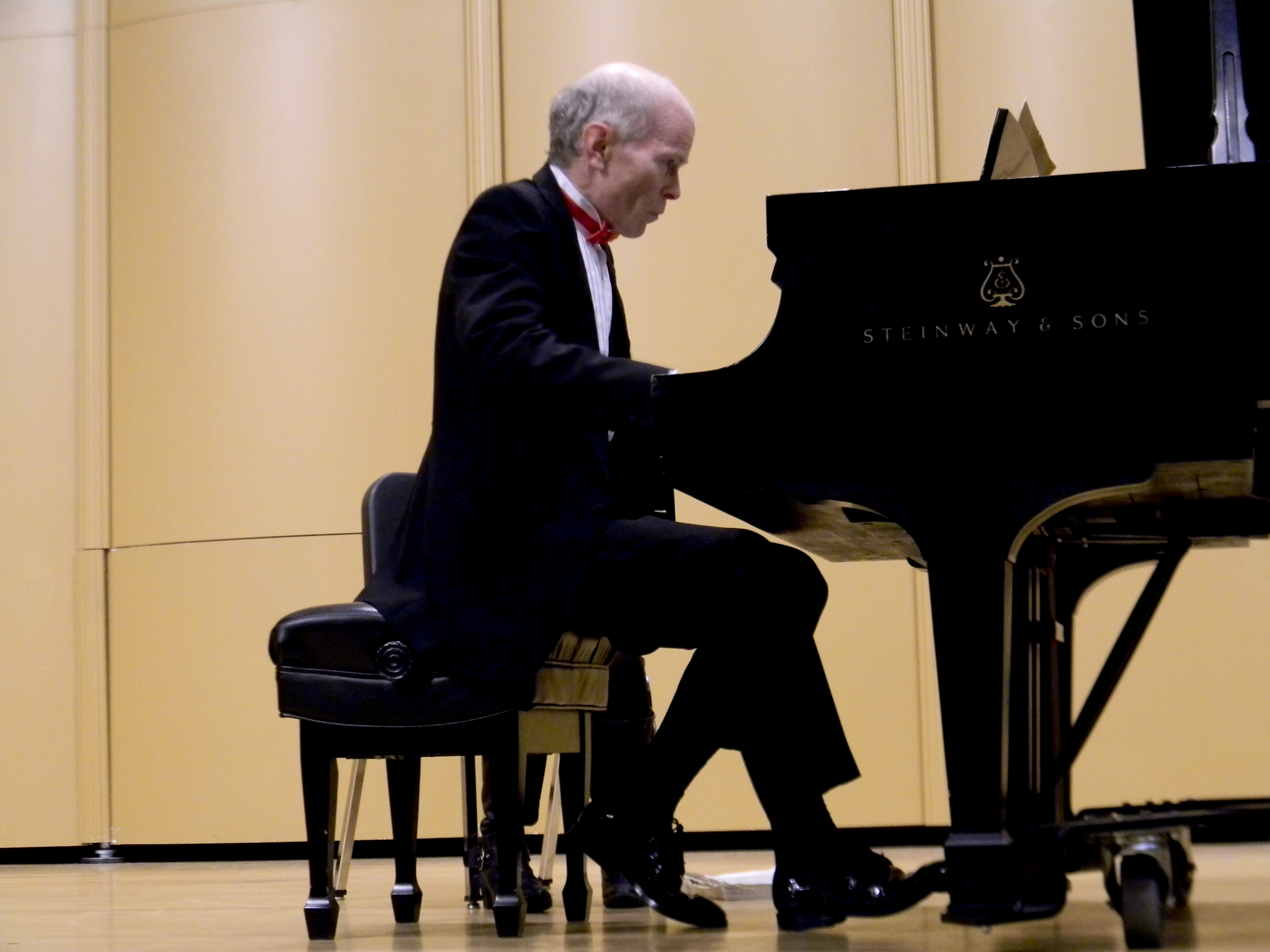 Hulbert performs Liszt for the composer's 200th birthday and his own 25th year here.
"I just want to get a show of hands, how many people have been here with us since 1986?" Nearly 50 people in the audience raised their hands. "Quite a few of you…thank you so much for being here," Dr. Duane Hulbert said as he sat down to perform his last two pieces of the night.
Nov. 4 was no regular night for  Hulbert, a Grammy Nominee and the School of Music's Piano Department Head.
Not only was it a celebration of Franz Liszt's 200th birthday, it was also Dr. Hulbert's 25th anniversary at University of Puget Sound. To commemorate the event, Hulbert played a solo piano concert for a sold-out Schneebeck Auditorium.
The concert began promptly at 7:30, at which point Hulbert, wearing the concert standard tuxedo styled with a bright red bowtie and matching cummerbund, emerged to uproarious applause.
After bowing several times the audience quieted and Hulbert explained the music he would be performing, saying he had initially intended to perform all Liszt, but after some deliberation decided to split the set in half, performing three "appetizers" by various 19th century composers before diving into the all-Liszt second half.
Four of the seven pieces performed were composed by Liszt, which Hulbert considered the "main course" of the evening.
The other pieces were composed by Franz Schubert, Alexander Glazunov, and Claude Debussy.
Hulbert began with the Schubert piece, Piano Sonata No. 13 in A major. Before he began, Hulbert pointed out that this particular sonata is commonly referred to as Schubert's "little" A Major Sonata, not to be confused with Schubert's more hefty A Major Sonata written shortly before his death in 1828. He also made note of its compact quality and short length (it runs close to 20 minutes).
No sooner than the first key had been struck did it become clear that  Hulbert is a performer in the purest sense of the word.
His body moved as the music moved, at times gracefully and at times not so. Focus emanated not just from his face but from his entire being; several times he slammed his foot onto the hardwood floor of the stage, unconsciously displaying his utmost engagement with the music.
At the end of his final piece, Liszt's Variations on "Weinen, Klagen, Sorgen, Zagen" from J.S. Bach's Mass in B minor, Hulbert was thrust backward from the piano into his seat.
Perhaps it was his relief which propelled him, or perhaps it was the force of the music which hurled him backward.
Two standing ovations and three curtain calls later, Hulbert returned to the stage one last time to thank the audience and play one final piece by Liszt.
After the performance Hulbert waited offstage to greet and thank concertgoers, which was quite an honor after such a profound performance.
Tags :
entertainment
music
School of Music