Poet Nikki Giovanni's energy fills Schneebeck Hall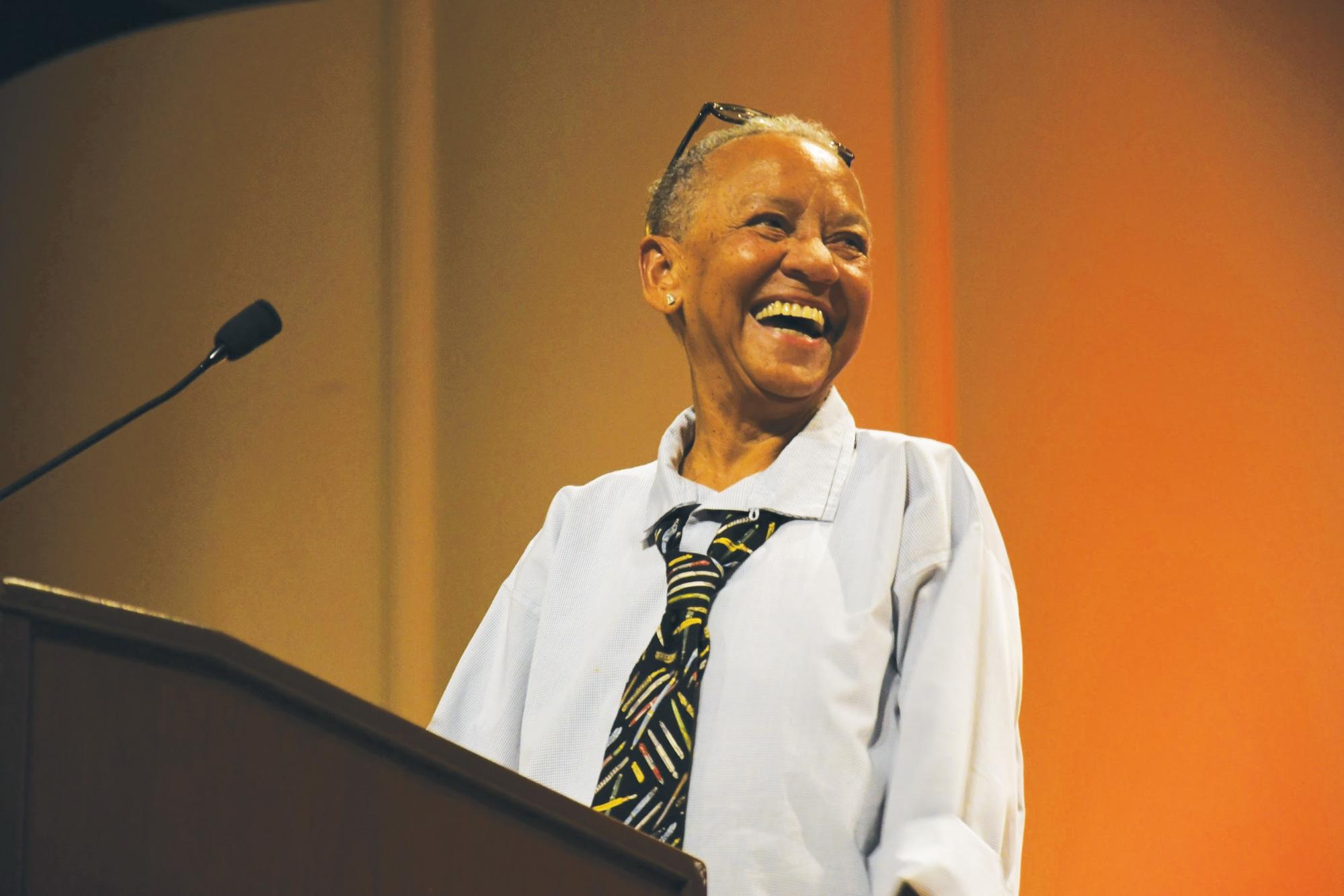 Giovanni laughs as she shares a story with the crowd — Photo credit to Rowan Segura
Late on Feb. 28 at Schneebeck Concert Hall, the University of Puget Sound hosted its annual Pierce Lecture, this year lead by renowned activist, poet and professor Nikki Giovanni.
The Pierce Lecture in Public Affairs and the Arts is the University's yearly series of lectures in honor of Susan Resneck Pierce, president emerita of the University of Puget Sound from 1992-2003. These lectures are "meant to stimulate a broad range of stimulating ideas on campus in conversation with leading public figures whose work has inspired and influenced how we live," President Crawford said when introducing Giovanni.
Giovanni is recognized as "one of America's foremost poets" by the Poetry Foundation. She has won seven NAACP Image Awards, was the first recipient of the Rosa Parks Women of Courage Award and was named Woman of the Year by Ebony, Ladies' Home Journal and Mademoiselle magazines. She was also named one of Oprah Winfrey's 25 Living Legends in 2005, and received both the Virginia and Tennessee Governor's Award for the Arts.
Today Giovanni is recognized as an avid activist as well as a poet and educator at Virginia Tech, where she has taught writing and literature since 1987.
Born in Knoxville, Tennessee, Giovanni grew up in the middle of the Civil Rights era, which influenced and shaped her poetry.
"I did a little picketing but nothing important and so I finally got kicked out of school because I was also doing a little partying," Giovanni said.
Despite Giovanni's modesty, her volumes of poetry, "Black Feeling, Black Talk" published in 1968, and "Black Feeling, Black Talk/Black Judgement" in 1970 are widely considered to be some of the most important volumes of African-American poetry.
Schneebeck Concert Hall was packed full with a mixed crowd of students, staff and residents of the wider Tacoma community in anticipation of the well-known poet. Giovanni did not disappoint.
In her lecture, Giovanni produced an eclectic whirlwind of touching personal narrative, political commentary and poems interspersed with jokes to which the audience responded enthusiastically with head nods, finger snaps, laughter and clapping.  
Fitting of the upcoming Women's History Month, Giovanni focussed on a personal, touching theme of the struggles of women of color and womanhood in general. Giovanni discussed her own struggles and trauma from domestic violence.
"What were you doing at 11 o'clock on Saturday? … I would say I was listening to my father hit my mother … and you're hearing this and hearing this. … I had to make it none of my business. … I learned I couldn't cry about it. … Only recently did I learn how to cry about it," Giovanni said.
Giovanni also highlighted the tender relationship she had with her mother as she finished with her piece "I Married My Mother."
"I'm a big fan of daughters," Giovanni said. "There's nothing like a daughter. … I don't think we say enough about having a daughter," Giovanni said.
Giovanni's lecture also addressed issues affecting other women of color, such as the struggle of immigrant women.
"I think it is an incredibly stupid thing that we're actually scared of some women and children who want to come to America for a better life," Giovanni said on the topic of immigration.
"I fly a lot … and I know the people who clean the bowls in the airports … are those women who come over here because they want their children to have the opportunity to come to Puget Sound," Giovanni said. She then read from "Raise Your Hand," a poem she wrote about those women and controversy over their tip jars in airport bathrooms.
"How many of you sitting here think some woman of color, black, brown, yellow, white woke up this morning thinking, 'Golly, I can go to the airport and clean some toilets'? Raise your hand," Giovanni said.
The lecture ended with a standing ovation. With a few closing comments, Giovanni was presented with a certificate by president of the Black Alumni Union (BAU), Regina Glenn. Visibly moved, Giovanni pulled out a tissue and dabbed at her eyes.
Following the captivating event, attendees filed into the Wyatt atrium across campus for a small reception and book signing.
Tags :
Lecture
Nikki Giovanni
Poet