Food drives give students the chance to donate before the holidays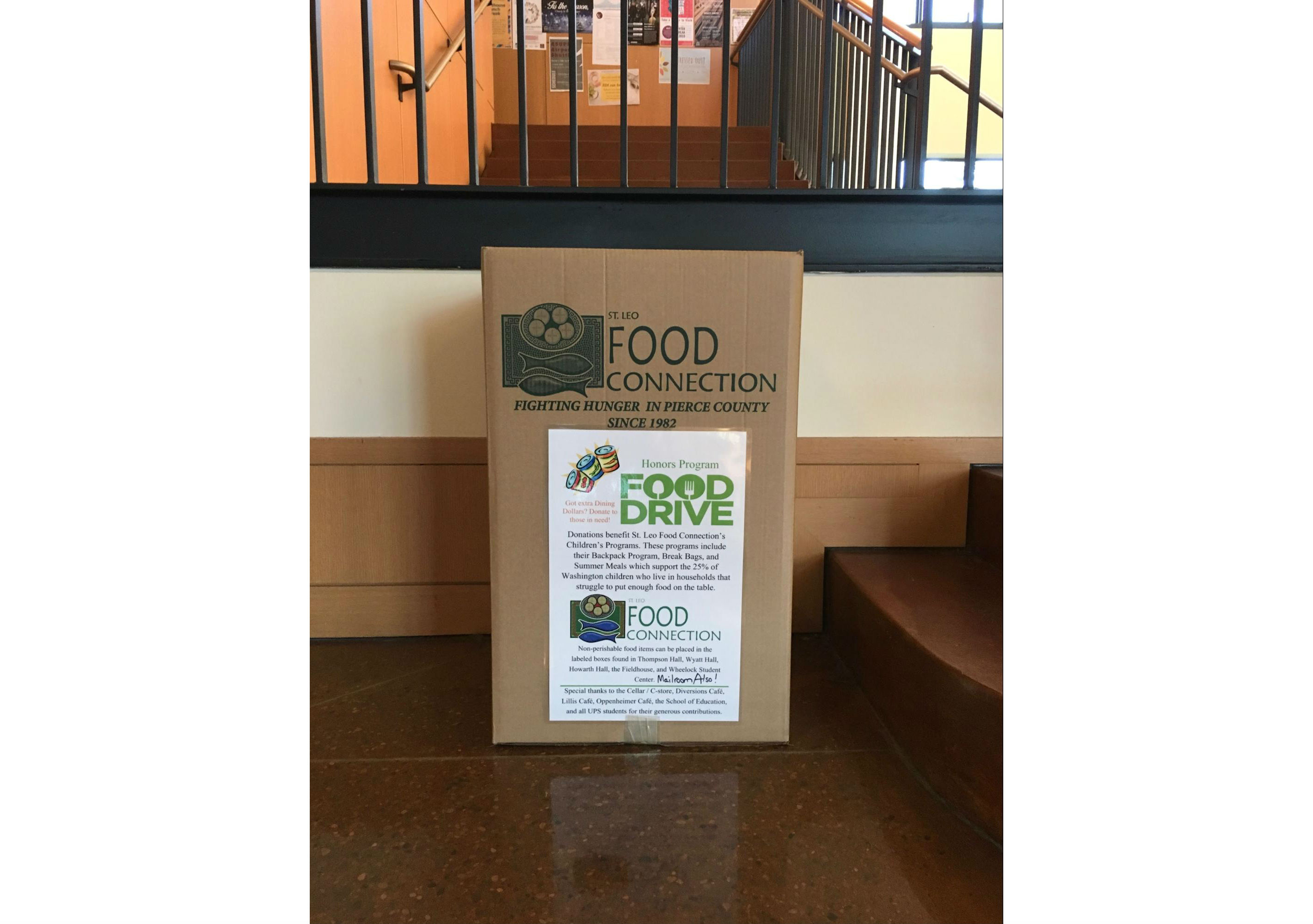 One of the Honors Program food drive boxes — photo credit to Emma Jones
In the giving spirit of the holidays, several places on campus are hosting food drives during the last week of classes to help local food banks gather more resources during the holiday season.
One of these food drives was the Food for Fines drive in the Library, where students could donate non-perishable food items and in exchange the Library took a dollar off of their fines.
"In support of National Hunger Week, the Library and Spirituality, Services, and Social Justice are co-sponsoring Food for Fines. Pay off your library fines with food instead of cash, Nov. 15-22. Donate to a worthy cause AND clean up your library debt at the same time. Bring in one can of food and we'll deduct $1.00 from your library fines," the library website reads.
This food drive supported the Emergency Food Network, a food bank that provides meals to families and individuals in Pierce County.
"Emergency Food Network provides 14.4 million pounds of healthy, nutritious food annually to 71 food pantries, meal sites and shelters for distribution to families and individuals in need," the organization's website reads.
"More than 1.3 million visits are made to food pantries in Pierce County each year. Emergency Food Network aided these visits by distributing more than 14.4 million pounds of food to the programs it serves. Each time a community member walks into a food program with nothing, Emergency Food Network ensures they walk out with enough food for nine meals," the website continues.
Though the Food for Fines drive is now over, the Honors program on campus is running a food drive in the last weeks of the semester. Students can donate their extra dining dollars to St. Leo Food Connection's children's programs.
"These programs include their Backpack Program, Break Bags, and Summer Meals which support the 25 percent of Washington children who live in households that struggle to put enough food on the table," the website reads.
The Honors drive happens from Nov. 23 to Dec. 14.
"The goal of the Honors Program's Food Drive for Hungry Children is ensure that excess food at UPS goes to feed those most in need. Students in the Honors Program work to make this happen by providing easy ways for Puget Sound Students with excess dining dollars to donate by setting up donation boxes across campus. These donations go to St. Leo Food Connection, which ensures that hungry kids have snacks and meals even if their household can't provide that food for them," Jed Pageler '20, one of the presidents of the Honors Advisory Committee, said.
"I think this is a fantastic way for students to see how they can easily give to others outside of our rather insular community, and Honors Students make those donations get there by collecting all of the different donated non-perishable foods. There are always students who end the year with too many dining dollars, and this is an easy way to make sure that those dining dollars don't go to waste!" he continued.
The Honors Food Drive has accepted some perishable items in the past as well, as long as they do not need to be refrigerated.
The food drives provide means for students to donate and contribute while also saving their own money and cutting down on food waste. By donating excess dining dollars or extra food in their cupboards, students can give food to those who need it. Before the semester is over, head to the Cellar, the Diner, Diversions, Oppenheimer or Lillis to buy non-perishable foods to donate to those in need!
Tags :
donation
food drive
Holidays