Student body diversity increases with the class of 2022: 'The work never stops'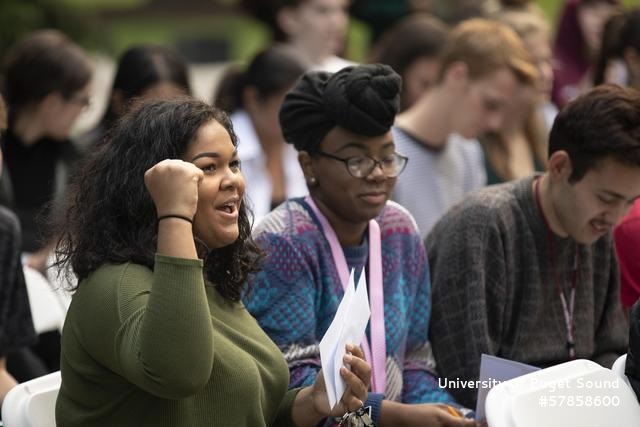 Photo credit to Sy Bean
Puget Sound's current first-year class is 32.5 percent students of color. This is the highest number of first-year students of color Puget Sound has ever seen. With a more diverse class of 2022, racial diversity has become a pressing topic.
Students at Puget Sound are concerned with issues of inclusion and representation, advocating for diversity and asking the administration to foster a more inclusive environment.
"We Acknowledge, We Aspire, We Act," is bolded in Puget Sound's diversity statement. Beneath each title is the University's diversity specifications of goals, aspirations and accomplishments.
"We aspire to increase the diversity of all parts of our university community through a commitment to diversity in our recruitment and retention efforts," the statement reads. Evidently this is true, as the percentage of first-year students of color has increased 7.5 percent since fall of 2016.
In 2006, Puget Sound displayed a commitment to prioritizing diversity by forming the Diversity Planning Task Force, and establishing a Diversity Strategic Plan. The Diversity Strategic Plan lays out Puget Sound's diversity goals, targeting things such as recruitment and retention, campus climate and community engagement.
The phrase "We continuously work to increase the structural diversity of the Puget Sound campus community" is prominently displayed under the recruitment and retention section of the plan.
Puget Sound has a few programs that are geared towards achieving the goals laid out in its diversity statements. In terms of increasing structural diversity, the University has formed the Tacoma Public School commitment program, the Access Cohort and has partnered with the Posse Foundation.
The Posse Foundation is an independent nonprofit that works to bring students of diverse backgrounds to higher education. Posse, in addition to Access Cohort and the Tacoma Public School commitment program work to increase racial diversity on campus.
The Access Scholars Cohort and Tacoma Public School commitment program bring local students to Puget Sound. The Access Scholars Cohort program gives students resources like faculty mentorship and strong financial aid. It also provides students a with a strong peer network, as the cohort includes between five and 10 students that are part of the program each year.
The Tacoma Public School commitment program "meets full demonstrated financial need," according to the University. This means that local students have access to strong financial aid services and their financial needs are prioritized.
Both of these programs are an effort to incorporate Tacoma's diversity into Puget Sound. Tacoma is a diverse place, but this is not represented on campus. The University of Puget Sound is about 73 percent white, while the Tacoma community is 59.7 percent white, according to Tacoma's Datausa profile.
Puget Sound seems to be feeling the effects of increased diversity among its student body. Earlier this semester students rallied at demonstration put on by the Black Student Union (BSU). The rally was in solidarity with the transgender community in response to the Trump administration's threatening statements.
Kelly Johnson, an organizer of the demonstrations, commented on the turnout of the event. Through a megaphone, they noted that BSU protests had been much smaller in previous years. This demonstration filled the entire dining hall. The growth in size of student demonstrations indicates that the student body is more willing to show solidarity for diversity.
However, questions of Puget Sound's hospitality towards diversity have been brought up in light of recent events. White supremacist posters saying "It's Ok To Be White" were posted by an outside group around campus on Oct. 31. Puget Sound addressed these posters a week after the incident, leaving students who felt attacked by the posters without institutional support for a short period of time.
Qiara Millen, the Director of Students interests for the Associated Students of the University of Puget Sound (ASUPS), spoke about Puget Sound's diversity. As a sophomore, Millen can see diversity in the incoming class comparatively. As both a queer black woman and the Director of Student Interests, Millen maintains an understanding of diversity on campus, but she asserts that her statements are not representative of everyone, they are solely her personal experiences.
"I feel that the class of 2022 is very diverse," Millen said. "I notice that I am not the only black person sitting in Diversions, that I am not the only person of color in my classes anymore."
She pointed out that Puget Sound does a good job of putting time and money into improving structural diversity on campus, citing the Posse Scholarship, the Access Cohort and the Race and Pedagogy Conference.
"University of Puget Sound has done a lot of work, but the work never stops," Millen said.
Tags :
class of 2022
diversity