KUPS 90.1 FM celebrates its 50th anniversary as the University's radio station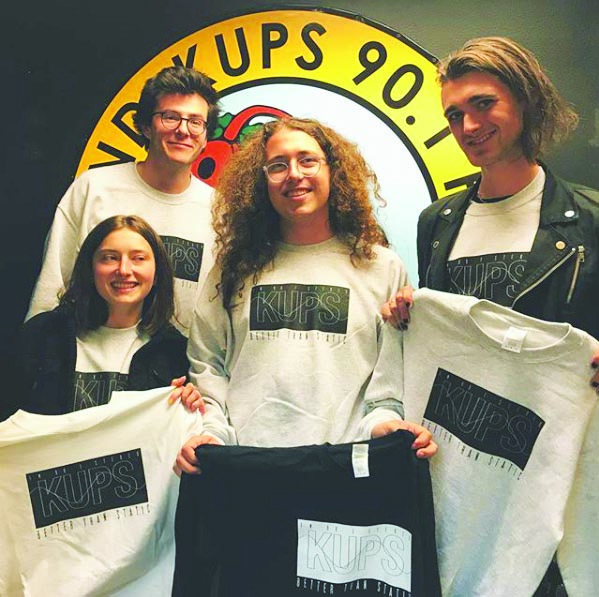 Pictured, current KUPS Core Staff members from left to right: Fiona Gredvig '19, Evan Welsh '19, Ezra Hecht '21, and Aidan Regan '19 — Photo credit to Sophia Munic
Fifty years ago, in 1968, when some Puget Sound students used the electrical wiring in their dorm buildings to create an antenna and broadcast within the buildings, KUPS was born. These students eventually broadcasted to the whole campus, but KUPS did not become an FM station until the mid-70s.
Having been around for 50 years, KUPS has won many awards, including the MTV "Woody Award" for Best College Radio Station in 2009, and has a strong connection with the Puget Sound community, putting on events and shows. The thing that distinguishes KUPS from other radio stations is its unique programming.
"We're looking for music that's unheard by most people, like if you have a huge interest in world music and you have a collection that you want to share. We had a show that was themed around female international rappers last year," Lawrence Huffines, the operations advisor for KUPS, said. "I like the idea of the students having to do research to inform the show. The cool thing is that if you're passionate about it you're going to have a great show."
KUPS likes to highlight its speciality programming, music that not everyone will be listening to. They spread out their programming so that there is a huge range of shows to listen to, from sex talk shows to ASMR to the Grateful Dead Jam Band hour.
"It's really rare to have a college radio station where we have so many genres and so many different feels to our music. That's what separates us from other college radio stations out there," Huffines said.
"One of my favorite shows was called 'Basement Bargain Bin' and they would play albums that they found in the $4.99 and under bin in the used record store. Every week it was something fresh and it really challenged DJs to go out and listen to new music, find new music, and it really made it a highlight of their week," Huffines said.
Some past shows have even made an effort to participate in social justice issues.
"We had one a few years back where we would talk to detained immigrants. We had an open line where we would have them call from the prison and we would actually connect them with their families," Huffines said.
Since 1968, KUPS has evolved beyond just a radio station and into a valuable sect of the Puget Sound community. "The unique thing about the KUPS community is that, while it can feel isolating to be in the booth physically alone, there are tons of people tuned into your show," senior and KUPS Specialty Music Director Fiona Gredvig said. "And, the KUPS network of DJs reaches into many different social groups on campus, so you have a shared experience with people you may not otherwise be connected with," Gredvig continued.
Nowadays, KUPS not only has a wide range of shows and a wide audience to accompany it, but they also sell merchandise, produce online content, run ticket giveaways and produce a zine each semester.
You can listen to KUPS Tacoma at 90.1 FM, or stream the station live on kups.net.
Tags :
Anniversary
KUPS