Attiba Ellis visits Puget Sound for Constitution Day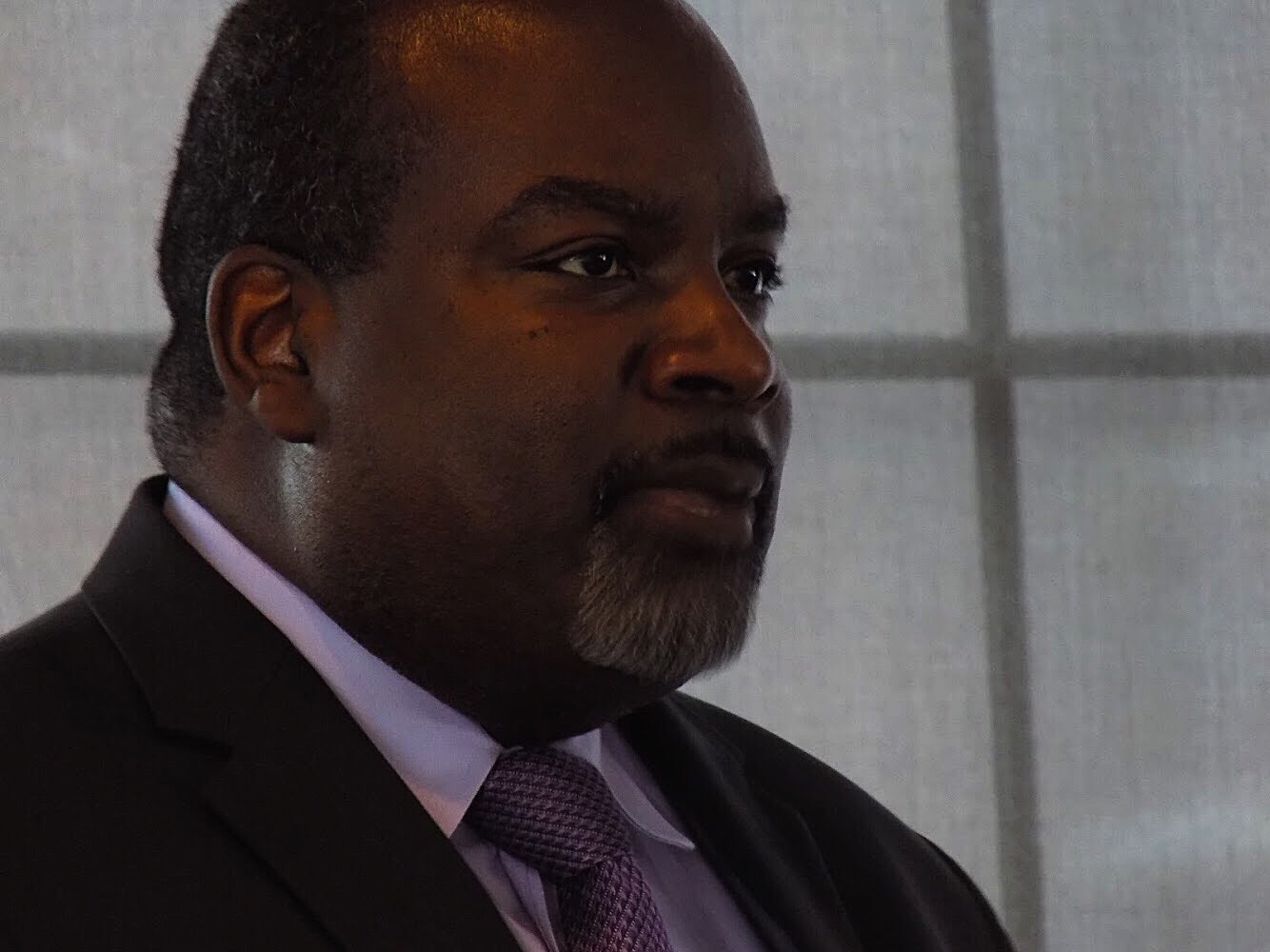 Dr. Atiba Ellis at his lecture on September 20 — Photo credit to Rowan Segura
"Voter suppression is still happening," Atiba Ellis, the University of Puget Sound's 2018 Constitution Day lecturer, said. His lecture was entitled "Integrity, Equality, and The Right to Vote." As a professor at Marquette University Law School in Milwaukee, Wisconsin, Ellis studies constitutional voting rights and the challenges that marginalized groups face in voting.
Constitution Day began in 2004 because of a congressional decision that mandated that federally funded schools must commemorate the signing of the Constitution. As a result, every year around Sept. 17, schools across the country educate their students about the Constitution. For colleges, this generally means a commemorative lecture.    
Some argue that Constitution Day is unconstitutional, as the 10th Amendment "generally precludes the federal government from dictation what the states may teach in schools," according to slate.com.
Ellis spoke about the history of voting in the United States, discussing how marginalized groups are vulnerable to be excluded from voting. His lecture specifically focused on African Americans. He took a chronological approach, discussing the framers and their failure to write strict and specific voting laws into the Constitution.
From there he moved on to the Jim Crow laws that deterred black people from voting. He closed by talking about the modern implications of voter suppression and how it is still a prominent issue. He emphasized that the omission of specific voting rules in the Constitution has created a national voting dilemma.
In 2016, the black voter turnout was 59.6 percent, the Asian voter turnout was 49.3 and the Hispanic turnout was 47.6, according to Pew Research Center. In contrast, the white voter turnout was 65.3 percent, much higher than any of the marginalized group's turnout.
"We take all this for granted," Ellis said, referring to citizenship and the ease that many vote with. He acknowledged the inherent privilege in voting, a privilege many do not get to enjoy. He brought up examples of marginalized people who had been denied the right to vote, particularly in Wisconsin.
Wisconsin's voter ID law has proved to be oppressive towards marginalized populations trying to vote, according to Ellis. He brought up that getting a Wisconsin voter ID can be expensive and the process can be time-consuming. Both of these factors disproportionately affect minority groups, stopping many from voting.
Ellis identified poll tax, literacy tests, gerrymandering and felon disenfranchisement as "social and economic barriers that function to target the minorities that they wish to exclude." Ellis argued the state interferes with marginalized groups' access to voting in discreet ways.
"You can disenfranchise if you do one simple trick: don't mention race," Ellis said. He argued that the federal government gets away with suppressing votes because race is not directly discussed in voting policy.
According to Ellis, the U.S. Constitution does little to dictate voting policy, so the future of voting and potentially the end of voter suppression lies in the hands of the state. "State constitutional law is the new forefront for the right to vote battles," Ellis said.
After the lecture, when prompted about the future of the problem, Ellis discussed the United State's transition to majority-minority status. Majority-minority status means that the majority of people is made up of minoritized ethnicities and groups. According to Ellis, majority-minority status poses a threat to U.S. leadership.
Ellis discussed the possibility that voter suppression could intensify. Leadership may feel threatened by majority-minority status, so suppression may worsen in order to keep power in the same hands. Ellis left the audience with the idea that voter suppression is an unfortunate, discriminatory conundrum that the U.S. must face, as it persists in our elections.
Puget Sound sophomore Jack Cohen shared his thoughts on the lecture. When prompted about what stood out in Ellis's speech, Cohen responded that the idea of institutionalized racism was really important. "I think the discussion about the higher level built in structures that can prevent everyone not only from voting, but prevent effective change, to talk about why that law exists and why it hasn't changed is really important," Cohen said.
Tags :
Attiba Ellis
Constitution Day
Voting