Student Association for Reproductive Rights hosts ballot party and encourages Loggers to vote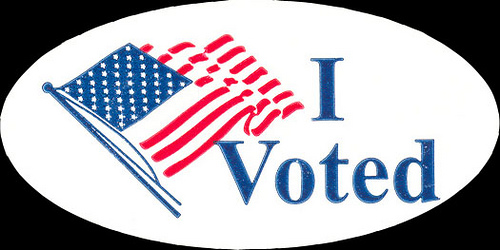 Photo courtesy of Flickr
If you walked into the Rotunda last Friday evening, you might have noticed students eating pizza and looking over their ballots for the upcoming midterm election.
On Friday, Nov. 2, the Student Association for Reproductive Rights (SAFRR) hosted a ballot party. The event invited students to fill out their ballots in a group setting.
"The overall goal was to foster a sense of community in the voting process, especially because ballot language can be complex and confusing. I envisioned people coming together to talk about the candidates and the issues," SAFRR president Abigail Rawson said. Rawson also added that she hoped the event would remind students to vote, especially considering historically low voter turnout for midterm elections among Puget Sound students.
Overall it seems like Puget Sound students are more motivated to vote in the midterms as a result of the 2016 presidential election. Rawson stated that from tabling in the Wheelock Student Center and promoting the ballot party, it seemed that Puget Sound students are excited to vote in this election.
"At the end of the day, the goal of the ballot party was to get a higher voter turnout than in 2014 and even in 2016. We will continue to be vocal right up until the election in getting as many ballots turned in as possible, because the voices of young people are what is going to change the future," Rawson said.
The event was hosted in collaboration with Fuse Washington, the state's largest progressive organization, according to their website.
The site also states: "Our goals at Fuse are to help progressives win more often and give ordinary people a strong voice in politics."
Fuse provided the food for the ballot party and a representative form. Fuse was present at the event to help students answer questions about their ballots and general questions about the voting process.
SAFRR has held several events so far this semester, including a Skate Night event that was held in collaboration with KUPS. The Skate Night event also helped to raise money for future events. SAFRR has also tabled to help students register for the election and gone out canvassing for progressive Washington candidates like Mari Leavitt and Christine Kilduff.
As the semester goes on, SAFRR will hold several more events. On Nov. 30, the group will host a free HIV testing event with the Pierce County AIDS foundation. Additionally, the group will be hosting Babeland (a Seattle based sex shop) for a "pleasure-based, LGBT-inclusive sex ed workshop" on Nov. 14.
SAFRR's remaining meetings this semester will be held on Wednesday, Nov. 7 from 6–7 p.m. and on Monday, Dec. 3 from 5–6 p.m. in the Student Diversity Center. "We welcome any and all who want to talk reproductive justice and how they can make a difference!" Rawson said.
Tags :
ballot
Student Association for Reproductive Rights
Voting