State of Incarceration project interrogates mass incarceration in the U.S.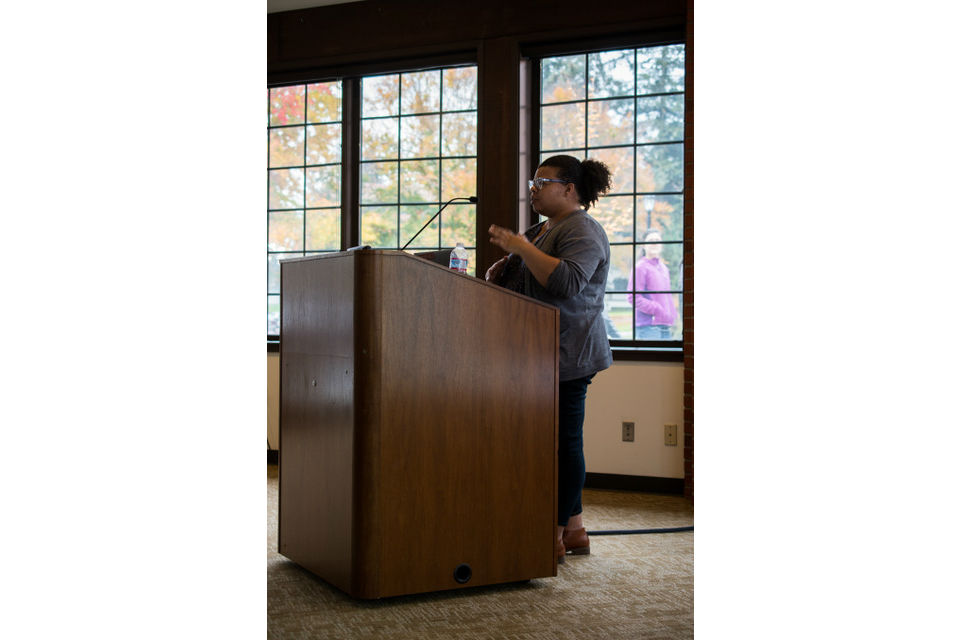 Dr. Shana Russell speaking about the States of Incarceration project — Photo credit to Rebecca Heald
On Tuesday, Oct. 23, Dr. Shana Russell was on campus to give a talk on the State of Incarceration project. This project is being managed by the Humanities Action Lab (HAL), an organization that Dr. Russell is a part of.
"The Humanities Action Lab is a coalition of universities, issue organizations and public spaces in 36 cities — and growing — that collaborate to produce community-curated public humanities projects on urgent social issues," Dr. Russell said at the talk.
The State of Incarceration project is a travelling art installation that is entirely built by local community members and universities in each location it travels to. "The project has been to 100 plus colleges and universities, and has led public dialogues on local incarceration histories and current issues on and off campus," the presentation read.
The State of Incarceration project is entirely based on what the local community and those affected by incarceration within the community want it to look like. It is a mixed-media depiction of the problem of mass incarceration in the U.S. at every location it is in. There are often interactive portions in each exhibit, where the viewers can process and understand their feelings on this complicated issue.
Mass incarceration is a problem in the United States, where according to Amnesty International, 25 percent of the world's incarcerated population resides. Dr. Russell conducted a poll at the beginning of the lecture, and within that room alone 71 percent of the people knew someone who had been incarcerated. The project is one of many nationwide to help battle this issue. At the University of Puget Sound, Dr. Tanya Erzen is deeply involved with the Freedom Education Project Puget Sound (FEPPS).
"Freedom Education Project Puget Sound was founded by faculty from University of Puget Sound in 2011. The mission is to offer a rigorous college program to incarcerated women in Washington and pathways to further education upon release. FEPPS has become a successful Signature Initiative of the university that is widely supported by faculty and students," their website reads.
According to their website, FEPPS provides many resources for the incarcerated individuals at Washington Corrections Center for Women to receive a university education during their sentence. Many organizations on campus help Dr. Erzen in this project, such as the library and the Center for Writing, Learning & Teaching (CWLT).
"I have been volunteering with FEPPS for about a year, working with students in study halls on essay writing and reading comprehension. I also interned with FEPPS over the summer and coordinated the study halls, led tutoring workshops for volunteers and helped organize events like graduation," senior Meghan Rogers said.
"Working closely with FEPPS students has shown me the importance of education as a source of empowerment, especially in the way it creates space for reflection and critical analysis of oneself and their relationship to society," Rogers concluded.
Students such as Rogers have engaged with FEPPS in many different ways, and the State of Incarceration Project shows Puget Sound students that they are not alone in their work.
Dr. Erzen invited Dr. Russell to campus to speak, prompting many students to consider incarceration more deeply. These projects are some examples of how universities are working to fix this problem in the U.S., and how students can help those who have suffered as a result of incarceration.
Tags :
mass incarceration
State of Incarceration