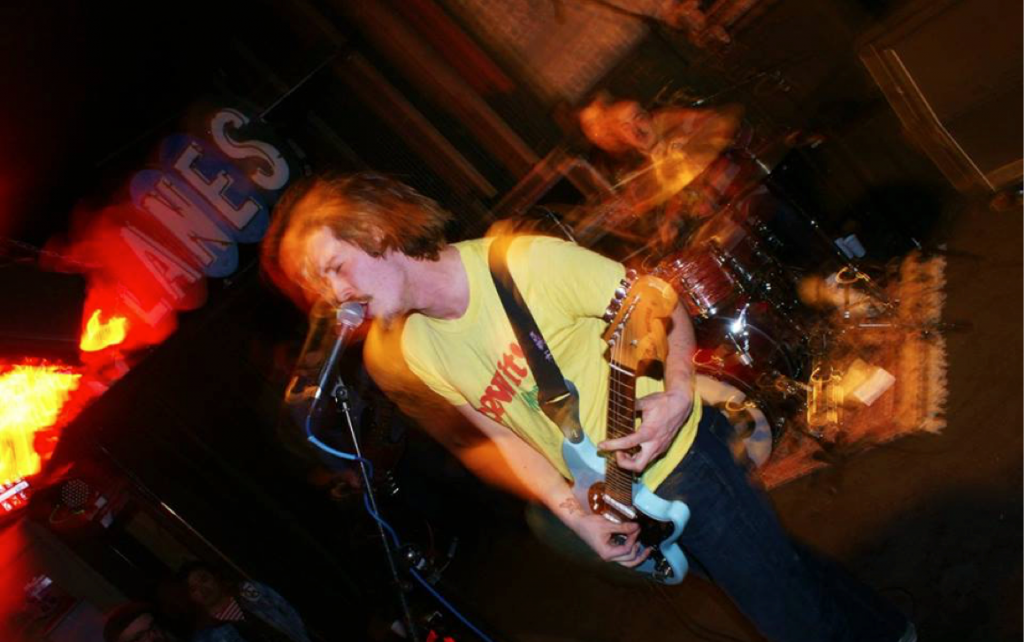 Every once in a while you meet someone who sees the world as they think it should be and just goes about making it that way without seeming to notice all the obstacles. Brian Skiffington is that sort of guy.
Skiffington is the man behind Bleak Outlook, a three-day DIY music festival, which he recently put on pretty much single-handedly, making this the third year running.  This year, the festival was made up of 28 bands that played at six different venues around Tacoma, from houses to bars and even a bike shop.
Bleak Outlook is a testament to the power of DIY events.
"That's just the world I came from, and my heart's always gonna be in Tacoma."  Skiffington said.
He is also in charge of booking Rain Fest, a huge festival that takes place in Seattle every year where many of the best heavy musicians play.
As exciting as Rain Fest is, Skiffington lit up even more when talking about Bleak Outlook.
"So Rain Fest has a budget of about $50,000 to work with and it's more like 40 to 50 bands and it's, you know, this huge massive thing. To me Bleak Outlook is like what I wish Rain Fest would be. All the fun is there without the warring forces of booking agents," Skiffington said. "Bleak Outlook, it's becoming what I envision for what I'm into."
"If there's anything rewarding for me [about Bleak Outlook], on like a personal level… it's just the total freedom and community and just like, 'Let's turn everybody's concept of music upside down.' Skiffington said.
But really it's more about returning music to what it should be.
"My personal philosophy is I don't care about venues, middle people, bookers agents, any of that stuff. I would rather it just be bands, and then people participating in that experience," he said.
And that's exactly what Bleak Outlook was about.
One of the coolest things about this weekend was that, even though it was all DIY, It included some big name artists who play music for a living, and who usually only play much bigger concerts. Probably the biggest band that played was Red-Fang, a hard-hitting Portland band that holds a place among the top musicians in the current loud-rock scene.
I asked Skiffington why he thought a band like Red-Fang would be drawn to playing at such an unconventional show (the actual show took place in a small garage in the middle of the day).
He answered that the band knew who he was because of the large role he plays in booking shows around Seattle.  "We have enough similar friends that it was just like 'we're gonna do something really fun in Tacoma' and that's why they agreed to do it."
"If I had just asked them to play a show at a bar on a weekend night or something in Tacoma, I don't think they would have done it," he added. "The fact that it was 'hey come play a pancake feed and it's only gonna be friends and like homies and great bands and this atmosphere,' that's why they agreed to do it."
While it's great to see a favorite band at a concert hall, there was something very special about seeing one play at an intimate house show.  The crowd was pressed in close enough to shake hands with the musicians.
Between songs, front-man bassist Aaron Beam smiled.
"This is fun, we don't get to play shows like this very much anymore," he said.
Opening for Red-Fang was Tacoma favorite Lozen, a two-woman band made up of Hozoji Matheson-Margullis on guitar and vocals, and Justine Maria Valdez on drums and vocals.  They pulled the audience in with melodic yet sludgy stoner rock grooves and fascinating rhythms.
The smiley pair are school friends from Tacoma's Stadium High and the kind of people you wish you could have hung out with in high school.
They live up to their name, which recalls a legendary Apache warrior woman; both of them are talented, shredding musicians, whom I expect to do great things.
Another great set was played by Vancouver band Weed. They have a soft, spaced-out grungy sound reminiscent of Sonic Youth.
They said music was a small but important part of their lives.
"My only goal is to make more music and have fun, and if success happens as a result that's cool but I don't have an active goal in the hustle necessarily," vocalist Will said, and the other members agreed.
In general they showed a pretty laid back, humble attitude toward music.
"We don't practice that much…we don't really know how to play our instruments that well, except for Graham," they said.
But they don't give themselves enough credit.  Weed is a diamond in the rough and the audience loved them.
Bleak Outlook, at its core, reflects a return to the romantic ideals of small sets—a place where fans can brush shoulders with musicians and interact with them face to face.
Tags :
Aaron Beam
Bleak Outlook
Brian Skiffington
Music Festival
Red Fang
Strange Wilds
Tacoma