Urban X Change Reshapes Tacoma Fashion
Thrift-store culture has been booming in the Pacific Northwest for the past decade, and it has only been picking up speed.
With the immense popularity of Macklemore and Ryan Lewis's song "Thrift Shop," secondhand clothing has had a rebirth that our generation has swallowed whole. The legacy of Kurt Cobain's grunge style has been reworked and repopularized by style icons like Rihanna, Cara Delevingne, Jared Leto and the Olsen Twins.
People are searching thrift stores high and low to find unique garments that aren't coming out of cookie-cutter patterns created by corporate retail machines. The pieces they buy have a life to them that regular retail stores can't replicate. Secondhand clothing tends to be cheaper, funkier and more worn-in than what other retail stores are selling, making it especially appealing to college students.
There are numerous thrift stores in Tacoma, but Urban X Change is my favorite hidden gem.
When I walked into the store for the first time, there was a vibe about it that I had never felt while entering any other retail shop. It's as if it presents a package of the Pacific Northwest lifestyle in terms of comfort, accessibility and free spirit.
The clothing perfectly exemplifies the funky style of Tacoma, appealing to both fashion and comfort. There are shoes and boots lining the opposing walls of the men's and women's sections and peeks of butter-soft Pendleton cloth emerging from the rows of winter wear.
To say that it was a love affair would be an understatement.
Located in downtown Tacoma on Pacific Avenue, UXC has been around for 10 years. In fall of 2013, married couple Nick and Brooke Casanova took on the store, putting their own personal touch on Tacoma fashion.
"You would be amazed about how many calls we get about people asking if we're selling mattresses and items like that because we're classified along with other thrift stores," Brooke said. "So we wouldn't call ourselves a thrift store, but more of a secondhand boutique."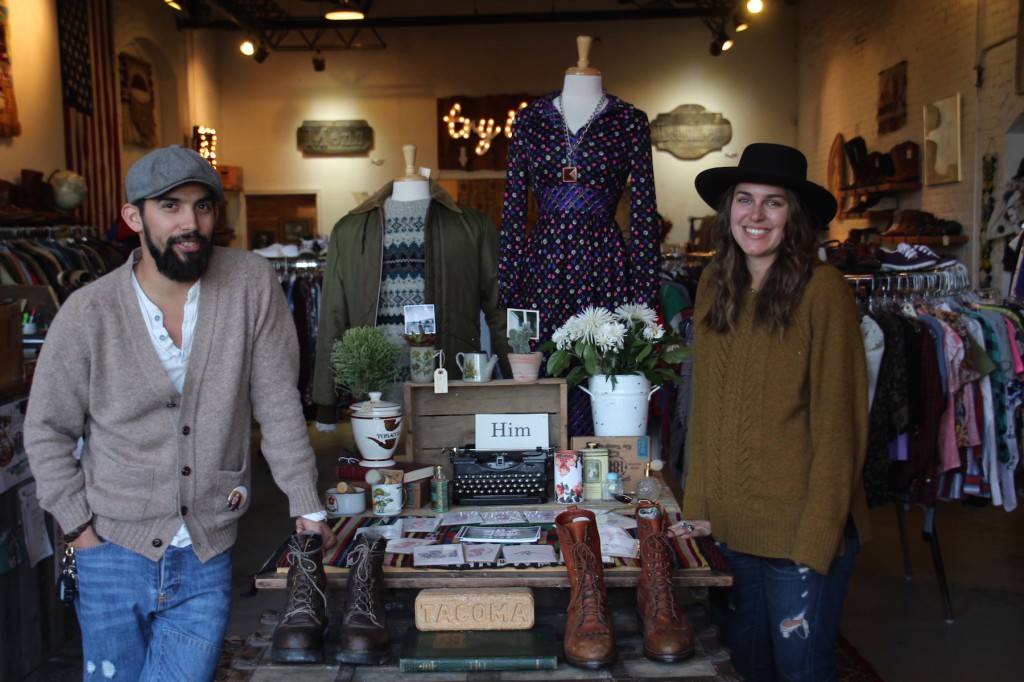 "We're a creative shop that focuses on vintage and modern goods and welcomes community to try and stay ahead of the game as far as product goes," Nick said.  UXC is a "buy, sell, trade" store, meaning that its inventory is made up of clothing that customers sell to the store. Nick and Brooke sort through bags of clothing that customers come in to sell, and they buy the garments from them.
"We really want to create a fashion-forward culture in Tacoma, and we're showing our customers what is trendy and stylish in a way that's easy for them to pick up on," Nick said.
Currently, Urban Outfitters, Anthropologie, Free People and Buffalo Exchange are the frontrunners in grungy, bohemian style. They have had a lot of success in appealing to a generation of funky fashionistas for a high price.
Nick pointed out that none of these stores exist in Tacoma, so it is the goal of UXC to combine these four styles into one and package it for the Tacoma community.
"We want people to know that we're selling items strategically in order to appeal to them, so they don't have to go to the mall when they want Clarks, desert boots or a vintage maxi dress. We want them to think of us first," Brooke and Nick said.
Brooke and Nick love looking through the items that customers bring in, because it constantly reshapes the type of merchandise that the store is selling.
They usually get a lot of garments in from the 1970s, 1980s and 1990s and some from '50s and '60s.
"Not too long ago we had a woman come in with around 15 vintage gunny sack dresses. That was definitely one of my favorite buys. They didn't stay in the store very long because customers immediately bought them," Brooke said.
The store regularly gets about six to 15 sellers everyday, but they hope to expand their selling population to Univeristy of Washington at Tacoma and Puget Sound students.
The Casanovas find it of the utmost importance to foster a sense of community at UXC. They sell locally made jewelry in the store, creating partnerships with Tacoma artisans.
They also hope to add more bustle to Pacific Avenue in order to create  cooperative retail advantage for neighboring stores, restaurants and coffee shops. Pac Ave, as the street is known, is a major thoroughfare in downtown Tacoma, but it lacks the foot traffic that many big cities have, making visitors less likely to pop into new places.
Nick and Brooke are looking to maximize the store's potential in the near future. Brooke hopes to begin selling small homeware items to add to UXC's eclectic collection of merchandise.
Nick aims to better utilize the unique space of the store. "We have a back room that we're really just using to take pictures in," he said. "We're thinking about having different guests come in to give workshops—whether it's another local Tacoma business or a clothing designer or merchandise representative—we want people to hear about it and get it excited. Then they'll be able to see the store and we'll get new customers in."
Tags :
Downtown
Fashion
Tacoma
Urban X Change