What She Said wows audience with their range of talent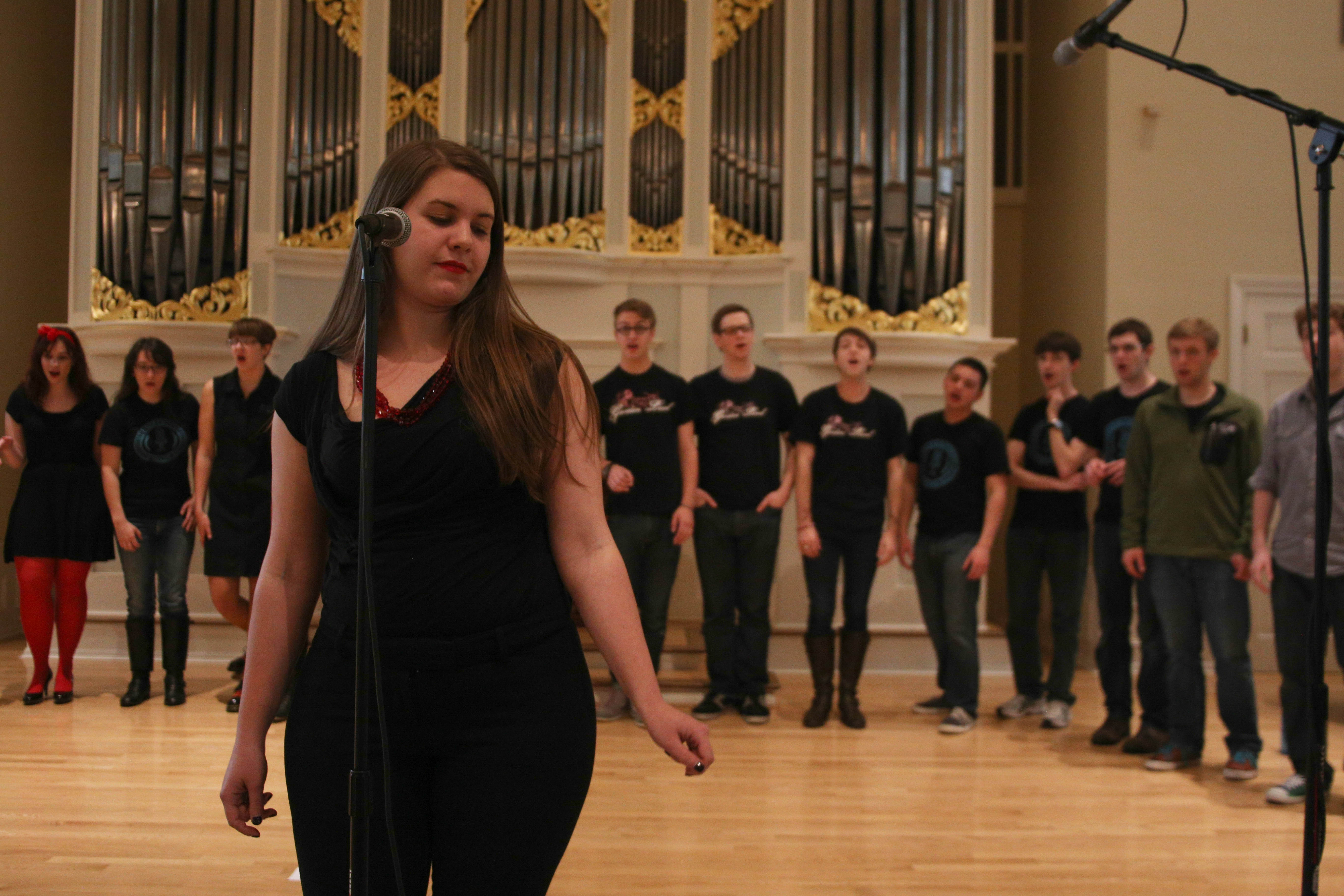 The lovely ladies of What She Said stunned their audience with their vocal talent on Wednesday, April 16 in Kilworth Chapel. Equipped with only four microphones, their fabulous voices and sleek black attire, What She Said dazzled a full house.
The support from Puget Sound students was evident from the moment the a capella group set foot on stage. The ladies were greeted with excited shouts from the audience as they each took their position on stage.
To start the evening, What She Said sang a smooth rendition of "Sweater Weather" by The Neighborhood, setting the bar high for the rest of the performance.
The rest of the night featured a variety of songs ranging from classic, feel-good tunes like "This Will Be (An Everlasting Love)" sung originally by Natalie Cole to hauntingly beautiful arrangements like "Blindsided" by Bon Iver and "The Predatory Wasp Of The Palisades Is Out To Get Us!" by Sufjan Stevens, for which the a capella group Garden Level joined the singers.
It is hard to say if there was a single best performance, but the ladies of What She Said had plenty of positive commentary on various pieces.
"My favorite song was probably '[B]lindsided' because it was more of a group piece where we all could just sing as an ensemble without the flashiness of a soloist," sophomore Lindsey Long said.
A definite highlight of the night was listening to the incredibly talented Jennifer Kullby belt out a passionate arrangement of "Fallin'" by Alicia Keys. As she took the microphone and began the song, the audience was subdued in awe. She managed to sing the entirety of a song that demands a staggering vocal range not only competently, but flawlessly.
While the ladies of What She Said certainly humbled the audience with their sheer talent, they also made a point to lighten up the evening with an insouciant performance of "Your Love is My Drug" by Ke$ha.
For this song, the group donned photo-booth ensembles and let loose with their carefree dancing. The refreshingly silly freshman Caitlin Kerwin sent the audience into hysterics as she emulated the diva song-writer, finishing off the song with Ke$ha's playful compliment: "I like your beard."
"My favorite song to perform was definitely 'Your Love Is My Drug' because our soloists were so great [and because] it ended the concert on such a great note (no pun intended). There was so much energy throughout the piece, and it was very obvious that everyone in the group absolutely loved what we were doing," sophomore Stephanie Gates said.
Overall, the concert was a treat for all those who attended. Any speed bumps along the way were minor compared the overwhelming talent of these Puget Sound students.
Men's a capella group Garden Level joined the ladies on-stage for an arrangement of a Sufjan Stevens song, but What She Said, Garden Level and Underground Sound banded together for the concert's finale performance of "Don't Stop Me Now" by Queen. The three groups ended the evening on a high note with this buoyant rendition and left their audience smiling.
"Just like anything you do on stage, there are going to be mess-ups and there are going to be things that you wish didn't happen, but the best thing about being in an ensemble like ours is that when those certain things happen, we all feed off of each other and can fix the problems before they get too ugly or out of hand, Gates said. "But I am so incredibly proud of the women in What She Said and I am so pleased at how well the concert went."
While this season of a capella performances is finished, Puget Sound students returning in the fall would be wise to keep What She Said on their radar, as these lovely ladies are sure to dazzle their audiences in future performances as well.
Tags :
a capella
music
What She Said