Jason Voorhees abandons the whole murdering thing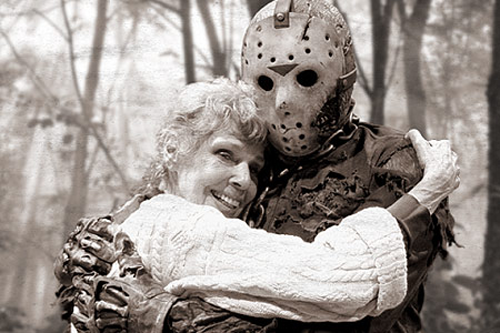 After a killing spree that lasted over 30 years and spanned the course of over 10 movies, Jason has finally decided to give it a rest.
This morning, Jason dropped into The Flail headquarters and sat down for an interview to explain his newfound change of heart.
Since he is a mute, he had to write everything down, but he was able to tell us how this Friday the 13th was going to be different.
He had heard about his friend Ted Bundy's legacy at Puget Sound so he thought it might actually be nice to visit his old stomping grounds and get to know what college kids were like…instead of chopping them to bits with his machete.
This time, Jason's plans to lay off the PCP, spend some quality time with his mom, drink a couple brewskies and sit down to watch a hockey match before heading to a jello shot party.
"It's primetime hockey season and besides, I've got this killer drinking technique I wanna show people," wrote Jason, scribbling a coy little winky face next to it.
Obviously he came prepared because next thing we knew, he was down on one knee chugging a kiwi-strawberry Smirnoff Ice through the holes in his mask.
In three seconds, Jason emptied the bottle, tossed it in the recycling bin and saluted us with a casual shaka, as if to prove his chillness to us (we were already convinced).
He calls it "masking" and you can bet that even though he's not the world's most charismatic dude, his new technique will make quite a splash tonight.
So if you see a tall, dark figure walking around with a hockey mask and a machete, don't be alarmed. Jason's chill now.
But on any other night, you'd better run. Probably sketch.
Tags :
absurdism
friday the 13th
satire
superstition