Día de los Muertos creates cultural exchange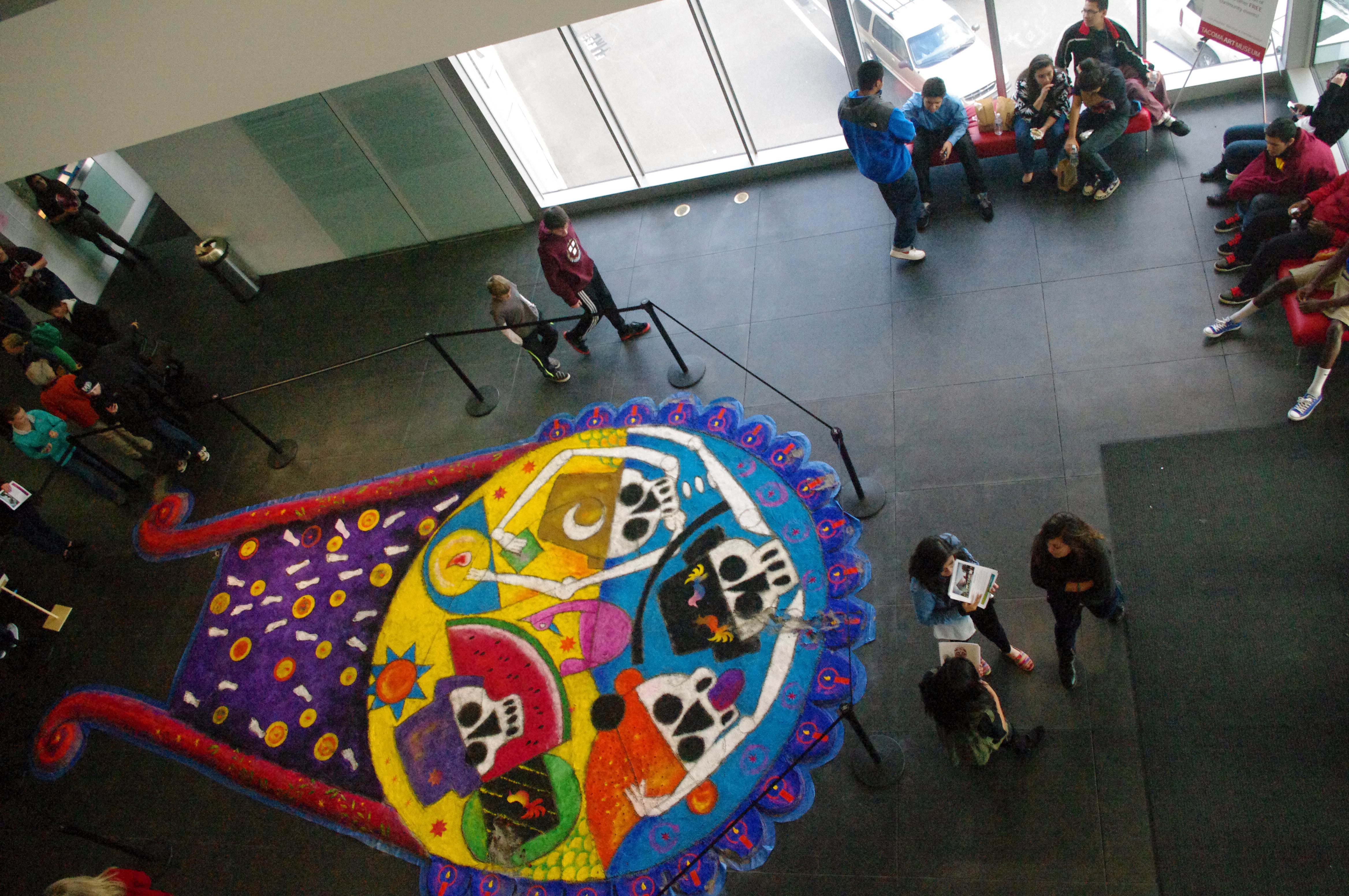 By CASEY DEY
The Tacoma Art Museum Diá de los Muertos Festival celebrated the famous Latin American tradition in a fun, family-oriented day for its ninth annual celebration.
On Sunday, Nov. 2, the Tacoma Art Museum was filled with energy and excitement as families of all ethnicities celebrated the historic Latin American tradition.
There were many activities and exhibits throughout the main lobby that got people into the right frame of mind.
See a Tapete Display—The first thing guests noticed after entering the lobby was a large sand artwork in the middle of the floor.
Local artist Fulgencio Lazo created traditional Diá de los Muertos Tapete sand artwork by painting and molding and baking sand into a large mural depicting death as not the end of life but merely a passage into a new form of existence.
Get a Face Painting—What better way to get in the festive spirit than having your face painted like a skull? Artists spoke with each guest to learn a bit about their lives, which they incorporated into the makeup. Each face was unique with that person's favorite colors and floral or spiral designs.
Decorate Sugar Skulls—Guests could wait in line to decorate palm-sized edible sugar skulls that they could later take home. Some people went for the traditional artwork, others for a highly personalized look.
Create Tissue Paper Flowers —Guests could also make beautiful flowers with multiple layers of brightly colored tissue paper. These flowers could be used for decoration, pens or hairpieces.
Explore the Library—There was a collection of a wide variety of books by Latin American authors about the history, culture and peoples in and involved with the Diá de los Muertos celebrations around the world.
View Community Altars—Various elementary, middle, high and college schools and other organizations set up over 20 displays for the festival.
These displays commemorated lost loved ones, celebrities recently passed or simply raised awareness of various conditions or lifestyles that have caused death in the past.
Watch a Movie—A short film was available at several times during the day. Calling Home the Dead was about the inhabitants of a village near Lake Pátzcuaro in Michoácan, Mexico celebrating their lost loved ones on Diá de los Muertos.
Enjoy a Mariachi Band—Mariachi Ayutla performed some traditional and original Latin American numbers in a unique small concert experience.
Experience an Authentic Aztec Dance Performance—Grupo Quetzalcoatl De Olympia performed a variety of traditional death celebration dances in authentic Aztec costumes, complete with huge feather headdresses.
The festival was a lot of fun for all of the grandparents, parents and kids of all ages who attended.
It was an educational and fun experience that will continue to be enjoyed for years to come.
Tags :
art
Dia de lo Muertos
Tacoma Art Museum