Celebrate fall with apple and pumpkin picking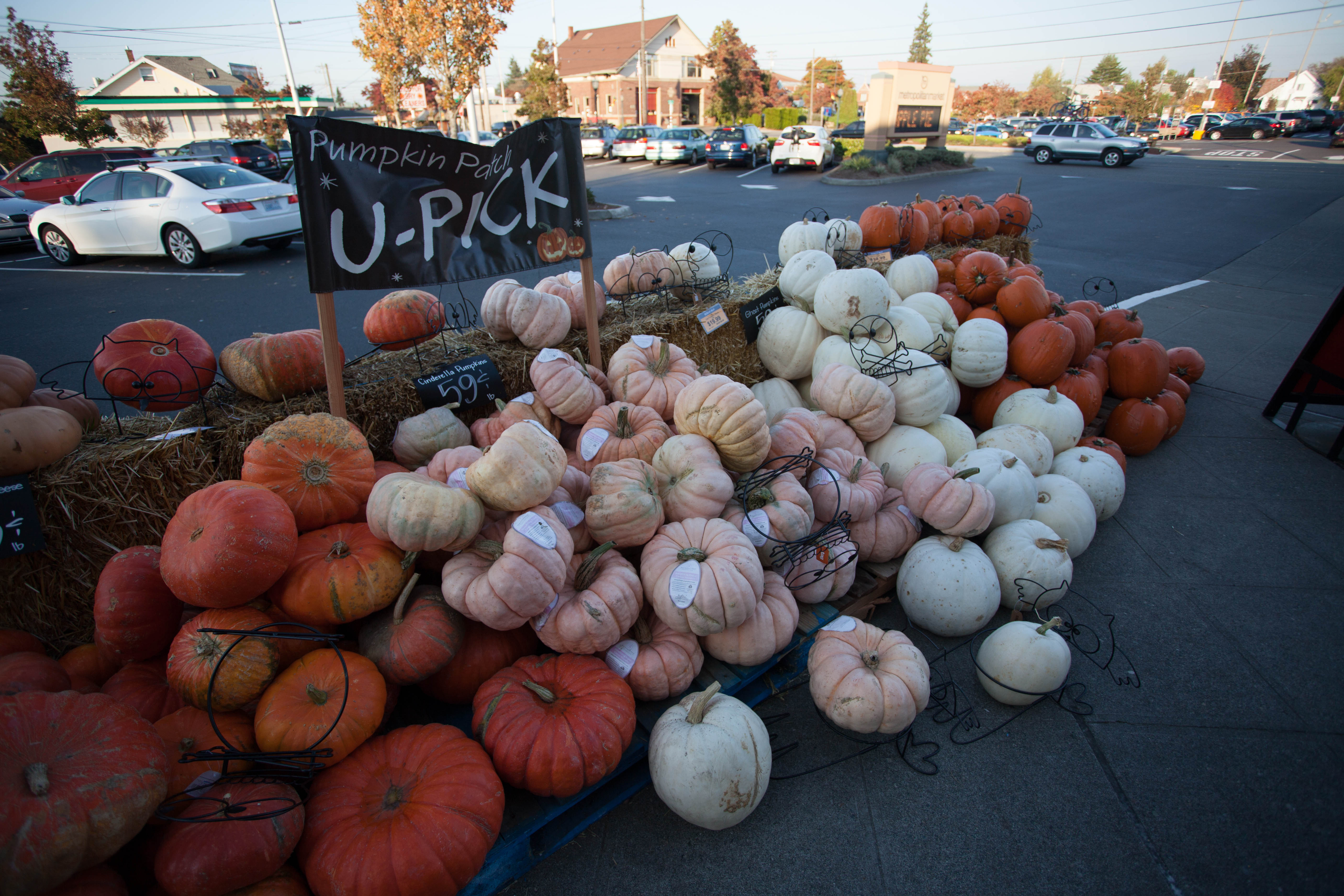 By OLIVIA PIERCE FREEMAN
Nearly all can agree that the harvest season 'tis the time to make the most of the crisp autumn air—bundle up, get you and your pals' bums in the car, and spend a day at one of the many apple-picking and pumpkin farms in the area.
The family-owned Lattin's Country Cider Mill and Farm in Olympia offers all the country bumpkin goodness one could need this season (except for being able to hand-pick your own apples, which you can do at Terry's Berries in Tacoma).
Their annual Apple Festival is held every weekend during the month of October from 9 a.m. to 5 p.m. Looking to visit during the week? They are open Monday through Saturday from 9 a.m. to 5:30 p.m., and Sunday from 9 a.m. to 4 p.m. Parking is $5 per vehicle but admission is free.
At the Apple Festival, visitors can dine on their homemade baked goods and apple cider, bob for and sample hand-picked apples, visit the petting zoo, take a wagon ride to the pumpkin patch and get lost in the year-round corn maze, all while groovin' to some live bluegrass tunes.
One of Lattin's largest draws is their hot apple cider, which has won several national awards including First Place at the North American Farmers Direct Marketing Association. Maybe jonesing for some I've-been-at-college-for-too-long, tastes-like-home goodies to pair with their champion ciders? Lattin's bakes fresh, all-natural treats every day.
There are nothing but raving reviews to be heard about their infamous warm apple fritters, banana bread, cider donuts, pies, caramel apples, jams and turnovers.
And while the animals at the petting zoo cannot eat these delicious yum-yums, bags of feed are available so you can have the titillating experience of a goat slurping food from your hands while simultaneously fondling a peacock.
Stock up on those plump pumpkins and perfectly ripened apples, and after a day full of festival celebration, head back home to get crafty and adorn the porch with custom pumpkin masterpieces while sipping on some tasty hot cider with buddies.
To pair with any pastry leftovers, try out this
homemade hot apple cider recipe:
You will need enough of your new Lattin's fresh apples (or unfiltered apple juice if you so prefer) to make six cups of juice, an orange, a lemon, four whole cinnamon sticks, 1/8 teaspoon ground or whole cloves, eight whole allspice berries and a half cup of maple syrup.
Avoiding as much of the pith as possible, slice the peels from the orange and lemon and throw them into a medium saucepan with the cinnamon sticks, allspice berries, cloves and maple syrup.
Next, grab either the store-bought apple juice or a juicer for your fresh apples. Pour the juice into the saucepan.
Bring to a soft boil then reduce the heat to low, allowing the cider to simmer for 20 to 30 minutes. Sip on this while carving something intricate into the orange canvases, and be sure to save the pumpkin guts!
Roasted pumpkin seeds are truly the perfect holiday snack and so easy to make! Simply preheat the oven to 300 degrees, toss the seeds into a bowl with melted butter and salt, spread the seeds evenly on a baking sheet and let them bake for about 45 minutes or until they have turned golden brown.
A more extensive list of Washington's apple-picking and pumpkin farms can be found at www.pumpkinpatchesandmore.org.
Tags :
Apple
cider
Picking
pumpkin