Luminasia depicts NW and Asian cultural ties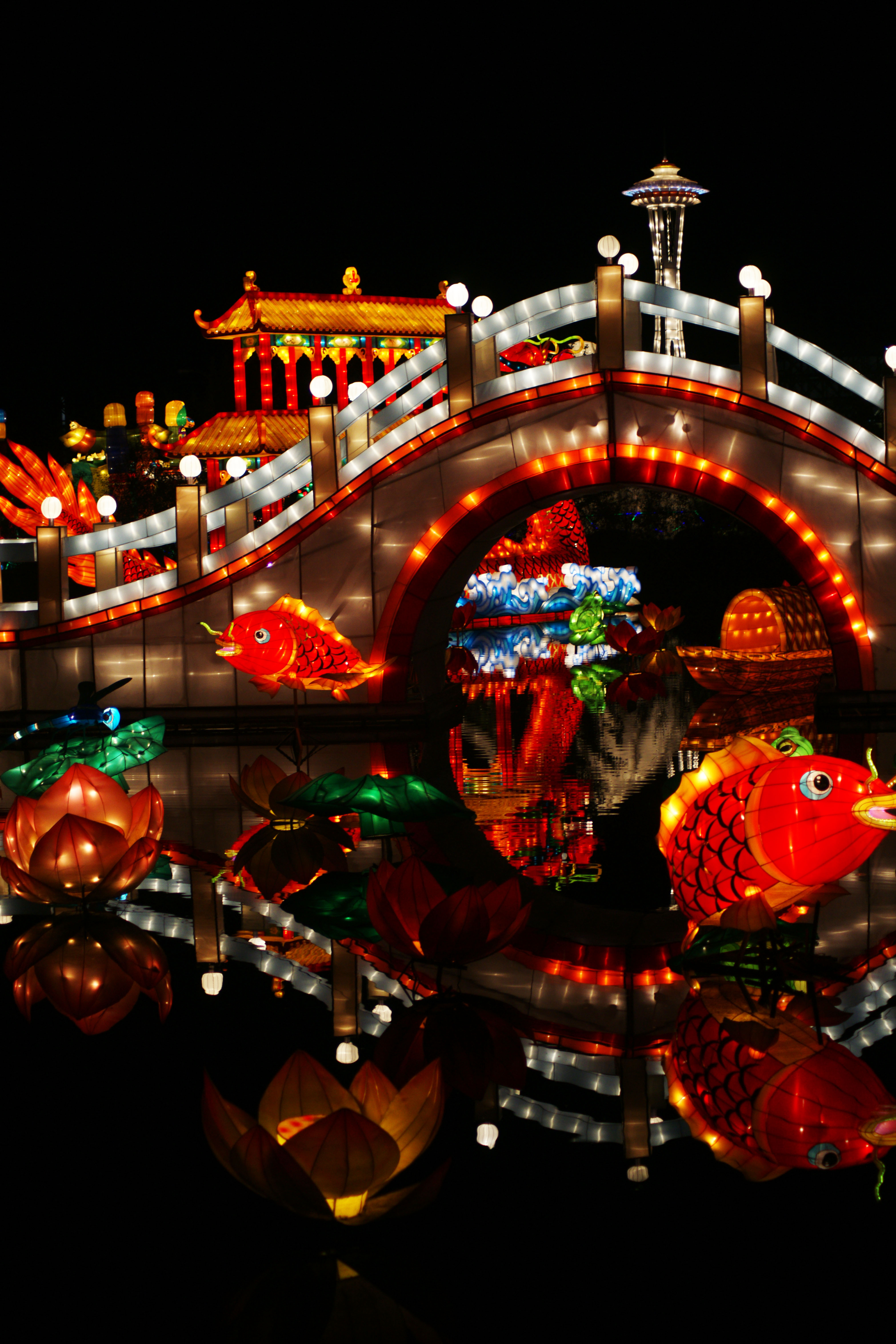 Luminasia showcases the work of 35 Chinese artists and a period of years of history and tradition to create a world of larger-than-life lanterns. This is one lantern festival you do not want to miss!
After eight months of preparation, 35 artists, coming directly from China, worked quickly for less than a month to assemble over 500 lanterns for a spectacular nighttime display as part of the Puyallup Washington State Fair in September.
Although the fair concluded its festivities on Sept. 29, Luminasia was popular enough to earn an extension until Oct. 13.
While the methods and materials may be based in tradition, the lanterns themselves seem far from the ones usually seen at Chinese events in America. At the same time, the styles and themes of China and America, particularly Washington, blend beautifully together to fulfil the "East Meets West" theme.
Modern themes include a variety of flowers (over 300 total), trees, sea creatures, stunning archways and two large flowers that actually move their petals back and forth.
Washington themes include salmon, Orca whales, a cougar, an apple orchard, totem poles, a ferryboat, a replica of Pike Place Market (housing a souvenir and snack stand), a 35-foot high Mount Rainier and a 60-foot tall Space Needle.
Chinese themes include a walk-in pagoda; bridges; floating lotuses, koi fish and fishing boats; classic red globe lanterns strewn around the entire perimeter; and an 80-foot-long dragon boat.
Lanterns have a long history in Chinese culture, used either for lighting or special celebrations. Lantern festivals, however, began in Zigong, China, the city from which the artists came.
Zigong is known as "the Lantern Town in the South Kingdom" not only for the origins of lantern festivals, but also for their huge and spectacular lantern creations featured at their annual festival every February.
Luminasia is but a small glimpse at the world of beautiful (and large!) lanterns that still exist in China today.
Over 65,000 pounds of angle iron, 5,000 pounds of flame-resistant satin and 50,000 LED, incandescent and fluorescent light bulbs were used to create all the beautiful designs throughout the two-acre lot.
Art director Song Yin-Lang is known for Chinese acrobatics and ice sculptures in other parts of the year, but he was excited to team with International Special Attractions (ISA) in order to create this amazing display.
Guests can find popcorn, pretzels, chips, coffee and sodas inside.
Guests 21 and older can enjoy the wine garden, offering a small variety of local wineries to sip and savor.
Oktoberfest is also happening at the State Fairgrounds, so guests over 21 can explore both Luminasia and beer the same night (tickets are sold separately, although Oktoberfest guests can get a discount on Luminasia tickets).
There are several fun light-up souvenirs, most for $5, including horns, bows, floating flowers, swords, wands, regular glow sticks and iconic Chinese lanterns (strings of paper balls) which, while lacking lights of their own, make it easy to string your own lights to make a unique and personal look.
Tickets are $18 for adults, $12 for 18 and younger. Luminasia is open Fridays, Saturdays and Sundays from 6 p.m. to 11 p.m., and is located on the backside of the Puyallup Fairgrounds at 110 9 Ave. SW.
As this is a highly popular event, parking may prove a challenge. If you have to park on the other side of the Fairgrounds and you do not want to walk, free tractors are available to take you to and from Luminasia.
More details are available online at: http://www.thefair.com/fun/details/luminasia.
Tags :
events
lights
Luminasia