George Steinmetz lecture delivers inspiration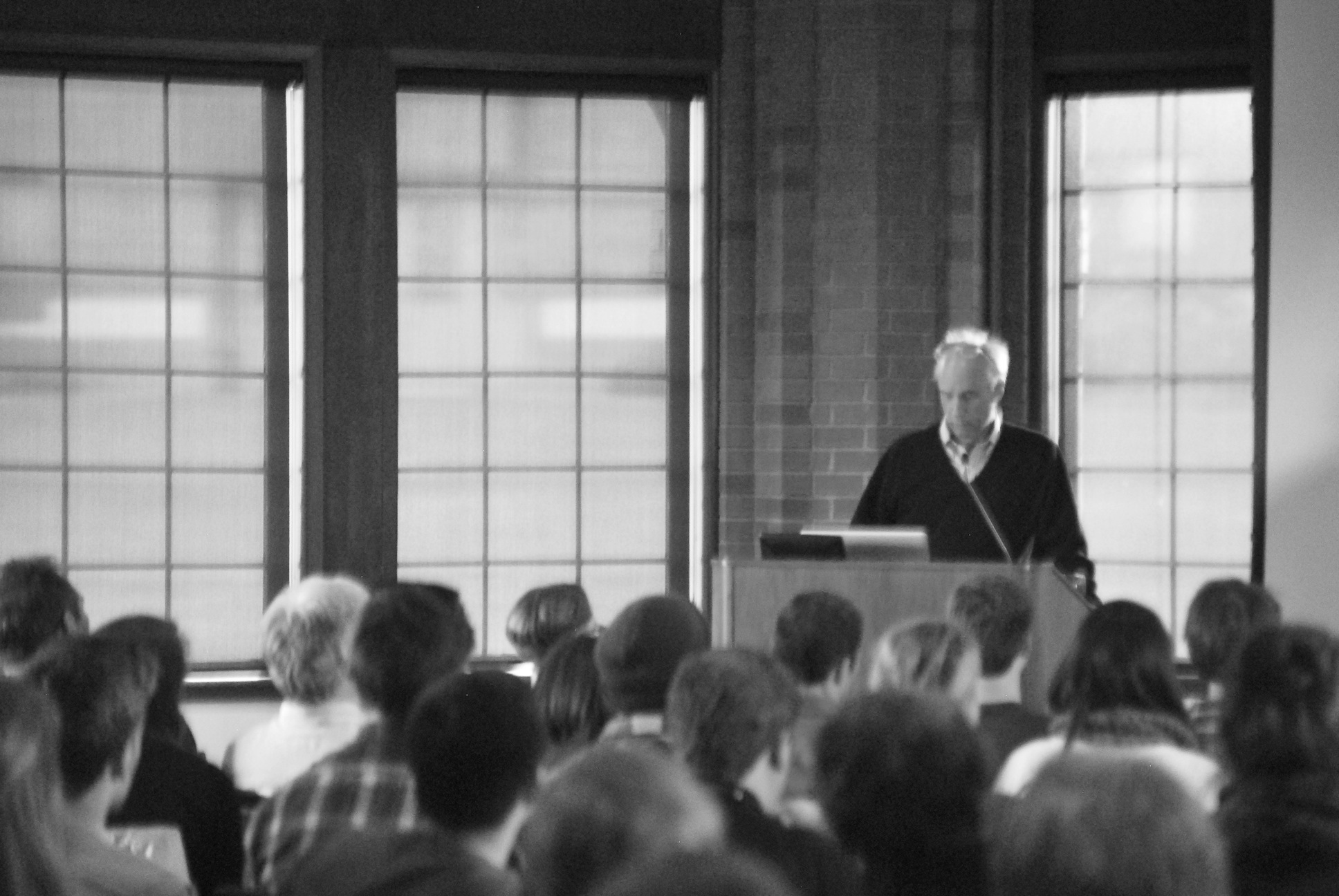 On Tuesday, April 30, National Geographic photographer George Steinmetz gave a guest lecture on his life, his travels and his photography. The opening student speaker called Steinmetz "a pioneer, an inventor and an explorer" by way of introduction.
Steinmetz began the lecture by talking about his inspiration for photographing the world. He first had the idea to go to the Sahara in his third year at Stanford studying geophysics, which he said was mainly meant to be insurance.
Steinmetz photographed and stayed in the Sahara for a year, all the while unable to communicate with anyone by phone, and having to hitchhike to most places.
His pictures of the Sahara consist mainly of spectacular landscapes, sand dunes to beaches. He also takes pictures of the people he encounters in these natural environments. Steinmetz is a self-taught photographer, making his photos of the Sahara all the more impressive.
Steinmetz returned to Africa three times, the first for a year and a half, and the second when he was 29 and first found a career with National Geographic. For this trip, he built an aircraft—a glider—that allowed him to fly over the landscape and take pictures.
He also visited a desert in Saudi Arabia. "It's arguably the hottest place on earth," he said about this desert, which other explorers had traveled with difficultly.
Steinmetz found the Sonora desert in Arizona to be full of flora and fauna. In order to capture some of the animals that roamed around the desert on camera, Steinmetz and his team set up cameras by watering holes and hid, waiting for the creatures to come by for a drink. Steinmetz once waited two weeks before taking a picture of some elusive bighorn sheep arriving at the watering hole.
Steinmetz went to Iran right after the U.S. invaded Afghanistan and Iraq, making getting to the country and traveling through it very difficult. He was arrested four times while he was in the country.
Despite his issues with the law, Steinmetz still managed to take many pictures of Iran's landscape. "Geologically, it's a bit like Nevada," he said, with salt basins set in sharp-edged mountains and flamingos roaming the land.
Steinmetz returned to Africa for a third time with plans for an aerial portrait of the entire continent, which he was very excited about. He got to explore parts of the continent that were very different from the Sahara he had seen before, including the Sahara itself, which snowed for the first time in 30 years during his stay.
Among other places, he has also traveled to Algeria, Bolivia, Colorado, Ethiopia, the Dead Sea and even Antarctica.
For all of their beauty, though, many of these landscapes suffered from human impact, including Israel.
"It had been promised to too many people," Steinmetz said about the country and its neglected wilderness.
In the future, Steinmetz hopes to do a project somewhere in the South Pacific.
"You show up, stuff happens," Steinmetz said as advice to his audience, and this has much truth to it. To be a pioneer, an inventor and an explorer like Steinmetz sounds very appealing, but Steinmetz had to get from his comfortable environment in a Bay Area college to the Sahara Desert first.
"It's more about the ideas than the cameras," Steinmetz said, but having an idea is easy; showing up is the hard part. Showing up means taking a step, or a leap, out of your comfort zone, out of the safety of a college education and a geophysics degree. And to a college student—to anyone, really—that can be terrifying.
If there is one thing I took away from Steinmetz's lecture, though, it's that you do not have to be a pioneer, or an inventor or even a little bit of an explorer to show up—which is something to keep in mind as this year comes to a close. Whether you are graduating or just entering your sophomore year, know that wherever you may show up, be it a desert or a job interview, it may be frightening, but stuff will happen, and it just might be great.
PHOTO COURTESY / MATTHEW DAVIS
Tags :
George Steinmetz
National Geographic
Photography
sahara
Travel