National Geographic photographer George Steinmetz to share unique, aerial photos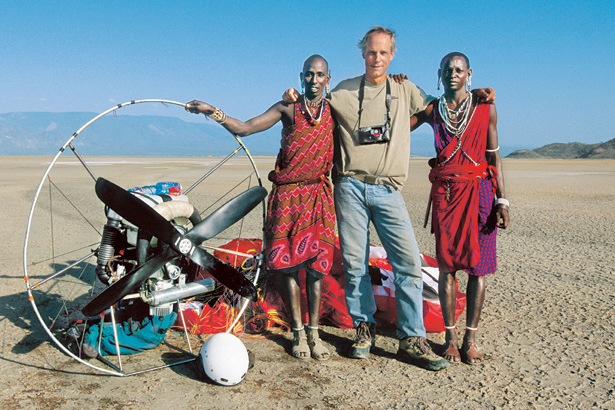 On a typical workday, George Steinmetz rises before the sun. He ventures outside to greet the most desolate and vast places of the world and then he flies. He soars at 30 miles per hour in the open air above windswept dunes and stony vistas for up to three hours, capturing the enormity of nature from a bird's-eye view with his camera.
Steinmetz, a renowned photographer for National Geographic Magazine and GEO Magazine, will visit Puget Sound on April 30 at 7 p.m. in the Rotunda, thanks to ASUPS Lectures.
Steinmetz is an adventurer in every sense of the word. He first discovered his love for photography as a geophysics student at Stanford University. He took time off to spend 28 months hitchhiking around Africa at age 21 with a borrowed camera in hand.
Throughout his career, Steinmetz has completed 31 major photo essays for National Geographic. He has won two first prize awards in science and technology from World Press Photo, as well as awards and citations from Pictures of the Year, Overseas Press Club and Life Magazine's Alfred Eisenstadt Awards.
In 2006, the National Science Foundation awarded him a grant to study the work of scientists in the Dry Valleys and volcanos of Antarctica. He has traveled to some of the most remote parts of the world and has explored some of the most isolated cultures that remain, including that of the tree people in Irian Jaya.
"I always want to go to the blank spots on a map, or go just a little bit farther. Reality is always more interesting than imagination," Steinmetz said in an interview with National Geographic.
Aside from the amazing variety of countries that Steinmetz has captured, perhaps the most extraordinary aspect of his photography is his method of obtaining photos.
He straps himself securely to a motorized paraglider, a strange contraption that combines the typical oblong float with something akin to a lightly guarded ceiling fan.
Weighing less than 100 pounds, the motorized paraglider is the lightest and smallest aircraft in the world, and it allows Steinmetz to access a variety of altitudes and perspectives that wouldn't be possible from a typical airplane.
Its slow speed gives him time to capture the perfect image, and his exposure to the open air allows him to be part of the atmosphere. "In many ways my paraglider is the best possible platform for airborne photography, as it provides me with an unrestricted 180-degree view in both horizontal and vertical directions," Steinmetz wrote.
He feels exceptionally safe in his paraglider, comparing it to a "flying lawn chair." Steinmetz has flown in this fashion over countries such as China, Iran, Saudi Arabia, Yemen, Botswana, Mexico, Peru, Bolivia, Oman, Chile, Namibia, Chad, Niger, Mali, Rwanda, Kenya, Morocco, Mexico, France, Germany and the United States.
One of his most recognizable images, entitled "Larger Than Life" looks directly down on the backs of a caravan of camels crossing a desert, creating an optical illusion—while the bodies of the camels are barely visible, their shadows are cast distinctly across the sand, showing perfect silhouettes.
Steinmetz identifies himself as a photographer who flies, not a pilot who takes photos. His profession allows him to explore the few secrets that remain in a world we tend to think has already been thoroughly scoured.
"From my vantage point in the sky, there is always more to explore, to question, and, ultimately, to understand," Steinmetz wrote. He regularly sees life from a perspective that no other human experiences. Thankfully, through photographs, he shares those experiences with whoever else is willing to look on.
Tags :
George Steinmetz
National Geographic
Photography