Exhibits highlight man's intrusion into Northwest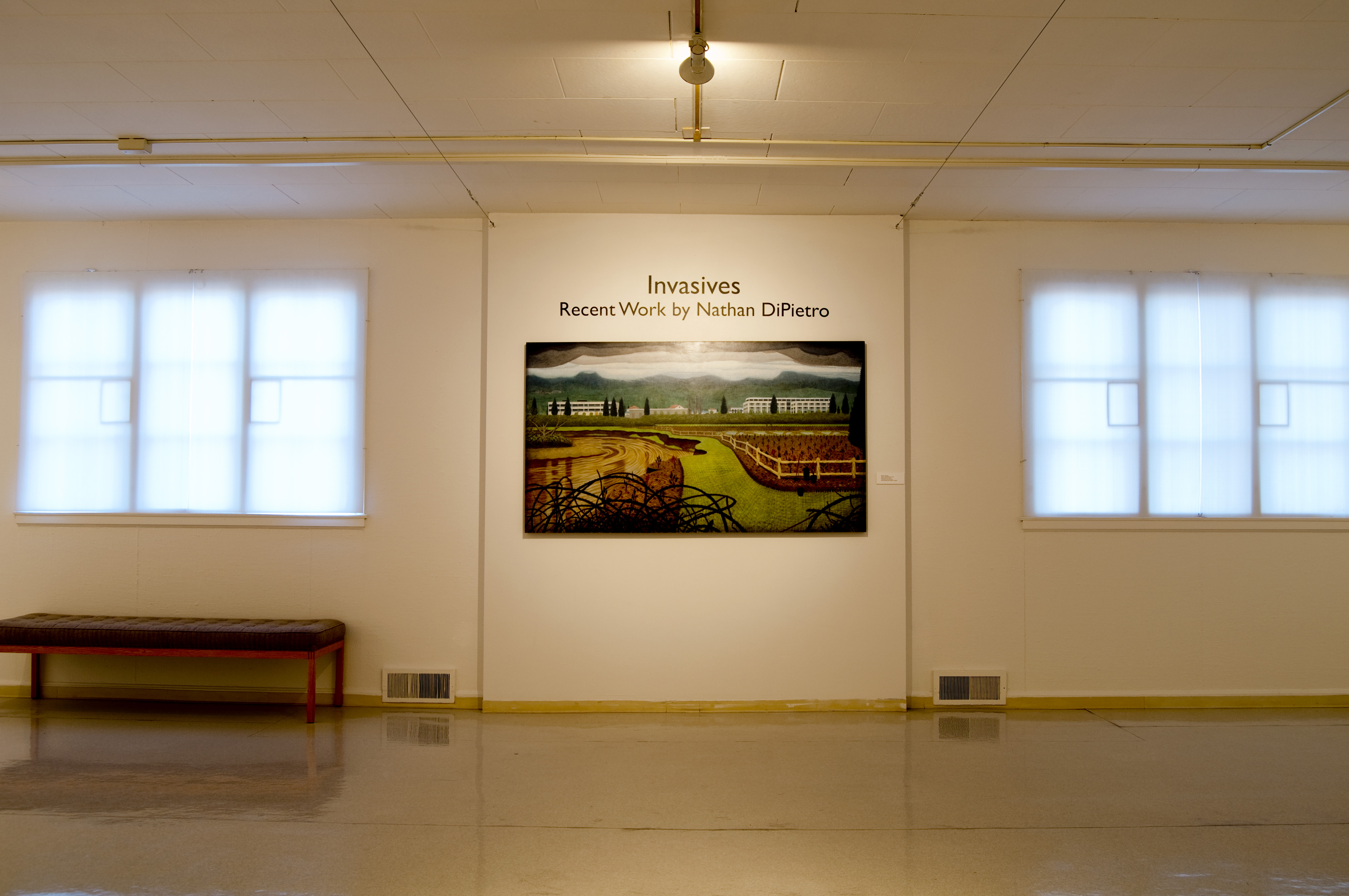 As I strolled into Kittredge Gallery for the first time I quickly discovered that this little building, tucked subtly in between the Ceramics building and across from the Wheelock Student Center, houses a rich collection of works.
The bottom floor gallery contains bodies of work from artist Nathan DiPietro and photographer Eirik Johnson. Both DiPietro and Johnson appeared in Kittridge Wednesday afternoon for a reception, welcoming and celebrating their respective works.
Johnson's photography depicts eerie landscapes on the outskirts of metropolitan areas, in which echoes of the Northwestern wilderness start to bleed into suburbia, altered by the discards of human society.
"I search the boundaries between public and private land, where the framework of urban order begins to break down" Johnson said in an interview.
Johnson's "Borderlands" series, which is currently being featured in Kittredge, includes many compelling photographic portraits of man's increasing effect on the natural world.
In his piece "Untitled (Island)", Johnson depicts a small landscaping project in the midst of a massive construction zone. This project includes decorative trees, artificial waterfalls, small flowery bushes, etc. Extension cables stretch from the artificial landscape and out of frame. Countless trees surround and watch over the construction zone, fog shrouding their presence.
In one of Johnson's most haunting pieces, "Untitled (Tires)," piles of tires seem to have been carelessly discarded into a dark grey pool of mulch near a large body of water. A couple of the tires are adorned with long, flimsy sticks with pieces of ripped up fabric at the end. These small, brightly-colored pieces of fabric create a startling contrast between the dark, colorless filth that surrounds the tires.
Painter Nathan DiPietro continues Johnson's theme of man's impact on the Northwest landscape. In his series "Invasives," DiPietro depicts wild scenery being replaced by leveled fields and neatly platted developments.
"The goal is sterile beauty, the result of dominion over the environment," DiPietro said.
DiPietro uses a method known as egg tempera, one of the oldest, most versatile and most durable methods of painting, dating back to prehistoric times. It consists of egg yolk, water, and different colors that give paintings a soft pastel look.
In his piece "Three Mounds" DiPietro captures a large field, cleared of all forestry and scattered with the leftover stumps, like the ghosts of pines that once overrun the area. In front of the field is a bright, orange, plastic construction fence. This vibrant, flimsy border creates an eerie contrast from the soft earthy pastels of the field behind it.
Johnson extends this theme in his equally stirring piece, "Manifest Destiny", which illustrates what first appears to be a tranquil seaside portrait.
However, upon closer examination, it is clear that the scene is far from tranquil. Two women hurriedly excavate what appears to be a home landscaping project on top of a hill in front of the beach. Small, ghostly stick figures stand on the beach, hypnotized by the dark, unnaturally uniform waves. Sillouettes of dead trees blowing in the wind and dark clouds border the portrait. This border leaves the viewer with a chilling sensation, probing him to look at the excavation from nature's perspective.
DiPietro will be demonstrating his style in Kittredge Gallery on February 2 at 4 p.m. and Johnson will be discussing his work in the Kittredge classroom on February 9 at 1 p.m.
Johnson's and DiPietro's works will be on display until February 11.
Tags :
art
on-campus
Puget Sound
review