Minus the Bear ends 10-Year Anniversary Tour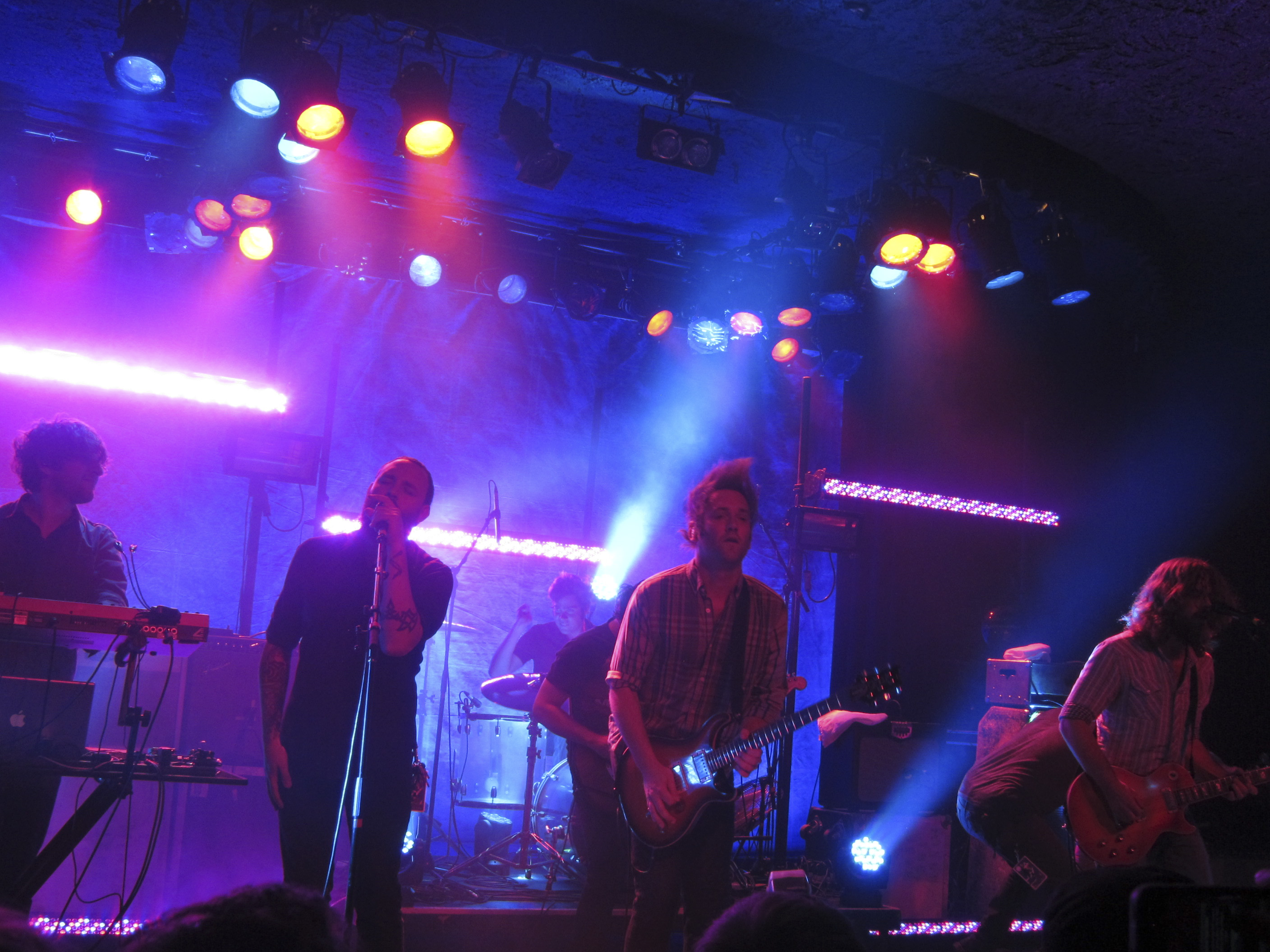 The Velvet Teen joins Minus the Bear onstage for the exuberant and electric finale from Highly Refined Pirates, "Let's Play Guitar in a Fiver Guitar Band."
Last Friday night, Seattle indie-rockers Minus the Bear brought their 10-Year Anniversary Tour to a cathartic close at one of their hometown's more intimate venues—Showbox at the Market.
Known especially for their experimental guitar tapping and absurd song titles such as "Just Kickin' it Like a Wild Donkey" and "I'm Totally Not Down with Rob's Alien," Minus the Bear's popularity takes root in their independence from standard conventions of the indie genre.
Last weekend's show sold out due to the band's announcement that they would be playing their 2002 debut album, Highly Refined Pirates, in full.
The rawness and spontaneity of that album contrasts with Minus the Bear's heavily produced recent work, making for an even more exciting performance than their show here on campus last April.
Unlike the contingent of Puget Sound students who may not have even heard Minus the Bear's name before seeing them at the Fieldhouse last spring, the Showbox at the Market overflowed with enthusiastic fans who sang along to all of their lyrics.
Before Minus the Bear appeared onstage however, The Velvet Teen had an equally impressive opening performance.
Heralding from Santa Rosa, Calif., The Velvet Teen boasted an intriguing variety of music, ranging from rollicking indie-baroque tunes to calm piano ballads.
The majority of The Velvet Teen's set was taken from their 2010 EP, No Star, as well as their 2004 full-length album, Elysium.
Over the course of a half hour, the band's lead singer, Judah Nagler, entertained the audience with his soulful melodies and piercing falsetto as the rest of the band matched it with harmonies and complex polyrhythms.
Especially entertaining was their performance of "Tokyoto," an upbeat single off of 2006's Cum Laude!, when the drummer, Casey Deitz, effortlessly alternated time signatures, playing frantic beats on his snare without any sign of fatigue.
After a quick set change, the crowd roared as Minus the Bear came onstage and opened with a vintage hit, "Hey, Wanna Throw Up Get Me Naked," from their 2001 EP, This Is What I Know About Being Gigantic.
Without further ado, Minus the Bear proceeded to play the first track of Highly Refined Pirates, "Thanks for the Killer Game of Crisco Twister." The guitarist, Dave Knudson, stood on a monitor near the front of the stage, tapping his guitar with the song's chorus as the crowd shouted along, "Our girls are looking so good!"
After playing a nostalgic song about traveling in Europe, "Absinthe Party at the Fly Honey Warehouse," the band's lead singer, Jake Snider, approached the microphone and said, "I can't believe it's been 10 years already. But here we are: it's 11:11 on 11/11/11. We couldn't be happier to share this moment with anyone else than you because honestly, we wouldn't even be here if it weren't for you guys."
Minus the Bear continued to play throughout the entire album and especially during "Spritz!!! Spritz!!!," an intense, guitar-driven song, some fans even broke out into moshpits with smiles on their faces and lyrics on their lips.
For the album's final song, "Let's Play Guitar in a Five Guitar Band," The Velvet Teen joined Minus the Bear onstage for a thoroughly exciting performance. Nagler and Snider traded verses and sung harmonies over each other so naturally that it seemed as if they had always been in a band together.
Briefly, Minus the Bear left the stage until they returned for their encore to play their synth-heavy single, "Knights," from 2007's Planet of Ice. The crowd bounced along with the rhythm as they screamed the chorus, "A piece of you for a piece of me!"
They also played a couple songs from 2010's Omni, "My Time" and "Into the Mirror," before playing their biggest single from 2005's Menos el Oso, "Pachuca Sunrise."
Immediately, the crowd surged toward the stage as fans danced harder than ever before for the band's final song. The melancholic lyrics could be heard from everyone's mouth in the room, "Don't cry, I'll bring this home to you /If I can make this night light enough to move."
Tags :
live entertainment
music
Seattle