'New Girl' an adorable dose of lighthearted comedy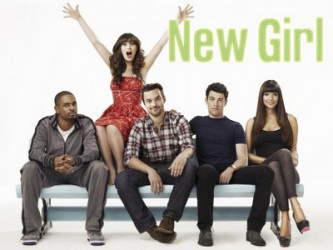 You have not seen the full range of Zooey Deschanel's comedy until you have seen an episode of "New Girl." Fox's new television series premiered Sept. 20 and will air every Tuesday 9 p.m. The show revolves around the character of Jess and her new situation after she discovers her boyfriend is cheating on her, and she moves in with three bachelors.
Deschanel's humorous antics blend beautifully with the great ensemble of actors she is paired with. Jake Johnson, Max Greenfield and Lamorne Morris play the three bachelors with whom Jess begins living.
Along with the male ensemble, actress Hannah Simone plays Cece, Jess's model friend who was the deciding factor in Jess's ability to be the bachelors' roommate.
The eccentricities of Deschanel's character Jess seem to be infinite. She creates theme songs for herself, watches "Dirty Dancing" numerous times after break ups, and has fake hillbilly teeth that she likes to don at weddings.
"New Girl" would not be nearly as funny if Deschanel were carrying the show alone. The ensemble is essential and allows Deschanel's hilarious characterization to shine. Each character has an intricate set of quirks just like Jess.
Johnson's character, Nick, is a very low key, cool role. Nick is quite reasonable until he is discussing, around, or thinking about his recent ex, Caroline.
When Caroline comes into the picture, Nick seems to unhinge, putting himself in tragically humorous situations, which include drunk phone calls to Caroline in a British accent.
Greenfield, who plays the role of Schmidt, is the reason that there is a "Douche bag jar" instituted in the characters' apartment.
Schmidt plays the role of a "wannabe ladies man" who simply cannot hold himself back from making a fool of himself.
That being said, Schmidt creates some adorable and tender moments in his interactions with Jess.
The latest character to be introduced to the ensemble's apartment setting is Winston, who is played by Morris.
Winston, introduced in the second episode, is depicted as the "top dog" roommate, and the coolest of the bunch. Most of Winston's story is untold, the majority that is known is that he recently returned from playing basketball in Latvia.
Finally, Cece, played by Simone, is the one character that sees Jess as one of the best people she knows, and protects her because of that.
Amidst the chaotic comedy, the character of Cece is a touchstone of reason, and in spite of her cool demeanor, threatens Jess's roommates that she will "crazy murder" them if they do not take proper care of Jess.
"New Girl" encompasses many sorts of comedy. Facets of romantic, slapstick and ridiculous humor are presented in every episode.
Endearing and unusual, the first several episodes of "New Girl" show great promise for the rest of the season to come.
Tags :
comedy
entertainment
television