Lu'au expresses Hawaiian culture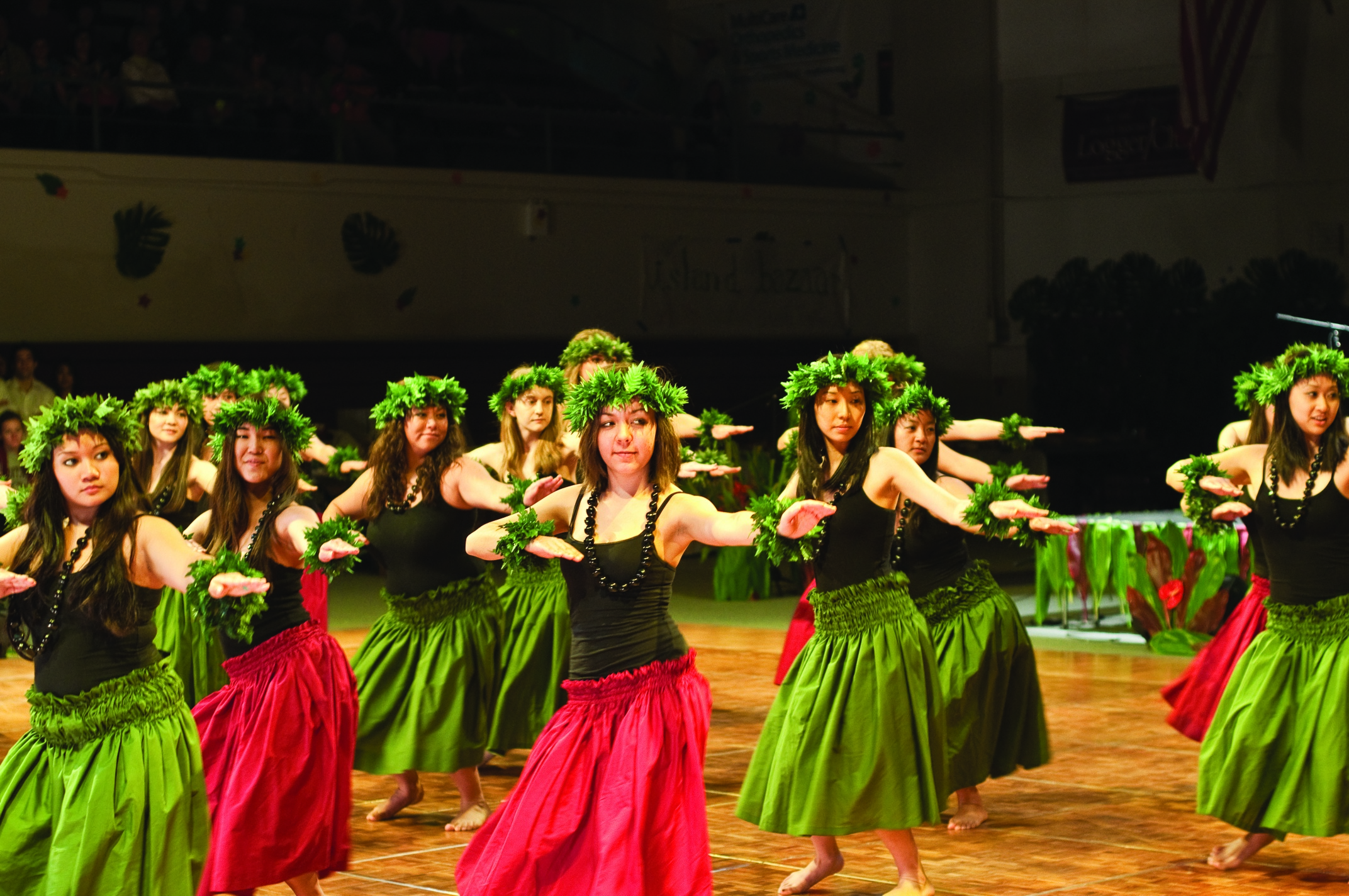 Just in time for Parents' Weekend, the Hawaiian community of Puget Sound put on their annual tradition of Lu'au at the Fieldhouse last Saturday—a joyous celebration of Hawaiian food, culture, dance and music.
First implemented at Puget Sound 41 years ago, the Lu'au has long been an important and exciting campus-wide event for Hawaiians and non-Hawaiians alike.
For those who saw a fire-pit being constructed on the field near Trimble Forum last week, it wasn't just a place for Hawaiians to hang out and play ukulele all night—over the course of a day, they roasted a pig in traditional Hawaiian style for Saturday's Lu'au. This tradition, among others, transferred authentic Hawaiian culture from overseas to our campus for all students, faculty and parents to enjoy.
Starting at 5:00 p.m., the Lu'au hosted a special Hawaiian dinner in the S.U.B. The dinner was comprised of the roasted pork, Hawaiian-style chicken, sticky rice, pineapples, delicious sweet potatoes, buns, guava cake, coconut pudding and poi, a purple-hued Hawaiian specialty, extracted from taro root. I tried some of the poi for the first time and ultimately, I liked it, regardless of its bitter taste.
At 8:00 p.m., Lu'au attendees headed to the Fieldhouse for the night's performance. The four-piece Hawaiian band, comprised of two ukuleles, bass and guitar, Na Leo O Hawai'i, opened the show with a song made famous by Israel Kamakawiwo'ole, more commonly known as "Iz."
Hula dancers came on for the first dance of the night as a Hawaiian percussionist beat his drum and chanted a song called "Kawika."
According to the Lu'au's program, this was a particular kind of hula reinstated by order of a 19th-century Hawaiian king who sparked a huge rebirth of Hawaiian culture—the dance may not have continued to exist otherwise.
One of the more impressive performances of the night was, without a doubt, the Samoan Slap Dance, or "Fa'ataupati." Set to the tune of "Manu Samoa," this hilarious segment involved intricate slap rhythms on the chests, stomachs, backs, thighs and arms of shirtless young men garbed in traditional Samoan attire. Often, they would humorously slap each other, releasing guttural roars in response.
For a nice change of pace, some cute "keikis," or children, took the stage to perform a dance of their own.
"Kawaipunahele" was a beautiful piece during which a large group of women wearing vibrant red dresses and large white flowers in their hair danced in perfect unison, leaving a curiously mesmerizing effect. The piece describes Hawaiians' love for their land, which was well portrayed in the women's graceful movements —the dance began to take on the appearance of a blooming red flower as the dresses slowly blurred together.
"Maori" was another hilarious segment involving shirtless warrior men, exhibiting every bit of testosterone they could muster. The piece had three movements including "Ite Timatanga," referring to a time before everything was created, "Kurarangona," describing the carefree days of childhood and lastly, "No Ihowa Te Whenua," a song that exemplified the journey from boyhood to manhood.
At intermission, I had the opportunity to ask President Ron Thomas about his feelings toward the Lu'au and what significance he thought it held for the culture of Puget Sound.
"I think it's a wonderful event," he replied. "The Lu'au gives the entire campus an opportunity to experience and participate in the food and culture of Hawai'i—something they may not have been as familiar with otherwise."
On the bottom floor of the Fieldhouse, students bought Hawaiian trinkets to take home with them before and after the Lu'au, including Hawaiian Host macadamia nuts, Aloha iced tea, Hawaiian fruit snacks, key-chains, bracelets, necklaces and more. A little girl in a straw hula skirt also provided some impromptu entertainment during the intermission as she twirled around the stage, smiling giddily.
Kicking off the second part of the show to a racy start was the Tahitian dance, set to the tune of "Otea." By far the most impressive performance on the part of the female dancers, it was fascinating to watch the rapidity of their hip movements as the men danced around them in straw headdresses and leggings.
The following love ballad, "He U'i," brought some faculty members onstage. As a student of Japanese, it was fun to watch Ludden Sensei's apparent enthusiasm for Hawaiian-style dance.
Finally, another major highlight was the emotional piece, "Move On," as seniors danced for the last time at Puget Sound's Lu'au.
The MCs of the Lu'au were amusing throughout the night—at one point, they played ukulele and sang Rebecca Black's "Friday," replacing "Friday" with its Hawaiian equivalent.
This year's spring Lu'au was a must-see for anyone who enjoys cultural dance forms. Not only would I see it again next year, I intend to try out for the Samoan Slap Dance. I noticed that I probably wouldn't be alone—many of the participants were non-Hawaiian as well.
If you didn't get a chance to see it this year, take a mental note for next spring because Lu'au is guaranteed to provide an enjoyable night of cultural entertainment.
[PHOTO COURTESY / LAURENCE STACK]
Tags :
Dance
Lu'au