University explains which wintery conditions result in cancellations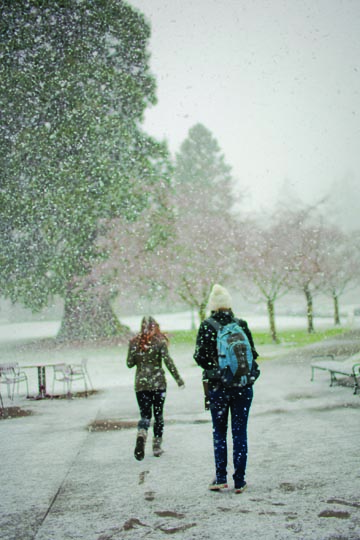 After winter storms deposited nearly a half a foot of snow on campus but left class schedules virtually untouched, some Loggers are invariably wondering what exactly warrants a "snow day" here at Puget Sound. The decision to cancel classes or other non-essential university services is a collaborative one that originates with Director of Security Todd Badham.
"We know that 70% of students live on or within a mile of campus, so what we are really considering are the immediate road conditions in this neighborhood," Badham said. "We try to be really safe, but we are going to do the very best we can to not disrupt the carefully planned, down-to-the-wire academic schedule. We want to make sure that our students get their money's worth."
Classes before 9 a.m. were cancelled on Feb. 23 to allow faculty and staff more time to commute, according to Badham. On Feb. 24, 8 a.m. classes were cancelled in order to give facilities more time to make campus walkways safe and clear of snow. On a related note, the entire grounds crew came in at 6 a.m. on both days to help prepare campus.
The conversation regarding whether or not to cancel classes or campus services usually begins the night before a potentially dangerous storm, although the unpredictable nature of weather in the Pacific Northwest and the geography of Tacoma's north end often makes that difficult.
Badham receives a phone call from security services staff by 4 a.m. regarding variables like snow accumulation or freezing temperatures and the state of campus walkways and roads. Next, Badham calls John Hickey, the Associate Vice-president for Business Services and the University's risk manager, to discuss the situation. They then make a recommendation of whether to have a delayed start or cancel classes altogether to Sarah Moore, the Associate Academic Dean. Moore advises Hickey and Badham of any possible academic constraints to scheduling before they make a final decision.
"Commuter safety is an underlying  message. If you live in Olympia or Seattle and there is a foot of snow, do not come to campus. If the conditions for your travel are unsafe, which means something different to everyone depending on their means, do not come in," Badham said. "We have to be realistic about it, you can only compete with nature so much. At a certain point, everyone has to take responsibility for themselves and decide based upon that."
The final decision is made public before 5 a.m. in order to accommodate for faculty and staff commuting from the Seattle or Olympia area. Puget Sound uses three methods to inform students: the university homepage, a recorded message at campus ext. 4900 and a subscription service that puts the decision on local news and radio. Badham wanted to emphasize that people should not call ext. 3311 regarding the decision, as inclement weather can flood security dispatchers and hinder their ability to respond during potentially dangerous times.
"It was frustrating not really knowing what was going on. My professor for my 9 a.m. class could not make it, so they tried to organize a substitute. The substitute got confused and did not show up, so we sat in class waiting for 30 minutes before finally leaving," sophomore Emily Webb said. "I think a campus email would clear everything up a lot."
Badham said that the University does not use the campus emergency system, which would send out an email and phone messages, in order to reserve that for a situation that requires immediate action from the campus.
Badham also stressed that the decision to not cancel all classes was made independently of the class cancellation on the day before Thanksgiving break this fall.
"We really try to accommodate and address each situation sepearately, there is a lot to consider. We try to learn from past experiences, but it is more of a learning curve than a constraint based on the number of class hours or days we want to have," Badham said.
"The bottom line is, we  will always do everything we can to make sure campus is safe," Badham said.
Tags :
Puget Sound Life