The difficult process of investigating University retention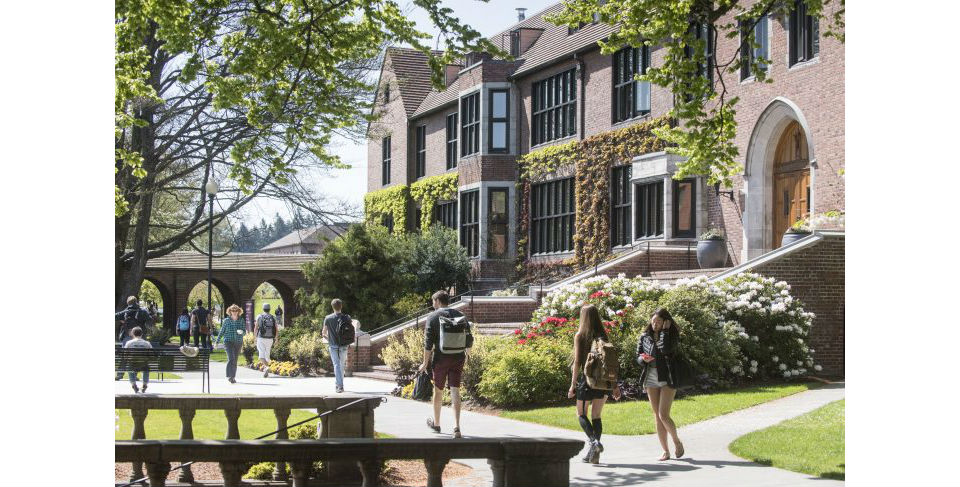 Photo credit to Ross Mulhausen
Universities are a lot like businesses in many ways. In business, transparency of information is extremely important in building trust, keeping the public informed and generating creative solutions to problems.
According to marketbusinessnews.com's article "Transparency: definition and meaning," transparency includes offering accessible and clearly communicated information. During my research trying to create a follow-up article for my February 28 article on retention I found that information about what the University of Puget Sound is doing about retention is not so transparent.
Since February I have sent no less than 34 emails to various offices at the University for a comment to gain the most basic idea of how the University is responding to the issue of students leaving. (These emails do not include the emails sent for the first article.)
I have been bounced around from staff member to staff member trying to understand who deals with the issue of retention. I have received vague information and visited multiple web pages on the University website (simply typing in "retention" is not enough). I have also literally climbed heights trying to find offices whose location even fellow staff members do not know — it took 3 staff members to direct me to the Office of Institutional Research — just so I can find out what retention data is available and where to find it.
According to the information I received from the Office of Institutional Research, the graduation rate as of 2017 reported to the National Center for Education Statistics (NCES) for students who entered in the Fall of 2011 and graduated within six years is 78 percent.
As for the retention rate, the percentage of students who begin in the fall and return the subsequent fall (for the fall of 2016 to fall of 2017) is 86 percent. Finally, the most recent first to second year retention rate for new first-time, first year students in the fall of 2017 returning to the fall of 2018 is 80.7 percent. The average retention for students in private universities is 80.4 percent.
However, when those statistics are broken down to underrepresented students who are coming from lower-income families or are racial minorities, the University retention rate is less cheery.
"I don't feel like I fit here," first-year Anikka Wright said. Wright identifies as mixed-race, being black, white and Asian. "I felt like people turn to the two people of color in the class to talk about race, and it is kind of hard to carry the weight of that," she said.
According to the National Center for Education Statistics, only 68 percent of Puget Sound students of two or more races who began their studies in 2011 received a degree or award. Black students were the least likely to receive a degree or award at 67 percent.
Due to the small number of students coming from underrepresented background, the rates of losses of this small percentage of students takes a big hit. According to the New York Times article "Economic Diversity and Student Outcomes at the University of Puget Sound," about 20 percent of students come from the bottom 60 percent income status. When 80 percent of students are coming from higher-income families, it can be understood why students such as Anna Thomson (mentioned in the first retention piece) feel neglected.
"The message seemed pretty clear to me: if you can't pay, there isn't a place for you," Thomson said.
According to the University's Diversity Office website, in 2015, the University created the initiative "Threshold 2022: Cultivating a Culture of Inclusive Excellence." The initiative outlines four main goals the University hopes to achieve by 2022: recruitment and retention, campus climate cultivation, community connections and engagement and alumni outreach and connections. The Office of Diversity and Inclusion declined to be quoted for this piece.
Furthermore, in 2018, the University launched a strategic 10-year plan called Leadership for A Changing World. This, according to the University website, is "a student-centered strategic plan guided by our vision and values, built on our mission and educational goals, and supported by a commitment to do all that we can to make a Puget Sound education ever more meaningful, relevant, accessible, and distinctive." The initiative includes the goal to "enrich our learning environment through increased diversity, inclusion, and access."
These goals and plans reflect the good intentions of the University. So what is keeping some students from staying?
"We need to create a culture of inclusiveness and be willing to help people feel like they belong," Associate Vice President for Student Financial Services Maggie Mittuch said. Mittuch, a graduate of the University of Puget Sound, has spent more than 35 years working with students and families to navigate the cost of attending the University. For Mittuch, retention is more than one office's job.
"At its heart it's the relationship across campus. … Retention is everyone's job," Mittuch said.
Indeed, the University has many other offices that play a part in the retention of students, including Enrollment and the Office of Diversity and Inclusion.
"The reason students leave change, so we have to weave it into everything. I think that one of the advantages is that people have a lot of institutional knowledge," Mittuch said, discussing the fact that currently, many departments share responsibility for retention.
However, (as experienced in searching for information about retention) the shared responsibility simultaneously means that no office holds full responsibility or knowledge of retention. Accountability is dispersed.
Other offices reiterated the wide variety of factors that drive students to leave Puget Sound.
"There are a number of factors, as there are at any university, that can result in a student leaving. Research informs us that it is the confluence of many factors from academic struggles to not connecting with a group of friends to distance from home and many, many more," Vice President of Enrollment Laura Martin-Fedich said.
In regards to financial aid, according to the University website, more than 90 percent of students receive some kind of financial aid, need-based or otherwise.
"What we're doing is having those conversations before you get here. We see a real clear constant conversation between admission staff and students from campus visit days to acceptance. … Throughout the time period it is all about outreach. … Each circumstance is different," Mittuch said, explaining the relationship financial aid has with students.
"We evaluate needs based on FAFSA data — is there a change in family circumstance, is there more money through regular grants, what kind of scholarship opportunities do we have. … We do our absolute best. … Sometimes students have to take a term out. Some students we see constantly," Mittuch said.
"The more often they come to see us, they're more comfortable. If students have to leave us, we don't want to see a student's credits get damaged so we work with the student. … We do everything we can. I am an alum. My entire career is figuring out how students can get through college so I am dedicated to students," Mittuch said.   
Financial aid offered the most quotable responses and for that I am thankful. However, in the end, the students who feel under-supported and that they do not belong at the University will continue to leave. The diversity of students at the University will be decreased as many of the students leaving represent minority and underrepresented people. Furthermore, their struggles at the University can continue to be brushed aside by University offices as their voices literally disappear.
Although the University is well-meaning in their plans and dreams for improving retention, the lack of accessibility to this information indicates that more work needs to be done to improve transparency.
Tags :
retention
students
university