United States' longest government shutdown comes to an end — for now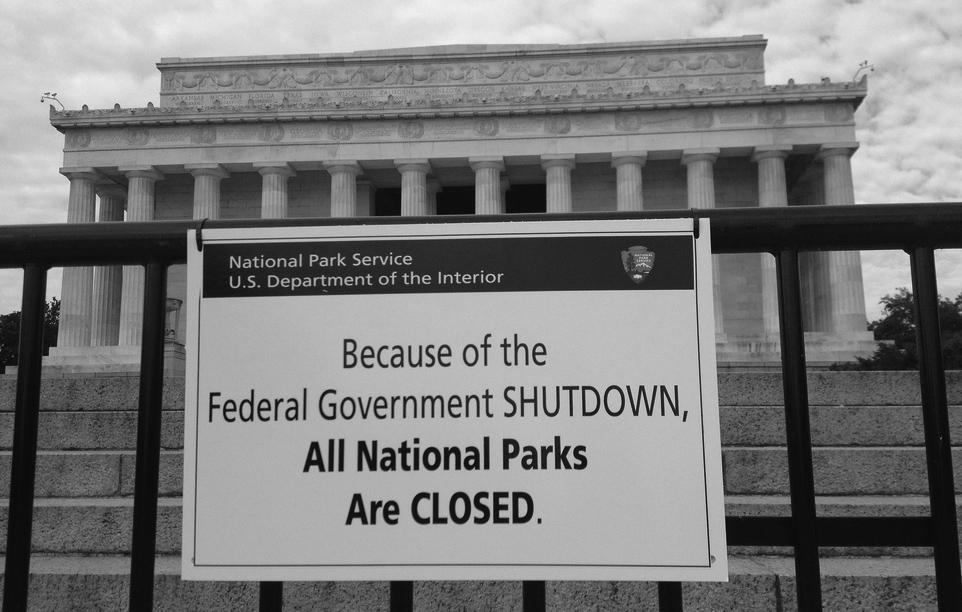 Photo courtesy of Flickr
The United States federal government made history recently with a 35-day shutdown, the longest government shutdown to date.
The partial government shutdown officially began on Dec. 21, 2018 and concluded on Jan. 25, 2019. As with previous shutdowns, the shutdown was initiated by disagreement over the proposed budget for the upcoming fiscal year.
When budgetary funds are not approved by Congress, a continuing resolution is enacted. This allows for temporary continued funding of the government while a budgetary compromise is sought after. Failure to reach this resolution results in a shutdown, affecting various federal departments and services.
The most recent shutdown occurred primarily due to the continuing fight over border security and President Donald Trump's insistence on building a border wall.
Throughout the shutdown, the president offered bipartisan updates via his Twitter account and repeatedly incorporated the slogan "BUILD THE WALL AND CRIME WILL FALL." into his posts.
One failed attempt at comprome was Trump's offer of temporary protection for the Deferred Action for Childhood Arrivals program in exchange for $5.7 billion in border wall funding.
Following a meeting with Senate Minority Leader Chuck Schumer and Speaker of the House of Representatives Nancy Pelosi, Trump updated his followers: "Just left a meeting with Chuck and Nancy, a total waste of time. I asked what is going to happen in 30 days if I quickly open things up, are you going to approve Border Security which includes a Wall or Steel Barrier? Nancy said, NO. I said bye-bye, nothing else works!"
Given that the U.S. Government has experienced 20 previous shutdowns due to funding gaps since 1976, Congress put measures in place to prevent a total shutdown and keep essential services functioning.
According to Vox, 3/4 of the government had funding and continued to operate. These services included Social Security, Medicare and Medicaid, food stamps, the military, the postal service, the Department of Veteran Affairs, border patrol, the Robert Mueller investigation into Russian election interference, federal courts, air traffic control and the Transportation Security Administration.
Sections of the government that were affected included the National Parks Service, the Internal Revenue Service, the Environmental Protection Agency and the Food and Drug Administration.
Many national parks remained open, but with limited staff and closed restrooms and visitor centers. The National Park Conservation Association reported an estimated $6 million lost in park fee revenue due to the shutdown, with 388 out of the 737 parks and historic sites closed.
FDA safety inspections were impeded, as well as IRS tax refund processing.
Nine out of 15 federal departments were impacted, affecting about 800,000 workers. Each agency determined which employees were "essential," meaning they continued to report to work even without immediate pay. Nonessential employees were furloughed and without a job for the duration of the shutdown.
Many federal employees, forced to work without pay, began calling in sick or resigning and effectively created the phenomenon Forbes referred to as the "sickout." The most notable employees to do this were air traffic controllers, which led to mass flight delays and cancellations and played a large part in ending the shutdown.
According to Vox, an estimated 380,000 federal employees were furloughed, and about 420,000 worked without pay. It was also reported that by Jan. 11, the shutdown had almost exceeded the cost of the border wall, an estimated $3.6 billion loss for the U.S. Economy.
So what did end the shutdown? Trump did not receive the desidered funding for his wall, but agreed to temporarily reopen the government through Feb. 15 in response to public outrage.
In addition to threatening a second shutdown, Trump threatened to declare a national emergency and use his power to bypass Congress and build the wall.
"Let me be very clear: We really have no choice but to build a powerful wall or steel barrier. If we don't get a fair deal from Congress, the government will either shut down on February 15th again, or I will use the powers afforded to me under the laws and the Constitution of the United States to address this emergency," Trump concluded.
A bipartisan congressional committee has been formed to negotiate an agreement on border security, but the fate of the government on Feb. 15 remains unknown.
Tags :
Government
Shutdown