The Puget Sound Brail:
Dennis Flannigan's story and underground newspaper highlighted by the Archives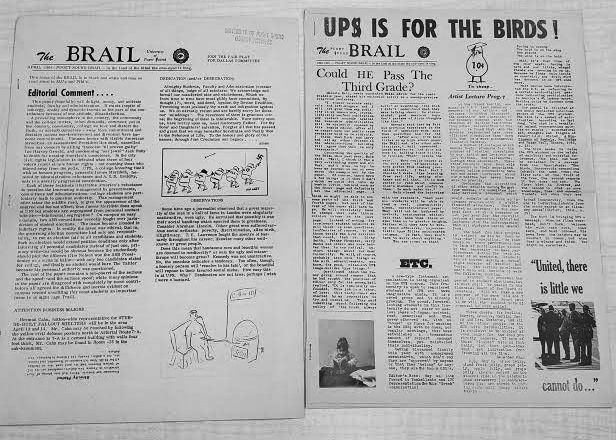 Pictured: An issue of The Brail — Photo credit to Evan Welsh
The Trail has not always been the sole student-run newspaper on campus. During the 1960s, another paper called The Brail found its way into campus newsstands. On Thursday,  Oct. 18, the founder and editor of The Brail, Dennis Flannigan, spoke to a mostly full room in the library about his controversial publication.
With Flannigan running a few moments late due to traffic, the audience first heard from the former editor of The Trail and former Tacoma mayor, Bill Baarsma. He spoke about his relationship with Flannigan, from his first interaction confronting Flannigan about The Brail, to his work with Flannigan in local politics.
When Flannigan arrived he spoke about his time at Puget Sound, his short run of underground publishing and his experience during the civil rights movement.
Flannigan, a Tacoma native, began publishing The Brail partially because of his dissatisfaction with Puget Sound, but it was more due to his concern with the state of the world and civil rights. Still, the paper was not taken to particularly kindly by then University President R. Franklin Thompson. The Brail had gotten under the skin of University investors and Flannigan was told he would be kicked out if he published another paper. Knowing these stakes, he decided it would be best to publish another edition.
It then came down to a vote on whether or not Flannigan would be allowed to remain at Puget Sound, and after a split decision between four University administrators and four University teachers, he was asked to leave the University.
After leaving Puget Sound, Flannigan was recruited by the Student Nonviolent Coordinating Committee (SNCC) to go to Mississippi in 1964 during what was known as the "Freedom Summer." While he was there he helped register African American voters and assisted the community. During this time, Flannigan sent letters home to his friends in Tacoma. Seven of these letters were published as a series in the fall of 1964 by The Trail titled, "Letters From Mississippi."
"What Mississippi gave me was an epiphany — that some people are left off the train," Flannigan said. "The best part was meeting people," he said. He spoke with great sincerity about his time spent in Mississippi in towns like Ruleville and Shaw, at times needing to pause while recollecting stories of hospitality and love from people he met while in the south.
"I was just some student from UPS, I read a lot about civil rights, read a lot about the war, but didn't really know people in a kind of intimate way — that became possible," Flannigan said as he discussed the kind of culture shock he experienced while he was away from Tacoma.
After his experience in Mississippi, Flannigan came back to Tacoma and eventually became a Pierce County Council member as well as a four-term Washington state representative from 2002–2010. After all of his years of civic engagement and civil service, Flannigan returned to Puget Sound in 2012, when the University awarded him an honorary degree.
"I generally have an affection for outliers," Flannigan said towards the end of his talk — a statement representative of his work for Tacoma and Washington as well as during the "Freedom Summer."
After Flannigan spoke, the audience stood up and intently looked over documents from the University Archives of The Brail, and "Letters From Mississippi," as well as other underground papers from Puget Sound's past — each piece a symbol of underrepresented voices amplified through freedom of the press.
Tags :
history
newspaper