Women's soccer, Acorda-Fey finish unstoppable season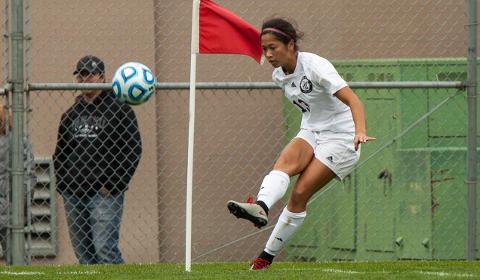 With a 2-0 win over Willamette on Nov. 8, Puget Sound women's soccer clinched its 14th straight Northwest Conference (NWC) title and an undefeated season with a record of 16-0-4. With a stingy defense which allowed only three goals all year and an explosive offense that tallied 30 goals, the Loggers seemed nearly unstoppable throughout the season.
Senior midfielder Amalia Acorda-Fey  (Seattle, Washington) has saved her best season for last, which is quite an accomplishment considering she has been named to both the All-NWC team and All-West Region team her first three years as well as being named a second team All-American her sophomore season. She led the team in scoring this season, knocking in 13 goals. After her phenomenal regular season, she currently stands as the No. 5 all-time leading scorer in Puget Sound history. But while soccer seems to come easy to her now, Amalia has had her share of struggles.
"I've been playing since I was five. But in my first game I ran off the field crying to my parents because I didn't understand why people were running at me and trying to take the ball," Acorda-Fey said.
A local product from Holy Names Academy in Seattle, Amalia initially chose to play for Puget Sound not just because of the success of the team, but also because of the apparent camaraderie of the players as well as the openness and friendliness of the coaching staff. Acorda-Fey credited much of her mental development as a player to head coach Randy Hanson.
"Coach Hanson has helped me understand what is and is not controllable, and the first thing you as a player can control is how you react to game situations," Amalia said.
It certainly can be said that Amalia has had the right reaction to clutch moments in games. In Acorda-Fey's career here at Puget Sound she has made several goals in key situations, including seven game winning goals this year, the 10th highest total in the country.
But for Acorda-Fey it's bigger than putting up impressive numbers.
"My goals are to inspire my teammates, challenge myself and never regret my effort when I step off the field," she said.
While the Loggers have been conference champions every year of Amalia's career, Acorda-Fey says that the team is looking to raise the bar even higher.
"We were challenging ourselves to finish the season undefeated, and we did that. A national championship is definitely one of our goals, and we think we have the courage and resilience to compete for one. "
Off the field, Acorda-Fey is a Puget Sound Scholar Athlete as a Biology major and is also a member of the sorority Pi Beta Phi. Recently, her commitment to school almost got her arrested by a policeman when she and her classmate were collecting shore crabs for a marine biology project at a park after hours. When Amalia isn't spending her time collecting crabs late at night or playing soccer, she enjoys hiking and studio art. She hopes to spend more time pursuing a future in biology once her soccer season is over.
But for now, the offseason can wait as Acorda-Fey and the Loggers await the first round playoff matchup given to them by the NCAA selection committee. With one last chance at the ultimate goal, Amalia and the Loggers will need to play with the same heart and grit that led them to an undefeated season. But regardless of whether or not the Loggers prevail and take home a national championship this year, Amalia Acorda-Fey has cemented her legacy as one of the all-time great Loggers to play on one of the all-time great teams.
Next, the team will head to the post-season when they open the 2015 NCAA tournament taking on Augustana College on Saturday, Nov. 14. The game will be played at Wartburg College in Waverly, Iowa.
Tags :
logger athletics
soccer
sports
Women's Soccer