University partners with Stumptown Coffee Roasters
Coffee lovers rejoice: there's a new bean in town. This year marks the beginning of a new partnership between University Dining and Conference Services (DCS) and Portland-based company Stumptown Coffee Roasters. The partnership is the result of a month-long search following the expiration of DCS' previous contract with Caffe Vita.
"This is a chance to turn a new leaf, an opportunity to work with new equipment and a new company, and a chance to do our due diligence to the student body," Manager for Diversions Cafe and the Cellar Paige Phillips said.
Several factors, including cost, quality and training, were taken into account when making the decision. Training was of particular importance, as DCS employs approximately 80 students as baristas each year and proper instruction is critical to maintaining a quality standard across campus.
Stumptown was not the cheapest company surveyed, but the quality of their coffee and machines paired with their ability to send professional baristas to campus for training and repairs made them an obvious frontrunner.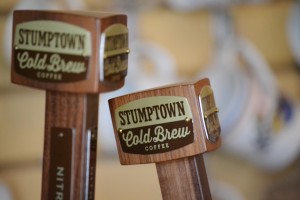 The company's ethical business model and commitment to forming close relationships with coffee producers was also key. Stumptown prides itself on its desire to help individual communities grow, emphasizing long-term partnerships where both sides work together to improve. For this reason, all of Stumptown's coffee is organic and direct-trade.
These principles correspond well with DCS' core values of collaboration, community, integrity and initiative.
"Stumptown is very transparent, very ethically minded," Diversions Student Lead Hazel Bryan said. Student Leads act as an extension of DCS management in the cafes, supervising employees and facilitating communication with DCS administration. "Just knowing that we're getting coffee from a place that's really focused on having a positive impact on farmers is amazing."
Once the contract was signed, the entire cafe staff was retrained to learn how to use the new La Marzocco machines and prepare drinks to Stumptown's specifications. Representatives from Stumptown were an active part of the process, helping develop training rubrics and spending time on campus to work personally with students.
In addition, trips are being planned to send employees to Stumptown's Seattle location so they can learn more about coffee's origins, nuances and preparations.
"The training we're doing, partnered with the support systems in place, gets people to respect the bean and take care of the drink," Phillips said. "It really gives significance to their work."
Bryan also noted the benefits of the rigorous training program for Diversions and its reputation.
"A really good thing [this new partnership] is providing is an opportunity for everyone to see us grow," Bryan said. "I'm looking forward to having the student body and employees be excited about what we're doing."
Currently, DCS serves four varieties of Stumptown Coffee: Holler Mountain, Indonesia Bies Penantan, Hair Bender and Trapper Creek Decaf. Indonesia Bies Penantan, produced by the women-led Ketiara Cooperative, is a rotational blend at Diversions, while Hair Bender is used in espresso drinks at both cafes. Holler Mountain, Stumptown's signature blend, and Trapper Creek Decaf are always available.
Regarding cost, the price of drinks will remain unchanged. However, it's worth noting that some of Stumptown's specialty products, particularly their infamous original and nitro cold brews, will be more expensive.
"People seem to love Stumptown, and I'm not surprised," Bryan said. "The coffee is great. It's super clean – really bright, really flavorful – and we're grinding the beans in house now, which makes a huge difference."
Phillips also expects feedback to be positive.
"Stumptown doesn't push their brand or logo or merchandise," Phillips said. "They let their coffee speak for itself, and it does."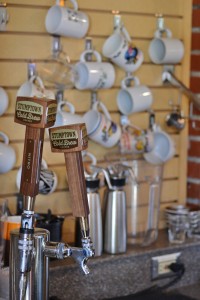 Tags :
Diversions Cafe
La Marzocco
Stumptown Coffee
University Dining and Conference Services