Ron Thom Through the Years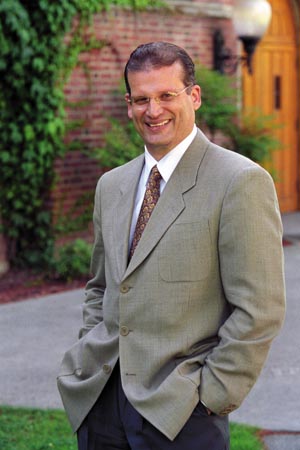 President Ronald Thomas in July 2003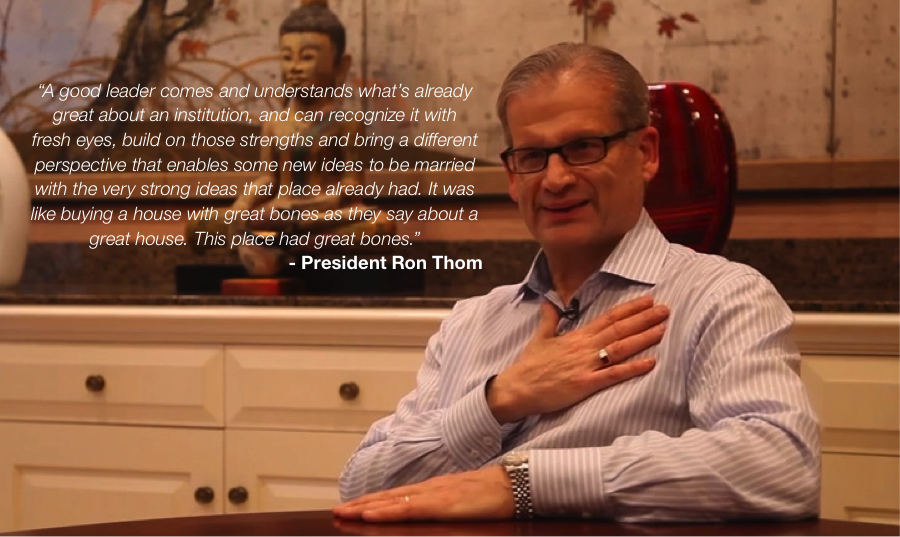 I
He has spent nearly 20 years as an English professor and three years as a college vice president. It was only in 2001, at the age of 52, that he was convinced to serve as interim President of Trinity College in Hartford, Conn. He only agreed to this on the condition that his presidency would last only one year.
Ron Thom, as he is affectionately called, soon discovered how much he enjoyed the job and when headhunters from various universities started contacting him, he began looking into furthering his presidential career elsewhere.
"I didn't know much about the University of Puget Sound," Thomas said. "But the more I learned about it the more I found it attractive and when I visited and was interviewed I was particularly intrigued by the opportunity."
He had considered a handful of other institutions with his wife, Dr. Mary Thomas, but location or atmosphere had discouraged them. The University of Puget Sound was located near where Mrs. Thomas had grown up and seemed like a great fit.
"I thought there was tremendous potential at University of Puget Sound," Thomas said, "as well as a lot of good already there, but that it was a kind of undiscovered masterpiece that had the great potential of being even greater."
The promise he saw stemmed in large part from the lack of preconceived notions of what the university should be. The previous institutions he worked at—University of Chicago, Harvard University and Trinity College—are all institutions that spend a great deal of time working to maintain the reputations they have earned over the years.
"We might lack some confidence in what we have here, with what we already are," Thomas said, "but that's okay because we're hungry and we're ambitious and we want to 'go to the heights' as our motto says."
These other universities were driven by trying to live up to their traditional reputation. In comparison, Puget Sound was drawn by the future rather than influenced by the past.
"We don't want to be Yale or Harvard," Thomas said, "we want to be Puget Sound and a really great version of what it means to be Puget Sound."
In many ways, what Puget Sound is varies greatly from other institutions due to the changes it underwent starting in the mid 1970s.
After World War II, Puget Sound had become a comprehensive regional university and was primarily non-residential with a number of branch campuses. It was an institution with, at best, a moderate academic reputation.
"There had been a decision, by the board and by the faculty," Thomas said, "to return to the original notion of the institution which was to be an academically respectable and distinguished college—a residential college and a primarily undergraduate, liberal arts college that was on a single-campus site."
While other universities were going broader and more comprehensive in scope, the University of Puget Sound was moving against the stream, aiming to consolidate its campus and hone its academics.
By the time President Ron Thom arrived in 2003, much of the groundwork had already been laid.
The University had become a national institution, aiming to draw people from across the country, rather than the overwhelmingly local population of students that had existed before.
The branch campuses had been eliminated and the campus had been consolidated to the University's current location. There had been a significant upgrade in the quality of the faculty and a switch to a liberal arts curriculum for the now primarily residential campus.
At the same time, the application process became more selective and the total enrollment was effectively cut in half to enhance academic quality.
These changes were quick to show results as faculty began to win recognition for teaching excellence and students earned the University's first Rhodes and Fulbright fellowships.
When Ron Thom stepped into office, taking over for his predecessor Susan Resneck Pierce, the board of trustees expected him to develop a Campus Master Plan as well as a strategic plan to maintain the positive momentum of the past decades.
"From 13th Street on, except for the Field House, did not exist as we know it," Thomas said. "What existed in the spot where Commencement Hall and Weyerhaeuser Hall currently are was our buildings and grounds operations and our facilities for occupational and physical therapy, which were housed in old army barracks that the University had bought from the army after World War II."
The University had purchased them in the 1940s with the intention of demolishing them within the next five years.
Fifty years later they had turned into old, crumbling structures, some of which were used as gas pumps and vehicle-repair shops for the school's trucks and vans.
"It was what I like to call the DMZ," Thomas said. "It really looked like a kind of warzone compared to the rest of the campus."
The construction that has occurred in the past decade has completely reconfigured the south side of campus.
"You wouldn't recognize the campus today from what it was in 2003," Thomas said.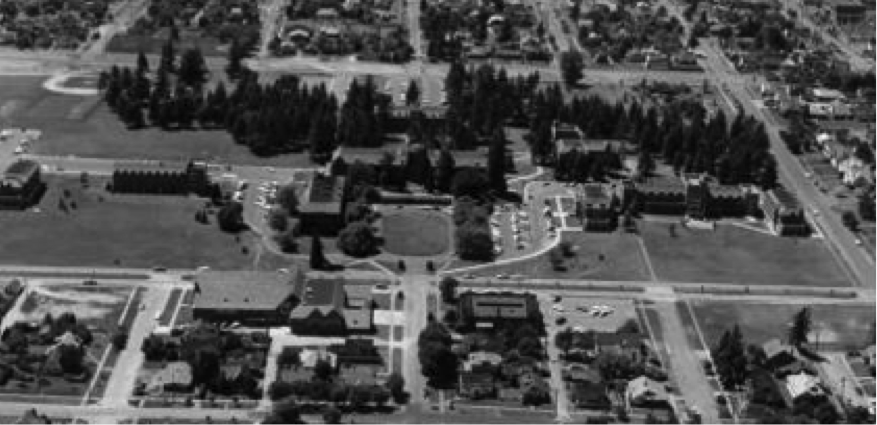 After he was inaugurated in 2003 he began work on the Campus Master Plan with a team of architects and a committee of faculty, staff and students. This plan included a total of 11 projects including the construction of Harned Hall (2006), Commencement Walk (2011), Weyerhaeuser Health Sciences Center (2011) and Commencement Hall (2013) as well as a new building for Facilities Services, now located to the south of the Memorial Fieldhouse.
Alongside these new additions, many preexisting buildings underwent renovations including the Memorial Fieldhouse, Lower Baker Field, Wheelock Student Center and Thompson Hall.
"We're about to break ground, this year," Thomas said, "for the Athletics and Aquatics Center, which will be the final piece for the development of the southern sector of campus."
According to Ron Thom, the qualities that made this University an undiscovered masterpiece can be difficult to create, but once acquired are great to create with. He took advantage of that fact and while oftentimes progress and development aren't manifested, the 11 years that President Ronald Thomas has invested in the University of Puget Sound have resulted in a grand legacy that is difficult to ignore.
Tags :
president
Ron Thom
Ronald Thomas