University addresses sexual assult
Dean of Students Mike Segawa speaks at the summit
With sexual assault on college campuses at the forefront of public attention, students and staff are trying to evaluate the extent of the problem on campus and how to address it.
The nationwide Campus Sexual Assault Study found that 19 percent of college women experience sexual assault. However, at the University of Puget Sound, 2-3 students file a sexual assault report each year. This discrepancy has led many to believe that cases of assault at Puget Sound go unreported.
"It happens more frequently than you might think…and it's under-reported so it probably happens more frequently than even we know," Director of Security Services Todd Badham said.
Incomplete reports, which are reports from third parties or those that do not result in an official investigation, were up by 170 percent this last year.
"A lot of these assaults are happening in residence halls and at off-campus parties," Assistant Dean of Students and Director of Student Activities Marta Palmquist said.
Some University officials believe that there are barriers to reporting that could be why survivors are not going through the official process.
"There is a stigma behind reporting, which I think is one of the biggest barriers," Badham said. "The victim can suffer through the trauma again through the reporting process. Law enforcement has to be careful of that."
For students who do report assault, there are several avenues in which to do so. Assaults can be reported to any of the nine designated harassment officers, heads of academic or administrative departments or security services.
If security services receive a report of an assault that has been committed within the last 24 hours or up to three days depending on the circumstances, Tacoma Police Department will be contacted to assist in evidence gathering. Harassment officers and other staff who receive a report of assault are not mandated to report to security or Tacoma police if the student chooses not to pursue further action.
"The student that is reporting really drives the process," Badham said.
If the student wishes to move forward with formal measures, the University instigates an investigation. In some cases, the results of the investigation lead to university sanctions against the perpetuator. Sanctions can be anything from required attendance of programs to eviction from campus housing to expulsion.
"Violence in this way is just not acceptable," Palmquist said.
Puget Sound has implemented several prevention programs to cease this violence on campus. The annual Green Dot presentation, which is presented to first year students at orientation, advocates a cultural shift to reduce power-based sexual violence. Green Dot bystander training and smaller group sessions are run throughout the year as well.
"We always need to do more…we're not quite there yet," Palmquist said. "I really do think we can change this paradigm, we can shift this culture…I don't think it has to be a part of our lives."
The campus community is attempting to increase dialogue and expand prevention programs.
At orientation in late August, a new lecture about consent was added to the schedule after students on campus pushed for its inclusion.
On Sept. 21, Transparency, Dialogue and Action: A community response to Sexual Assault Prevention at Puget Sound took place at Wheelock Student Center. Keynote speaker Mollie Monahan-Kreishman spoke to attendees about how to deal with the issue of sexual assault in a way that is sensitive to the experience of survivors. The summit also provided a forum for open discussion for community members.
"The summit is really about shedding some light on the issue, knowing these difficult dialogues need to happen…Because it's the only way to have any real change," summit organizer Palmquist said.
For survivors, there are multiple outlets for support on campus. This semester, Counseling Health and Wellness Services will host a support group on Thursdays from 3:30-5 p.m.
"The group will be a confidential meeting to provide support for survivors. The group will be closed, rather than a drop-in group. This format allows for deeper, more trusting relationships to develop and members typically feel more supported," Charee Boulter, CHWS psychologist and Training Director, said.
Other on-campus resources include Peer Allies (student support group) and the university chaplain.
The Sexual, Gender and Violence Committee will begin meeting this year to evaluate the ways Puget Sound is addressing the issue of sexual and gender violence.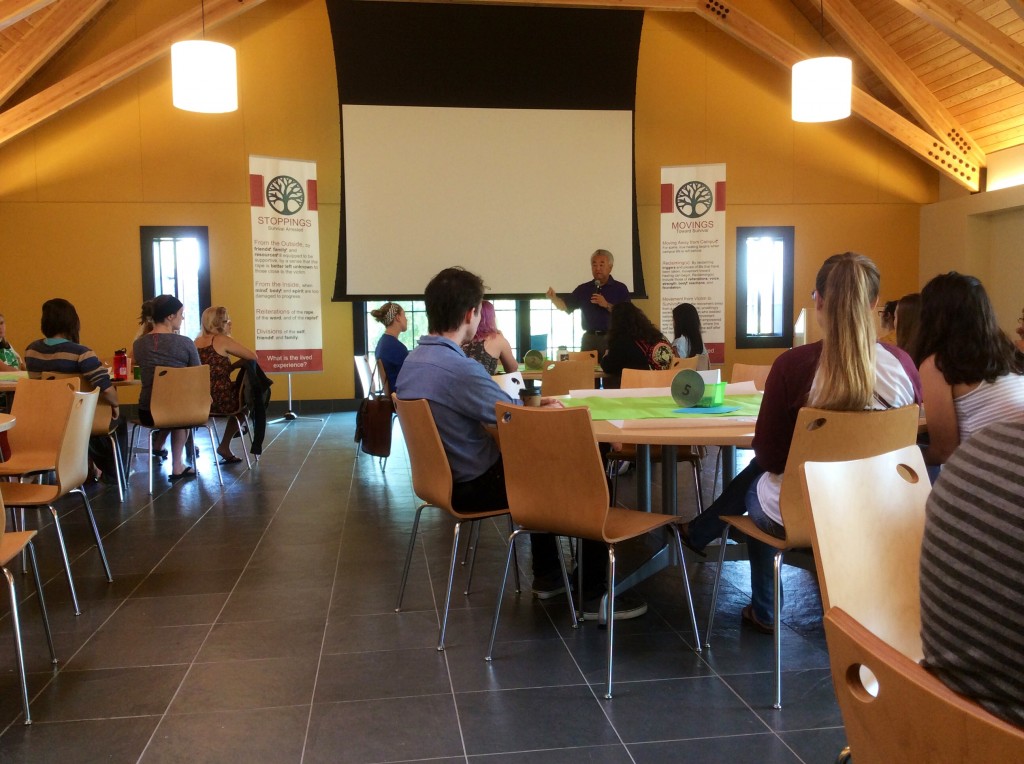 Tags :
assault
assault prevention
Campus Security
culture
dialogue
gender
gender violence
Green Dot
news
peer allies
security
sexual assault