Senior Show 2014 now at Kittredge Gallery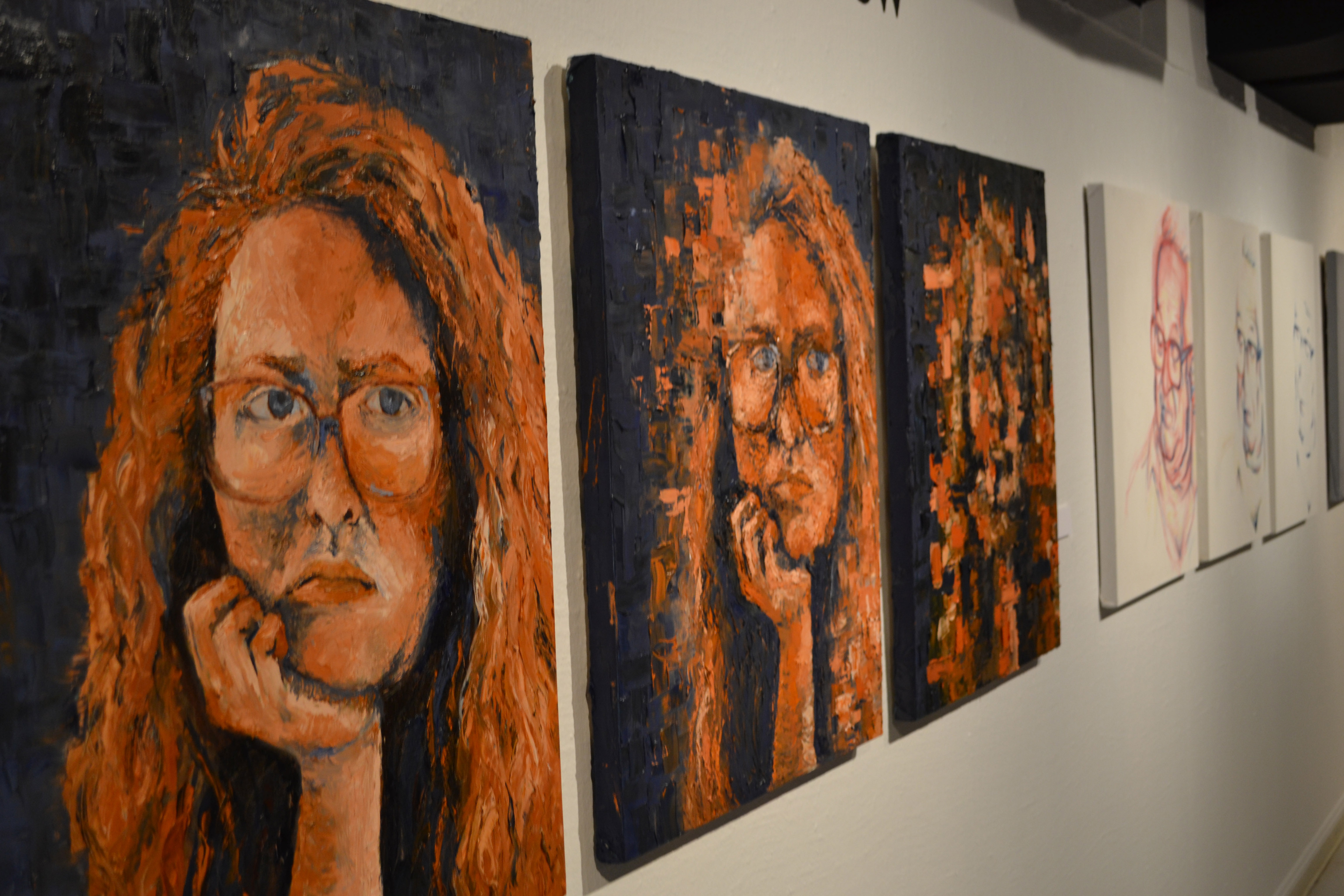 Kittredge Art Gallery hosted the opening reception of the Senior Show on April 23, an exhibition that displays the work of Puget Sound's graduating Studio Art majors, giving these students an opportunity to experience the process of tailoring their art to a professional exhibition.
The artistic work of students Jonathan Steele, Emi Menk, Jordan Meyers, Kristan Shuford, Abbie Baldwin, Bryn Thomas, Cleo Maul, Haley Andres, Dylan Harrington and Carolyn Corl will remain on display through the end of the semester.
Many of these artists' collections focus on the contradictories present in the human experience: life and death; the physical and the spiritual; the desire to preserve, to remember and the ultimate transience of time.
For instance, Abbie Baldwin's works, both sculptural and two dimensional, depict images of curving organic forms filled with vitality. However, these forms—particularly a large sculpture composed of soil and curved metal—resemble graves. This duality of life and death highlights Baldwin's focus on the relationship between the physical body and the internal soul.
Baldwin said, "My work is a meditation on the transient states of corporeality, and in turn the circle of life. Death is an event that inevitably takes all of us with time and leaves behind only memories and our physical body, which functioned as our vessel through life."
One of the most eye-catching parts of the exhibition is the work of Kristan Shuford. Enormous pale painted sculptural elements like drifting swaths of white fabric blown by the wind frame a piece of performative art: a ballet dancer draped in the same unmoving white fabric-sculpture material, whose smooth movements evoke the same grace as the rest of Shuford's installation.
About her work, Shuford said, "These sculptural paintings, arranged within an installation, seek to trace the dynamism of a dancer's flight through space and to create an environment for viewers to engage with and respond to this movement."
Shuford's work also deals with an inherently human contradiction: the tension between permanence and transience. "Dance is inherently experiential," Shuford explained. "Seen in one moments and gone the next, it is a reminder that everything slips away with the passage of time. My work attempts to freeze this passing, while emphasizing the impossibility of such an act."
Other collections in the exhibit are purely sculptural.
Ceramic artist Jonathan Steele developed a series of ceramic sculptures which portray the human figure in textured, bronze-glazed clay, broken into parallel slices and arranged in prone positions.
These sculptures bear names like "Fire's Stroke" and "Pyroclastic Flow," bringing to mind images of the plaster casts of Vesuvius's victims in Pompeii, and other ancient human remains. The emotions evoked by such physical reminders of mortality create a story of how quickly time does in fact progress.
Similarly, the work of Bryn Thomas explores themes like the passage of time, while also discussing the concept of memory. Thomas's portrait paintings occur in sets of three, each in progression from recent memory—images with heightened detail and sharp, clear lines—to distant memory, where details and composition are blurred and distorted.
Thomas said, "I am fascinated by visual memory and its relationship with art. I engage with this relationship by testing my own observational memory in painting. I have found that our memories are never as effective as we want to think they are."
Some artists even utilized the existing layout of Kittredge gallery itself to communicate their artistic vision. The work of Dylan Harrington is a wood and metal structural element, which, at first, seems like a preexisting part of the main gallery room, but which, upon closer inspection, blocks off one main avenue of traffic in the gallery, while suspending heavy wooden beams on nerve-wrackingly small metal fixtures.
Harrington said, "I juxtapose the size and weight of architectural elements with the fragility and emptiness of small spaces in order to elicit feelings of discomfort and confusion in the viewer." This effect of discomfort and confusion forces the viewer to contemplate the physical and institutional structures that surround them and question the stability of supposedly immovable frameworks.
Ultimately, the collection of students whose work comprises Kittredge Gallery's Senior Show is a thoughtful and tremendously creative group of individuals, and their art is a valuable contribution to the creative output of the Puget Sound community.
The Senior Show will be on view at the Kittredge Gallery from until May 17. Kittredge Art Gallery hours are 10 a.m. to 5 p.m. on weekdays, and 12 p.m. to 5 p.m. on Saturdays.
Tags :
art
Kittredge
Senior Show