Sandow Birk's "American Qur'an" exhibit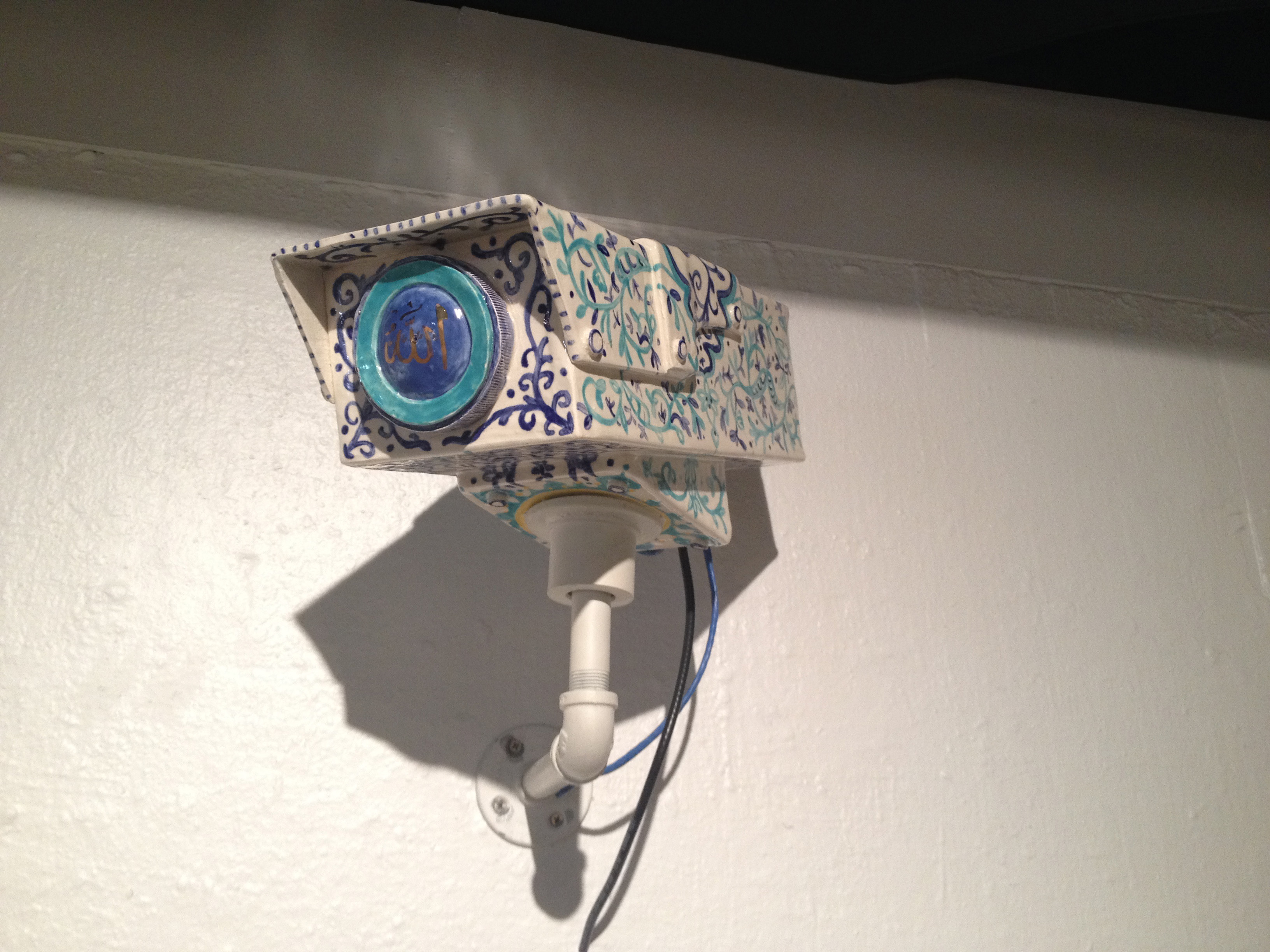 For the past month, Puget Sound's Kittredge Gallery has hosted the exhibit "American Qur'an," created by renowned artist Sandow Birk.
Birk's series consists of 16-by-24 inch pages inscribed with an English translation of the text of the Qur'an, and illustrated with diverse images of modern American life, from inner-city graffiti-covered urban-scapes, to prosaic suburban settings, to the fallout of the Iraq War. These images are placed within illustration structures from the Qur'an, like intricate gold-plated borders and illuminated letters.
The series also includes several three-dimensional art pieces. Along with the selection of Qur'an pages displayed at Kittredge Gallery, Birk provided a ceramic piece made in collaboration with his wife, the talented ceramic artist Elyse Pignolet.
This ceramic sculpture, "CCTV,"  takes the physical shape of a traditional CCTV camera, but is decorated with intricate patterns of blue, white and turquoise glaze, imitating the designs of glazed tiles typically found in mosques and other Middle Eastern architecture. The name Allah, the Islamic word for God, is painted in Arabic characters over the 'lens' of the camera.
Birk said he often "uses CCTV surveillance camera to represent being watched by God." This religious theme can also be seen in many of Birk's illustrated Qur'an pages, along with imagery like graffiti, mass communication, urban environments and suburban life.
Also typically included in exhibitions of Birk's work are versions of the Mihrab, an object which Birk calls "a niche in the wall of a mosque that indicates the 'qibla,' that is, the direction of the Kaaba in Mecca and hence the direction that Muslims should face when praying." Birk's interpretation of the Mihrab takes the form of the wall-niche American are most likely to be familiar with—the ATM.
Inspired by American cultural dialogues about the theoretical incompatibility between America and Islam, Birk developed the concept of combining the two within his art, to make the Qur'an and Islam itself "more accessible, more familiar, less foreign, less frightening to people."
Birk spoke at two events during his week at Puget Sound: a presentation at Kittredge Gallery as part of the "Living Art" series, and a panel discussion entitled "Reimagining Text and Image." At both of these events, Birk discussed the theory and process of his latest project, American Qur'an.
Birk said he was very interested in doing things "only artists can do," such as creating handmade manuscripts. This kind of creative and technical craftsmanship is important to Birk's vision for American Qur'an.
At the "Reimagining Text and Image" panel, Birk joined Professor of Art Lisa Sweet from Evergreen State University, and University of Puget Sound Professors of English Denise Despres and Mita Mahato.
Mahato opened the panel by discussing her own experience of the tension between visual and verbal imagery in the realm of comic books, saying, "When working with comics, we understand words and images as two different levels of meaning."
Sweet and Despres talked extensively about their experiences studying religious art and sacred manuscripts, and Sweet noted that often with illustrations of these religious texts, "The image makes is responsible for translating theology."
Birk then discussed his artistic process for projects like his illustrated Dante's Divine Comedy, and, of course, "American Qur'an", where he developed the concept of highlighting the disconnect between text and image.
About his Dante project, Birk said, "They weren't illustrations of the text, so much as criticisms of it, asking the question of whether Dante was right about who was allowed to enter heaven."
This idea that "images could contradict the text" led Birk to an even more vital discovery: that images could be used to force viewers to stop and reconsider their preconceived notions of a text.
"There are people who point to the parts of the Qur'an that talk about war and violence, and I wanted to flip it around, referring to the Americans who are waging war in the Middle East," Birk said. "'For the Qur'an,' in a way—against the Americans who are suspicious of it."
After nine years, Birk has transcribed nearly all of the Qur'an. With an end date of this coming summer, Birk is exploring his publishing options, hoping to print full-scale copies with all 223 pages of his "American Qur'an" in book form.
Birk's artwork can be viewed on his website, www.sandowbirk.com. Several pages of the "American Qur'an" series will be on display with the Stan Sheldmidine exhibition in Collins Library though May 30.
Tags :
art
Sandow Birk