Tennis teams on the rise, ending their seasons with growth for men and women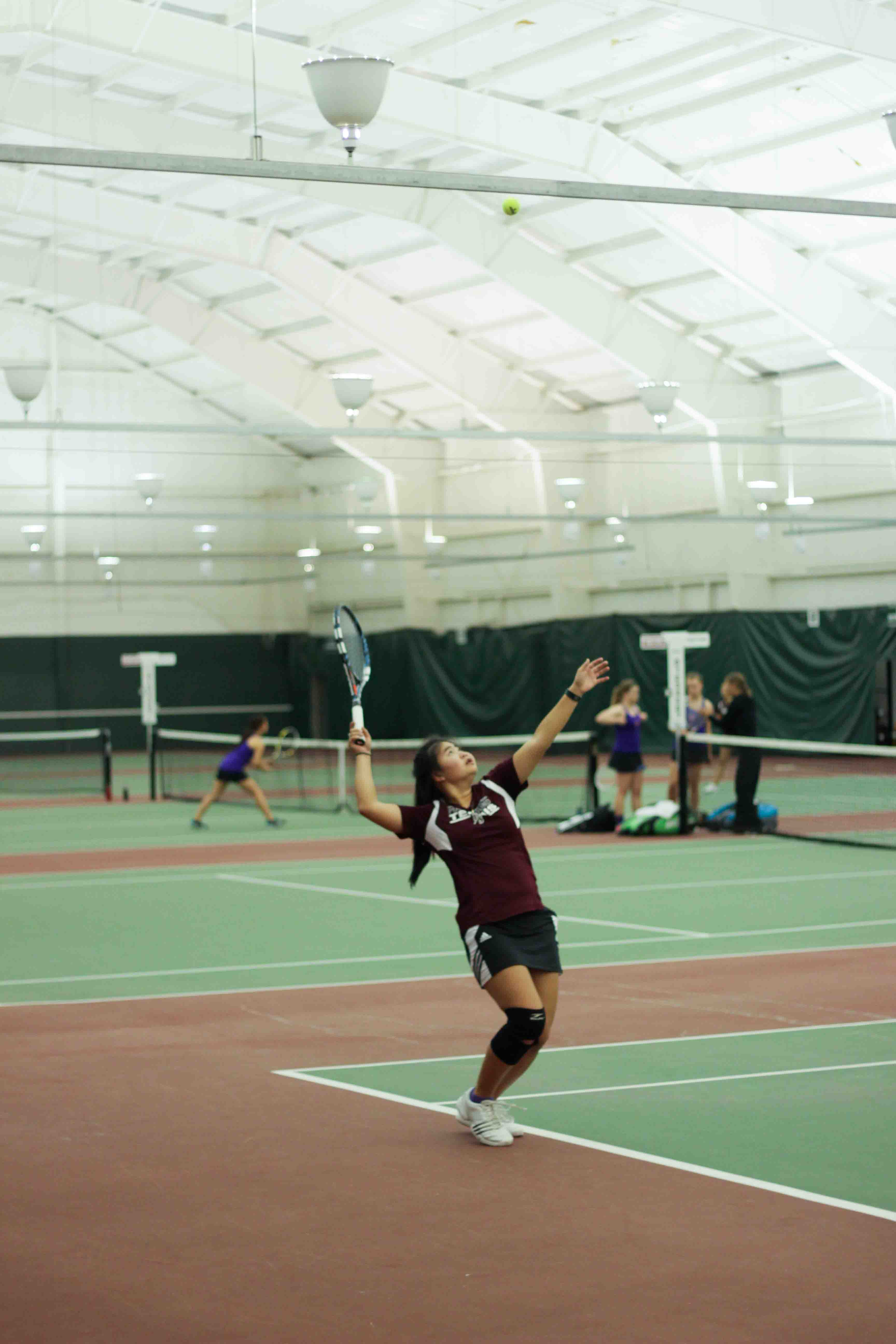 As one of the less talked-about sports on campus, both the women's and men's tennis teams appreciate any recognition of their accomplishments and hard work they put into the season.
Both teams have had many highlights from previous events along with star players. With only a month of games left, the tennis season is coming to an end very soon.
The women's team has had a steady and successful season with an overall score of 5-4.
Due to half of the team being seniors, the team is fairly experienced as a whole and sets high standards with hopes of making it to each round of the championships. The team's strong bond and right mindset has led them to the fifth ranking in the Northwest Conference brackets.
Senior Marissa Friedman (Novato, Calif.) has been playing tennis since the age of six and after beginning to play competitively at the age of 10 knew she wanted to play tennis in college.
Friedman has worked hard and dedicated time and energy to the team which has paid off since she is now part of the number one doubles team and is the number two single.
"There are so many highlights and good memories for me on this team. Personally, I am most proud of my performance at the fall 2013 ITA regional tournament, my last regional tournament, in which I made it to the quarterfinals, taking out one of the top 8 seeds in the process," she said.
"In terms of the team, there are so many highlights. Last year we had a 10-match winning streak that was simply phenomenal…..I could not have been any prouder of my team!
"Also, having my team receive the athletic department's award for the team with the highest GPA for the past two years in a row is another one of those major highlights for me. I think at the end of the day, because we are DIII athletes, our team's academic success is more important than anything we could ever do on the court, and I think it is a testament to how our dedication on the court translates into our life outside the court," Friedman said.
Friedman continuously emphasized the idea of the tennis team focusing on the true meaning of being a DIII athlete—focusing time not only on sports, but also academics, other extra-curriculars and enjoying the company of the team.
This is especially crucial because the practices consist of long hours of drills and match play where they individually play matches along with playing double matches.
Junior Allison Embernate (Kihei, Hawaii) has also been playing tennis for most of her life, since fifth grade, which adds to the strength of the team. Initially she was not going to join due to the pressure of college athletics, but ever since she was persuaded to, Embernate has enjoyed her experience on the team.
"Just like any other sports team, our goal for this season is to play well, hopefully make it to playoffs, and have fun. In addition, our goal is to gain more experience and improve so that we can hopefully play just as well if not better next season. With five seniors leaving at the end of this season, the five returning players will have to step up their game as they move up in the line up and face more challenging players next year. We will have some big shoes to fill," Embernate said.
While the team has many strong points, they also have some weaknesses. This season they have had injuries that forced them to change their line-up. Along with these obstacles, the team is generally on the shorter side which can prove to be a hindrance.
"Our height is probably one of our biggest weaknesses. We always joke that we are the shortest team in the league because our average height is probably only 5'4". Our shortness just means we have to work harder to get to the ball, and our opponents have an easier time lobbing us," Embernate said.
The men's tennis team is in a stage of rebuilding the program and trying to get a constant and strong coaching staff along with a group of dedicated and experienced players.
The team has changed drastically due to many ups and downs that the program has faced which has negatively affected the performance of the team. However, this season does seem to be a promising one for years to come.
Senior John Stevens (Portland, Ore.) has been the only one who has stuck with the team from the beginning and is now the captain.
Due to his time on the team he has seen all of the changes the team has experienced from the inconsistency of the coaches—causing instability of team dynamics and deterring recruits from coming to Puget Sound—to the relationship with the athletic administration.
"However, despite this rocky past I feel that the team is starting to take the steps in the right direction.  We've got a coach [Joe Holland] who is here for the long haul, as well as young players who are enthusiastic about playing…This year has turned out to be a promising rebuilding year.  From the uncertainty of not knowing if we were even going to have a program to now there have been clear signs that our program is finally starting to move in a positive direction.  Freshmen Myles Rivera-Flam, Colton Wright, and Chris Severt have all shown great potential and have all strongly contributed to our growth.
"In addition to this there has been a large cultural change to the program.  This year the team has shown more enthusiasm than I've seen my entire time here, especially from freshman Chris Severt," Stevens said.
With only three weeks left of the season, the team's main focus is to get as many wins as they can. The team has an overall record of 3-9 and they are continuously trying to improve through their training.
"Practice mainly consists of hitting drills, challenge matches, and conditioning.  Joe and our assistant coaches also try to work with us individually as well to fine-tune our games.  In addition during the fall we worked with the school's strength and conditioning coach," Stevens said.
The players all expressed their appreciation for the tennis program at Puget Sound and how much it has influenced their experience.
From the memories and highlights made at each match to the responsibilities and skills tennis taught them, the players have all enjoyed their experience.
"It's hard to put into words all that I have gained from being a part of this tennis team. As a graduating senior, I think I have learned a lot about how to be a team leader in this past year. I have perfected my time management skills, a major skill needed for any college athlete. I learn from my teammates everyday," Friedman said.
"Like any other sport on this campus the future success of our program is heavily dependent on recruiting.  Our ability to recruit new talent depends so much on how well we can market ourselves to prospective athletes…
"Our program has been through some rough patches over the years, but I finally think the program is moving in a positive direction.  With a solid coach here for the long haul, young players eager compete, things are finally starting to looking up," Stevens said.
Tags :
Athletics
Loggers
mens
sports
Tennis
women's