Professor Spotlight: Dr. Gwynne Brown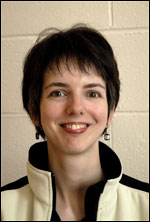 Dr. Gwynne Brown, associate professor of Music History and Music Theory at the University, came to speak to the Music Education club about her experiences as a professor and to give advice to aspiring music educators. Brown is a musicologist, pianist and player of  a Zimbabwean instrument called the mbira.
An alumna of the University, Brown studied piano under the instruction of Duane Hulbert and was a member of the Adelphian Concert Choir. At Puget Sound, she practiced piano for six hours a day and fell in love with classical music. "I don't think there has ever been a time in my life when I was so consumed with music," Brown said.
After four rigorous years of the music program, constant practice became taxing. "[During] my senior year of college, I was so tired of playing constantly and the isolation of the practice room," Brown said. She therefore reconsidered her ambition to become a concert pianist. "[I realized] that I wanted to spend time thinking about and talking about music instead of laboriously focusing on the technical demands of performing music," she said.
She ultimately decided to attend Indiana University for graduate school where, rather than studying piano, she received her masters degree in music theory. "It was the biggest intellectual challenge of my life," she said. "It was a school with a gigantic music program."
Brown began to teach written theory to undergraduates and discovered how much she loved it. "It satisfied that need I had to perform, and I also got to discuss theory," she said.
After receiving her masters in music theory, Brown went on to complete a doctorate in musicology at the University of Washington. While she was completing classes for her doctorate, Puget Sound invited her back to teach theory as an adjunct professor in 1999. She has been teaching full-time at the University since 2005 and also recently achieved tenure. Although she teaches theory, her main focus is Music History classes. She plans to go on sabbatical next semester in order to write a book about composer William Dawson.
"I think that a liberal arts education is very important," she said.  Brown is one of the few professors at the University who actually attended this school. "Some of the professors that I had when I was a student still teach here!" she said.
When she came to speak at Music Education club, she answered students' questions and talked about her life experiences. She also gave advice to aspiring Music Education majors. "Don't stop empathizing with your students. Always try to understand what they are going through," Brown said.
Brown also told students to learn from other teachers. "As a teacher, I have learned a lot from my colleagues," she said. She stressed the importance of keeping the love for music alive. "Feed your soul. Don't stop playing, hearing and loving music!"
"I found her advice to be really helpful because it explained the process we [prospective music education majors] have to go through and the challenges of grad school," junior John Lampus said. "I also loved that she dealt a lot with how hard it is to find what area of music to study."
"I think that a great part of the music program here at Puget Sound is that everyone gets a chance to shine," Brown said.
Tags :
Dr. Gwynne Brown
music education
music theory
university of puget sound