Crew looks towards a successful spring season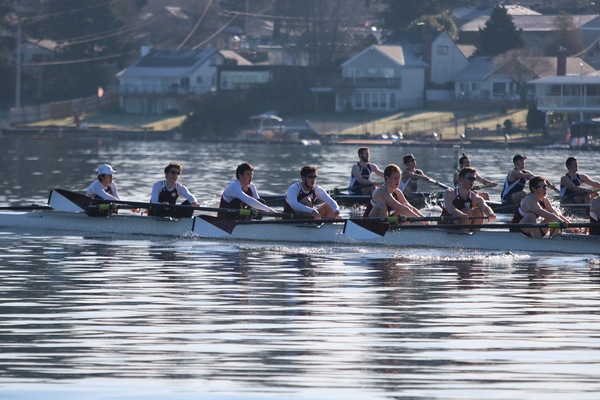 A Logger boat on Lake Washington during a 2018 meet — Photo courtesy of Logger Athletics
Head Crew Coach Aaron Benson and his team look forward to the upcoming season with hopes of another fun and successful season.
"We aim to make boats go fast. We intend to work purposefully and playfully every day as we strive to be better," Benson said.
After a moderately successful fall, University of Puget Sound Crew begins its preparation for the spring season. Their first event is not until Saturday, March 9. Nonetheless, the team has begun training and is fully focused on having another great season.
Benson acknowledges the ordinary and unique challenges that this season will bring. "The demands of the sport and the training necessary to make boats go fast remain constant," he said. "But we have to adjust to our own ever-changing circumstances."
According to junior Sabrina Saenz, there are 20 first-years in the program this season (eight men and 12 women). With so many newcomers, Benson intends to modify his approach to the upcoming season. "There will definitely be some attention paid to developing the newer members of the team," Benson said.
Saenz echoed this concern: "Everyone has different habits they've learned during their time rowing that affect their stroke which have to be corrected by the coach so everyone looks the same and the boat is efficient and effective come time to race."
Orienting first-year rowers is not just up to the coaches, it is also the responsibility of returning crew members.
"Returners help new rowers by teaching proper ergometer technique. The erg has a very specific movement sequence that isn't natural to most. We spend years perfecting this technique," junior Captain Matt Imanaka said.
Some returners believe their guidance outside of the boats is equally essential. "The main help returners give is on and off the water in regards to balancing social, academic and athletic life. When I was a first-year, the returners were super integral in making me feel at home," senior Douglas Fournet said.
Saenz reinforced this: "The returning members include the novice members in team activities outside of practice, making them feel important to the team. It is much easier to get someone to pull when they are friends with their teammates."
When asked to identify Logger Crew's greatest strength heading into the new season, Benson pointed to the team's unity. "Some years the men and women feel more like separate squads, and some years they feel more aligned as a single program," Benson said. "I think we really came together as one team at the end of last spring, and it's been nice to see that persist into this season."
Imanaka elaborated on this team spirit: "I think our biggest strength is the tight-knit community. We support each other and really strive to become faster despite our small team size."
Fournet also acknowledged the difficulties of the team's small roster. "The biggest challenge is the small team size. Every person on the team has to be performing," Fournet said. "However, the team has a strong chance of putting out some medaling boats at championships if we can maintain lineup numbers."
Overall, Logger Crew looks forward to the spring season with high spirits and optimism. The program knows that success only comes with hard work and dedication — which they intend to exhibit.
Tags :
crew
spring season