'The Music of Resistance': A harrowing night of music and narrative in Kilworth Chapel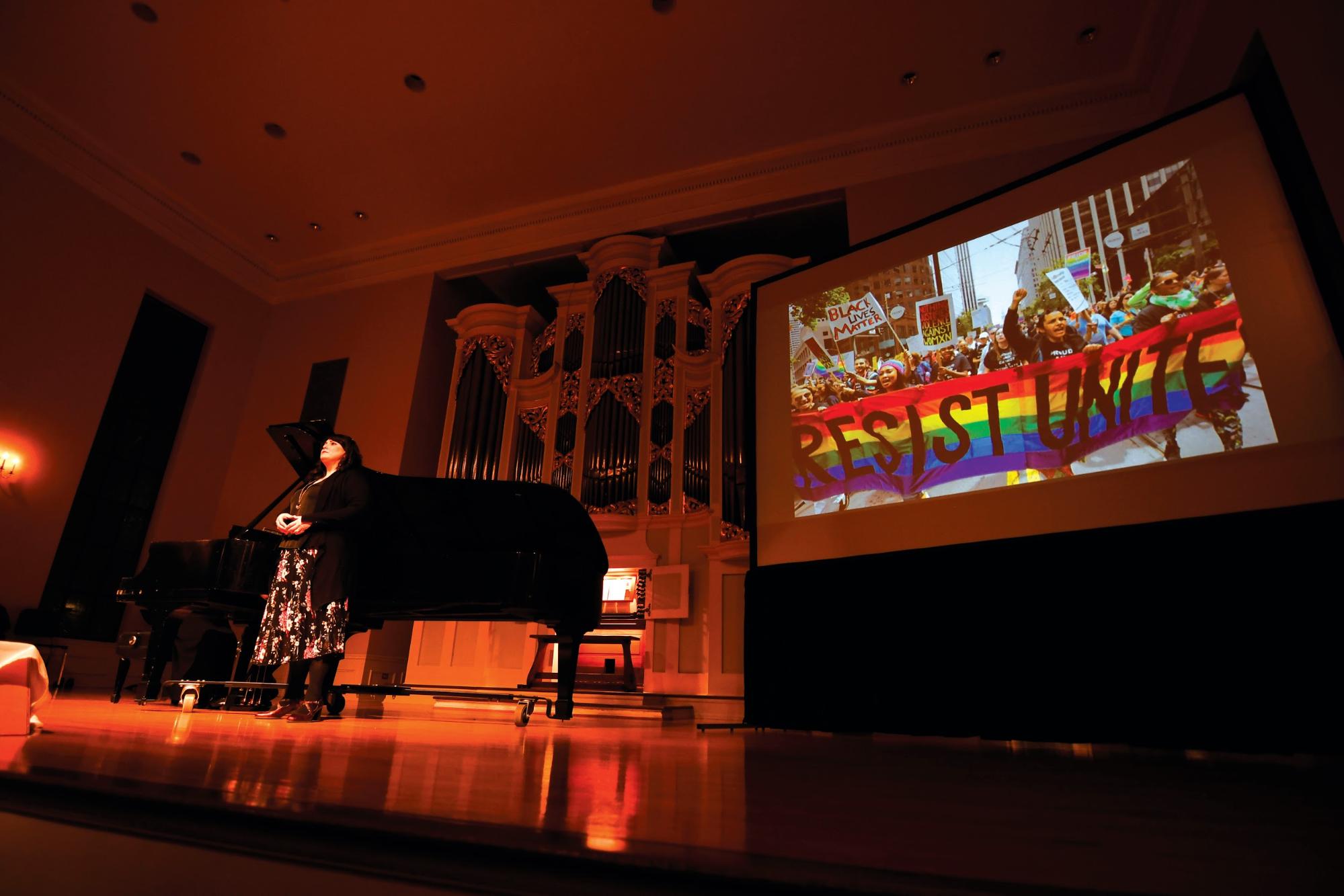 Pictured: Images of a protest shown at "The Music of Resistance." — Photo credit to Rowan Segura
Last Sunday night, members from the Puget Sound and Tacoma community filled the pews of Kilworth Chapel for a night of remembrance commemorating the 80th anniversary of Kristallnacht, "the night of broken glass," and for all who faced oppression in Nazi Germany and who continue to face oppression today, in America and beyond.
The program for the evening was an alternating set of spoken narratives and song. It began with genuine, heartfelt introductions from Jihnshil Yi '14 and University Chaplain David Wright '96 as well as a poem from Micah Ackerman Hirsch '20 read by Brea Kaye '19. The narratives of "The Music of Resistance" selected artists and heroes were read powerfully and confidently by Yi, Kristina Sinks '19, Kelly Johnson '19 and Allison Shapiro '19.
Aside from speaking, Jinshil Yi also served as the evening's artistic director and musical center of the program — her performances on the piano and organ, particularly those of Chopin's "Ballade No. 1 in G Minor, Opus 23" and excerpts from Fanny Mendelssohn's "Three Melodies, Op. 4," were spellbinding and emotional. She also accompanied wonderful performances by violinist Eumin Woo '19 and mezzo-soprano Professor Dawn Padula.
While "The Music of Resistance" was initially conceived of over the summer, and originally focused on using music to link the hate and bias of Nazi Germany to hate and bias that persists in the world today, the tragic, hate-fueled murders in Pennsylvania, Kentucky and Florida added a certain weight and urgency to the night's proceedings. The 15 people whose lives were taken in these recent hate-based attacks were represented visually, by name, and in lit candles standing on a table just in front of the stage — their presence unavoidable and poignant.
The program took on resistance in all forms, recognizing and uniting all who have been victim to the heinous and persistent attitudes of anti-Semitism, racism, sexism, homophobia and xenophobia under the Third Reich and in America to this day.
"The need for this music and these stories from a previous generation are desperately needed right now, on this campus, and in this country, because the forces of hate are thriving right now," Reverend Wright said.
The accompanying imagery, directed by Kaye — featuring art and photos from past and present — served as a harrowing reminder of the persisting oppression and hatred felt in the world. As the final song, a performance of the theme from "Schindler's List" by Woo and Yi, ended, the slideshow faded into the words "Never Again" in bold white lettering, shining against a black backdrop.
It feels like we've begun seeing the words "Never Again" almost every other week, and it was difficult to see them displayed again Sunday night. While it can be discouraging to see how long hate and fear have been parts of our society, it is also heartening to know that there is always a resistance — groups of unthinkably strong people fighting back and surviving through action and art.
"The Music of Resistance" was a thoughtful, somber and beautiful evening, showcasing the people, stories and music that shone and continue to shine a light through the long, dark night of history.
"At the very least, I hope this helps us to better remember and respond to histories of violence and injustice. It's a success if even one person leaves the event willing to stick with their commitments to action for justice, or to deepen those commitments," Wright said.
I am sure more than one person left Kilworth on Sunday heartbroken, angry and ready to gather the strength needed to continue the resistance of the highlighted artists and people. The goal of the resistance remains the same now as it did then: to survive and destroy bias and hate in all of its horrific embodiments, to make nights of remembrance solely about the past and to make "Never Again" an honest statement.
Tags :
Kilworth Chapel
music
resistance