Confirmation of Kavanaugh creates uncertainty about the future of Roe v. Wade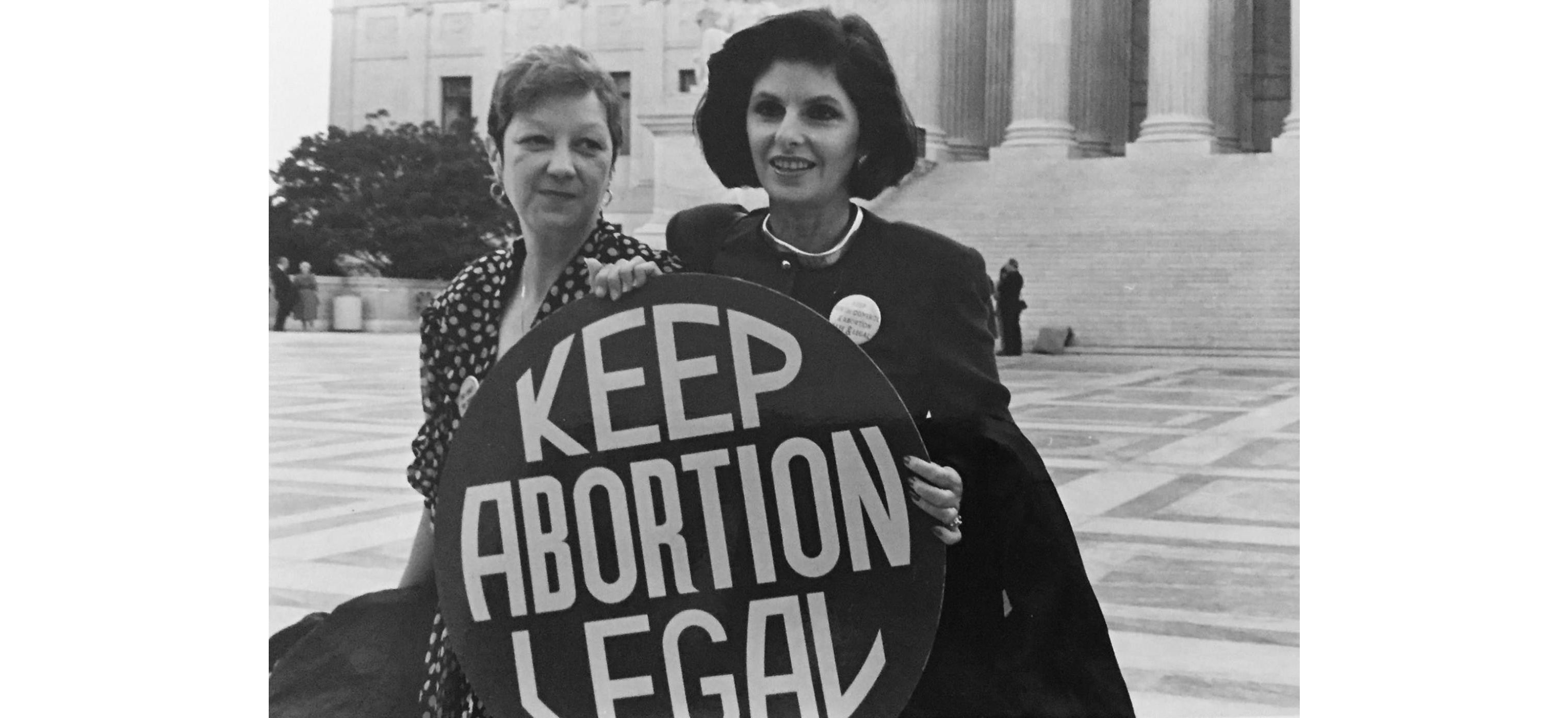 Norma McCorvey, a.k.a. Jane Roe (right), with her lawyer Sarah Weddington (left) on the steps of the Supreme Court in 1989. — Photo courtesy of Wikimedia Commons
By now you know that it happened: Brett Kavanaugh has been confirmed as a Supreme Court Justice. Contentious confirmation hearing aside, Kavanaugh's future as a judge could have profound effects on the autonomy of bodies in the future.
Now that Brett Kavanaugh is on the Supreme Court, it is definitely possible that Roe v. Wade will be overturned. There is likely a 5-4 majority on the court to overturn the Roe v. Wade decision that decided that the right to an abortion falls within the right to privacy protected by the 14th amendment. Roe v. Wade changed 46 states' laws on abortion and helped give U.S. citizens autonomy over their pregnancy. This decision has kept those who choose to get an abortion safe so that they do not need to obtain one illegally.
Now, however, that decision is in jeopardy. President Trump stated back in 2016 that any judges he might hand-pick would "automatically" overrule the Roe v. Wade decision. Furthermore, Kavanaugh has expressed explicit opinions against the Roe v. Wade decision: he praised Justice William Rehnquist's dissent from the decision.
Monika Dymerski graduated from Puget Sound in the spring of 2018 and now works as a field organizer for Planned Parenthood in Twin Falls, Idaho. Dymerski works at the grassroots level to build relationships within the community to advocate politically for reproductive rights.
"During electoral season, I work with my volunteer team to raise awareness about local policy concerns and voter registration. During legislative session, we urge our community members to hold elected officials accountable for their actions," Dymerski said. "At its core, organizing sparks a broader dialogue surrounding reproductive rights within the community so that we can work towards a long-term culture shift."
Dymerski said that right now we know that the Supreme Court could take any of 13 cases related to abortion in the next year and could essentially overturn access to safe and legal abortion. Her Planned Parenthood team has been discussing and planning for this possibility.
However, it is important not to panic, yet. If the Roe decision were to be overturned, it would not automatically make abortion completely illegal throughout the United States. Instead, this decision would most likely turn the power over to the individual states to decide how they would like to restrict abortion access. Of course, this does provide the possibility for some states to completely outlaw abortion aside from a few cases such as rape, incest or if the pregnant person's life is in danger. Meanwhile, other states may place very few restrictions on abortion.
Louisiana, Mississippi, North Dakota and South Dakota have so-called "trigger laws," which mean that if Roe is indeed overturned, abortion would become absolutely illegal, effective immediately. Eleven more states have laws banning abortion that have not been in practice since the Roe decision but could technically be put back into place if Roe is overturned.
According to the Center for Reproductive Rights, only 19 states are at a very low risk of passing abortion bans if Roe was absent. One of those states happens to be Washington. The right to an abortion in Washington state appears secure despite future Supreme Court decisions because while we do not have state constitutional protection of abortion rights, we do have statutory protection of abortion rights as well as a pro-choice legislature.
While there is no telling what precisely will happen to Roe in the future, it looks like Washington is safe for now. As for other states with less access, we may be looking at a more difficult future.
"Despite the fight ahead, our leadership has offered support and encouragement about our abilities to fight," Dymerski said. She received an affiliate-wide email from Planned Parenthood's CEO Jen Allen, which noted that, "What we've been doing is not just fighting back against this Supreme Court nominee in this moment; we've been building a movement, and that movement will not be stopped. The people we've engaged in meaningful action and understanding their power will lead the way toward the change we need and the future we want to see. They will not stop and neither will we."
Tags :
abortion
Kavanaugh
Roe v. Wade