Slider Cook-Off brings Tacoma's hottest local burgers together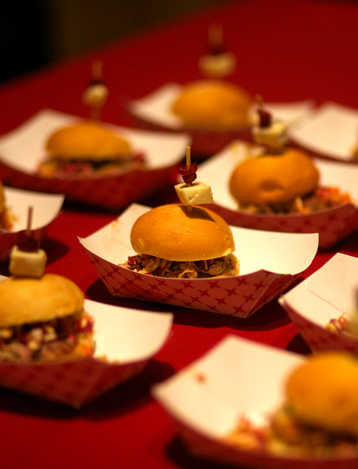 Students 21 and older can head to the Museum of Glass tomorrow night for fantastic food, great music and a "rockin' good time."
Museum of Glass will host its third annual Slider Cook-Off on Saturday, Mar. 29 from 6:30 p.m. to 10:30 p.m.
It will be a great and unique opportunity, not only to get some tasty food, but also to get a flavor of many favorite local restaurants and even speak with some of the chefs about their sliders and restaurants. And the Museum of Glass is always a unique venue for any event, as guests receive free admission to the museum with their ticket to the cook-off.
The competing restaurants this year include BITE Restaurant, Dirty Oscar's Annex, Lobster Shop South, Maxwell's Restaurant & Lounge, Paesan Kitchen & Bar, Social Bar & Grill and X Group Catering. Narrows Brewing Co. will provide the beer for the event.
Last year, Boathouse 19 won the competition with their charbroiled house-cured salmon burger topped with rhubarb relish, wild arugula and mint yogurt on grilled ciabatta bread.
Other concoctions from last year include Asado's braised lamb slider, BITE's chicken and waffle slider with bacon aioli, Maxwell's "Cubano roulado" pork slider with mustard and pickle relish, Marrow's savory beef cheek bulgogi with crispy tripe and kimchi aioli, The Social Bar and Grill's pork belly slider topped with a quail egg and sambal chili and Art House Café's orange creamsicle spice cake dessert slider.
Robin Lucas from ShowCase Media, a judge from last year, said in an interview on tacoma.com, "Last year's slider event was chock full of savory food, approachable art, music and cars. It made for a cultural experience that was exhilarating and engaging all at the same time."
"Mystery judges" walk throughout the event, sampling the sliders amongst the crowd, and tallying their results at the end. The judges are special guests invited to attend, such as important newspaper reporters or local food bloggers.
Daryl and the Diptones, a local 50s rock n' roll group, will provide the night's live music and entertainment. There will also be dancing opportunities throughout the evening.
Famous food artist John Miller will conduct live glassblowing in the hotshop. Well known for creating large glass sculptures of savory foods such as burgers and doughnuts, Miller has created a name for himself as a talented and unique glass artist.
If you need a break from the excitement, the museum has free admission for guests. The Museum's current exhibitions are "Coastal Alchemy," "Look! See? The Colors and Letters of Jen Elek and Jeremy Bert," "Bohemian Boudoir," "CAUTION! Fragile. Irish Glass: Tradition in Transition" and "Irish Cylinders" by Dale Chihuly '63 and Seaver Leslie.
Tickets run $30 for Museum of Glass Members, $35 in advance, and $40 at the door.
Tags :
cook-off
Museum of Glass
Sliders