Adelphians Spring tour ends tonight in Kilworth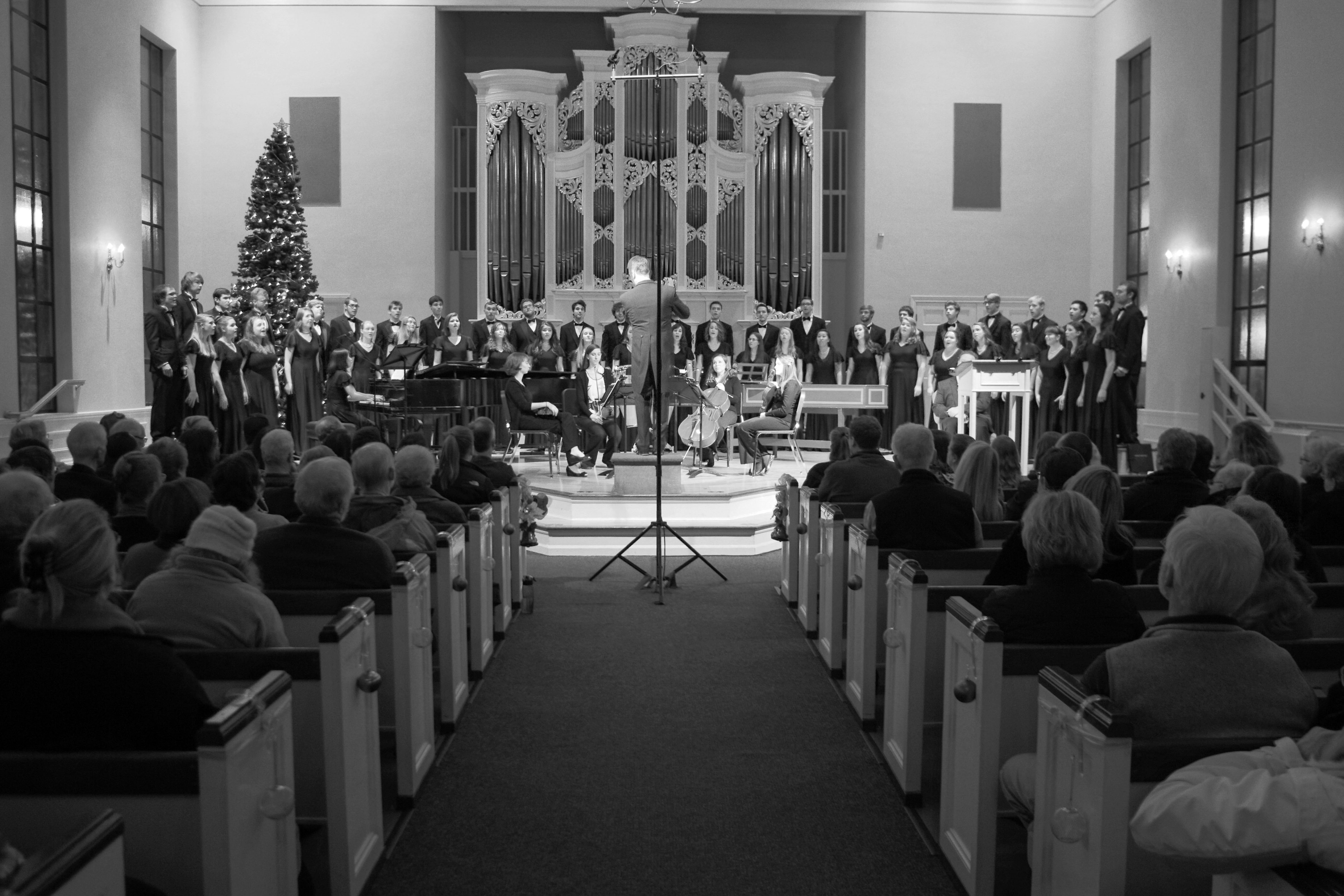 The Adelphian Concert Choir will perform their Home Concert at 8 p.m. the evening of March 28, in Kilworth Memorial Chapel.
Choir Director Dr. Steven Zopfi described the program as, "kind of a gamut of stuff," and explained that "because we take this concert out on the road, and we have high school students that come to our concerts, we have families that come to our concerts, we have choir conductors and serious musicians that come to our concerts, we like to have a real variety of things."
Recently, the Adelphian Concert Choir performed selections of these pieces at the Northwest Conference of the American Choral Directors Association, as well as on their Spring 2014 Tour. They also had the honor of giving the world premier of Matthew Emery's award-wining composition "Unto Young Eternity," which will be part of the fourth set of the Home Concert.
The program for the Home Concert is broken up into six different sets, which show the breadth of the Adelphian Concert Choir's skill. The idea, Zopfi explained, is that "If you don't like one thing, you can latch onto something else."
The first set consists of what Zopfi described as "sacred songs, ranging in time from the mid-baroque to just two years ago."
This includes pieces like Ola Gjeilo's "Serenity." Zopfi called this work "a beautiful piece with cello and choir and chords that don't resolve with each other, they kinda overlap and—it's called phase music, that's in phase and then out of phase."
The second set is entirely devoted to one piece in six movements, "In Time of Pestilence," by American composer Ned Rorem, which is based on plague poetry from Elizabethan poet Thomas Nash.
As Zopfi explained, this poetry was written in "a time when London had lost about a third of its population, and then Ned Rorem set them—much later—to music. And each one of the six movements are little, small vignettes of a poem, and each one of them ends with 'Lord, I am sick, Lord, have mercy on us.' It's kind of intoned, and very, very dissonant. We haven't done the entire set yet [at Puget Sound] so this'll be the first time other students and faculty get to hear the entire set together."
The third set, titled "Other Traditions," is music from what Zopfi described as "kind of a hodgepodge of things," including a Buddhist piece called "Gate, Gate," with "snapping fingers and piano," as well as a piece by Joan Szymko called "I Lift My Eyes." Zopfi said Szymko's work is essentially "a mash-up of Psalm 42, and then another Buddhist chant that kind of mixes together."
This set ends with Paul Caldwell and Sean Ivory's "A Hope for Resolution," which is written in a Gospel style, and will include a violin solo by Linnaea Arnett, who is also an Adelphian first soprano.
Following the intermission, Voci d'Amici will perform the fourth set, which consists of two pieces that they sang in the Fall 2013 Home Concert: "I Will Run and Not Grow Weary," and "Sal's Planets." He said, "We're kind of resurrecting these songs for the tour."
The penultimate set, entitled "Love and ?," starts with University of British Columbia in Vancouver student composer Matthew Emery's piece "Unto Young Eternity," which was just awarded a National Award for Student Composition. Zopfi said, "It talks about youth and love and how the two can kind of entwine together."
This is followed by a piece of Guido López Gavilán's called "Pa Kin Kin," which Zopfi described as "this nonsense piece which is just highly arrhythmic, highly charged, just a rhythmic tour-de-force for the choir."
The concert then ends with a "traditional set" called "Songs of the People," including an arrangement of "Hard Times Come Again No More" (a popular American tune from the nineteenth century), an arrangement of "Danny Boy," and Joan Szymko's "It Takes a Village," which is written in a West African style.
The Adelphian Concert Choir's Home Concert is the best opportunity for any Puget Sound student to hear the extraordinary musical talent of our university's most talented vocal performance group.
The Adelphian Concert Choir will perform their Home Concert at 8 p.m. on March 28 in Kilworth Chapel.
Tags :
Adelphian
choir
Spring tour