Robinson, Aguiar stellar again as Loggers win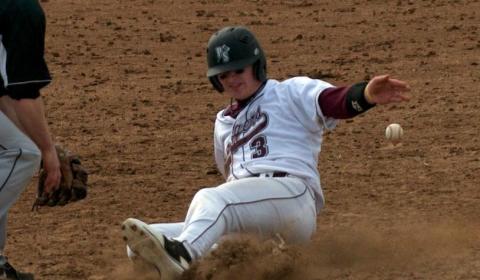 This past weekend, the air rang heavy with the sound of cheers, as the Logger baseball team played hose to Pacific Univeristy. The first of the two days ended with a twinbill sweep of Pacific (12-21, 2-11 NWC) while Sunday April 21 ended with a loss.
However, Sunday's loss cannot overshadow the fact that the Loggers (15-19, 10-10 NWC) put on an impressive display of athleticism the day before.
The first game ended in a 2-0 shutout win, spearheaded by senior Matt Robinson (Lafeyette, Calif.) who tossed seven innings while allowing just four hits. No Boxer advanced past second base until the fifth inning.
Although the Boxers were able to get a runner on base in every inning except the first and eighth, they stranded eight runners while Robinson occupied the mound and left two on in the ninth when junior Lucas Stone (Ashland, Ore.) took over to save the game.
For the Boxers, Rob Dittrick provided little opportunity for the Loggers to reach a base.  He retired the first six batters in order.
It was not until the top of the third that junior Addison Melzer (Portland, Ore.) singled on a soft liner.  Melzer moved up on a passed ball, was sacrificed to third and scored a sacrificed fly that was hit by freshman JB Eary (Las Vegas, Nev.).
The Loggers gained insurance in the seventh when freshman Nick Funyak (Billings, Mont.) singled in sophomore Kauluana Smith (Kapolei, Hawaii) for a 2-0 lead. A perfectly pitched eighth inning by sophomore Steve Wager (Yakima, Wash.) and a strong performance by Stone in the ninth earned the Loggers the win.
Strong pitching was the theme of the second game as the Loggers claimed a 4-3 victory. Senior Nate Aguiar (Los Gatos, Calif.) went for six strong innings, allowing one run on six hits.
Stone secured the game for the Loggers for the second straight season by allowing for one walk in the eighth and a single in the ninth. It was his fourth win of the season.
The Loggers retired for the night with a sweep of the Boxers. However, their work was far from done as they played host to Pacific the very next day for the series finale.  Unfortunately, the first day's performance could not be duplicated, and the Loggers lost 10-0.
The Boxers' Matt Delegato earned the win for his team, allowing only four Logger hits.  It was a combination of solid pitching and spectacular defensive play that kept the Loggers off the scoreboard.
The Loggers wrap up the NWC season this week at Willamette with a three-game series.
PHOTO COURTESY/LOGGER ATHLETICS
Tags :
baseball