Women's basketball clinches four straight wins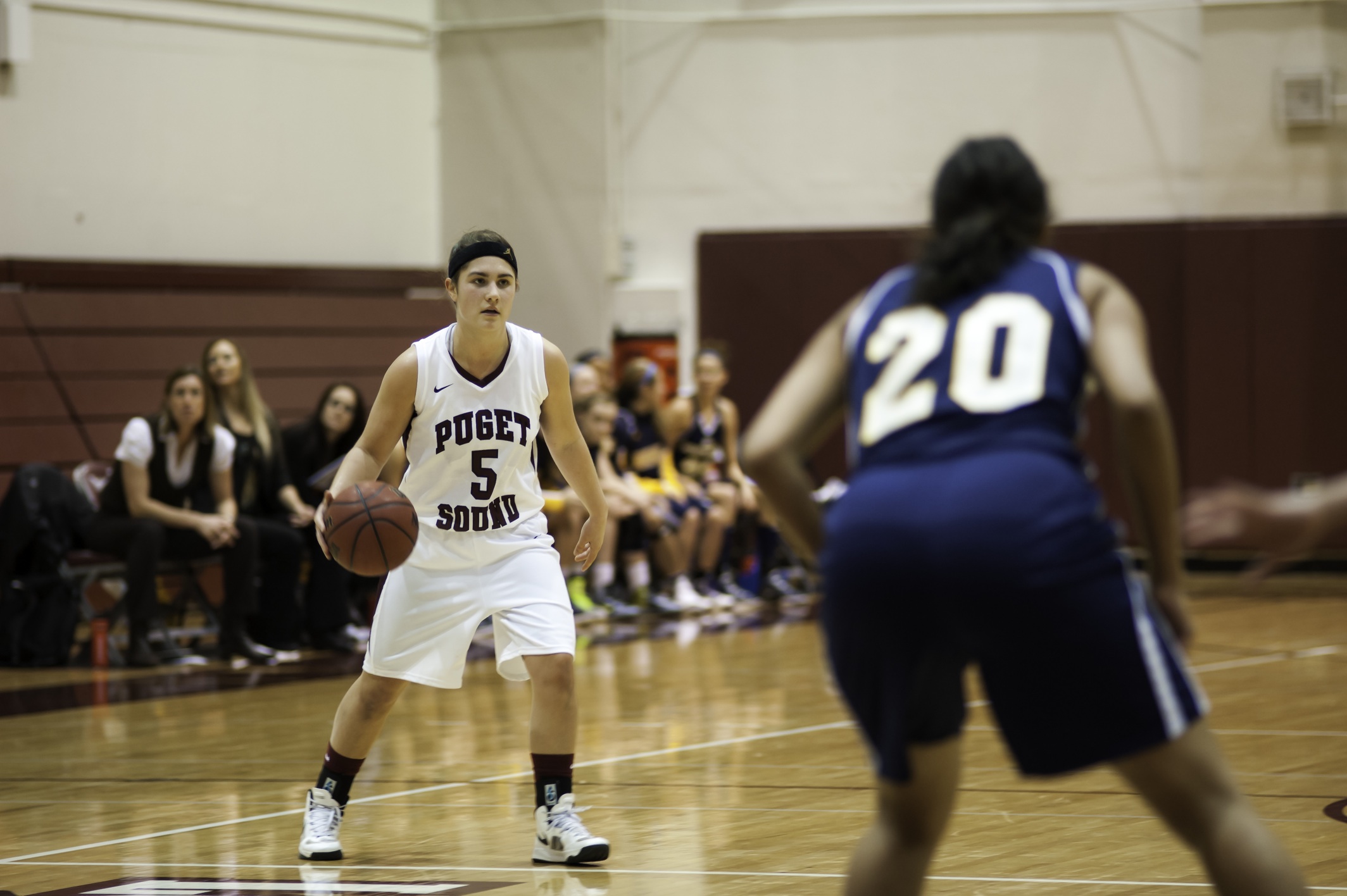 Although Puget Sound women's basketball has yet to play a conference match, they certainly have been busy. Busy winning, that is.
The Loggers (4-1) rebounded from a season-opening loss to the UC Santa Cruz Banana Slugs by winning their next four games against other non-conference opponents. This past week alone, the Loggers captured three victories over Northwest (Wash), Simpson and Southern Oregon to bring their record to 4-1; the fourth win came from a win over Evergreen State.
On Tuesday, Nov. 20, the Loggers faced off against Northwest (0-5). The game started off shakily for both teams, as the Loggers shot only 31 percent and Northwest shot a mere 23 percent. Sophomore Ashley Agcaoili (Kaneohe, Hawaii) came up big for the Loggers, scoring all 10 of her points in the first half. At the halftime buzzer, the Loggers led 34-23.
Puget Sound came out blazing in the second half, with senior Kelsey McKinnis (Ashland, Ore.) and senior Sarah Stewart (Burlington, Wash.) leading the way. McKinnis scored 17 of her 20 points and Stewart scored 11 of her 17 total points in the second half to cement the Logger lead.
The Loggers were clearly in control from the beginning, and never got behind in the score. McKinnis also shot 11 of 12 from the free-throw line to help the Loggers emerge victorious with a score of 74-57.
Puget Sound's busy week was not over yet, however. On Saturday, Nov. 24, the Loggers traveled to Ashland, Ore. to take on Simpson. Sophomore Erin Stumbaugh (Loveland, Colo.) was the star of the evening, with a stellar career-high performance (that included 17 points and 8 rebounds) that helped lead the Loggers to a crushing victory over Simpson.
Although Simpson took an early lead, the Loggers came charging back, bringing Puget Sound to a double-digit lead by the end of the first half (at one point, they were ahead by 18 points).
After that, there was no looking back for the Loggers, as Puget Sound's commanding lead only increased in the second half. The Loggers shot as high as 50 percent within the final twenty minutes, with as big a lead as 34 points in the second half, resulting in a dominating final score of 81-49.
In addition to Stumbaugh's impressive performance, the victory proved to be a team effort. McKinnis scored 17 points, while freshman Allie Wyszynski (Sammamish, Wash.) added 12 points off the bench and Stewart scored another 10 points. Freshman Emily Sheldon (Portland, Ore.) led the Loggers with eight of the team's 21 total rebounds on the evening.
To finish off the weekend, the Loggers battled with Southern Oregon (7-1) on Sunday, Nov. 25. Following Stumbaugh's lead from the day before, McKinnis posted a career-high performance in front of her own hometown crowd, shooting an incredible 36 points in the Loggers' 93-81 win over Southern Oregon.
McKinnis went above and beyond, however, as her 36-point performance put her in the record books as the highest scoring player in a single game in Loggers NCAA Division III history, and just five points away from tying Kristina Goo's 41-point school record.
It was also a night to remember for the team as a whole, since their final score of 93 tied their previous scoring record under Puget Sound head coach Lori Payne. Stumbaugh, sophomore Olivia Roberts (Eugene, Ore.), and Steward added 15, 11 and 10 points respectively to the Loggers' total, and an impressive 10 of 12 free throws made by Puget Sound in the last two minutes of the game cemented a victory over the Raiders. This was the first loss of the season for the Raiders.
With four straight victories under their belt, including an impressive performance against a tough Southern Oregon team, women's basketball at Puget Sound is undoubtedly looking forward to a strong season with many more victories to come.
"We were able to get our first two road victories down in Southern Oregon, including beating the 7-0 SOU team on their home floor.  We are making huge strides as a team.  Kelsey McKinnis had the best game of her career on Sunday scoring 36pts," Coach Payne said.
"We head down to Santa Cruz this coming weekend for two big DIII games.  Our team this year is a mix of experienced leaders with a large number of talented underclassmen (9 of 14 are freshman and sophomores).  We are excited about the potential of the team this year and how we seem to be improving every day!" she continued.
The team will travel to California this weekend for the Hampton Inn Classic in Santa Cruz, Calif., and will be taking on University of La Verne on Saturday, Dec. 1 at 3 p.m.
PHOTO COURTESY / LAURENCE STACK
Tags :
womens basketball