Alder Arts Walk: finish the year with a bang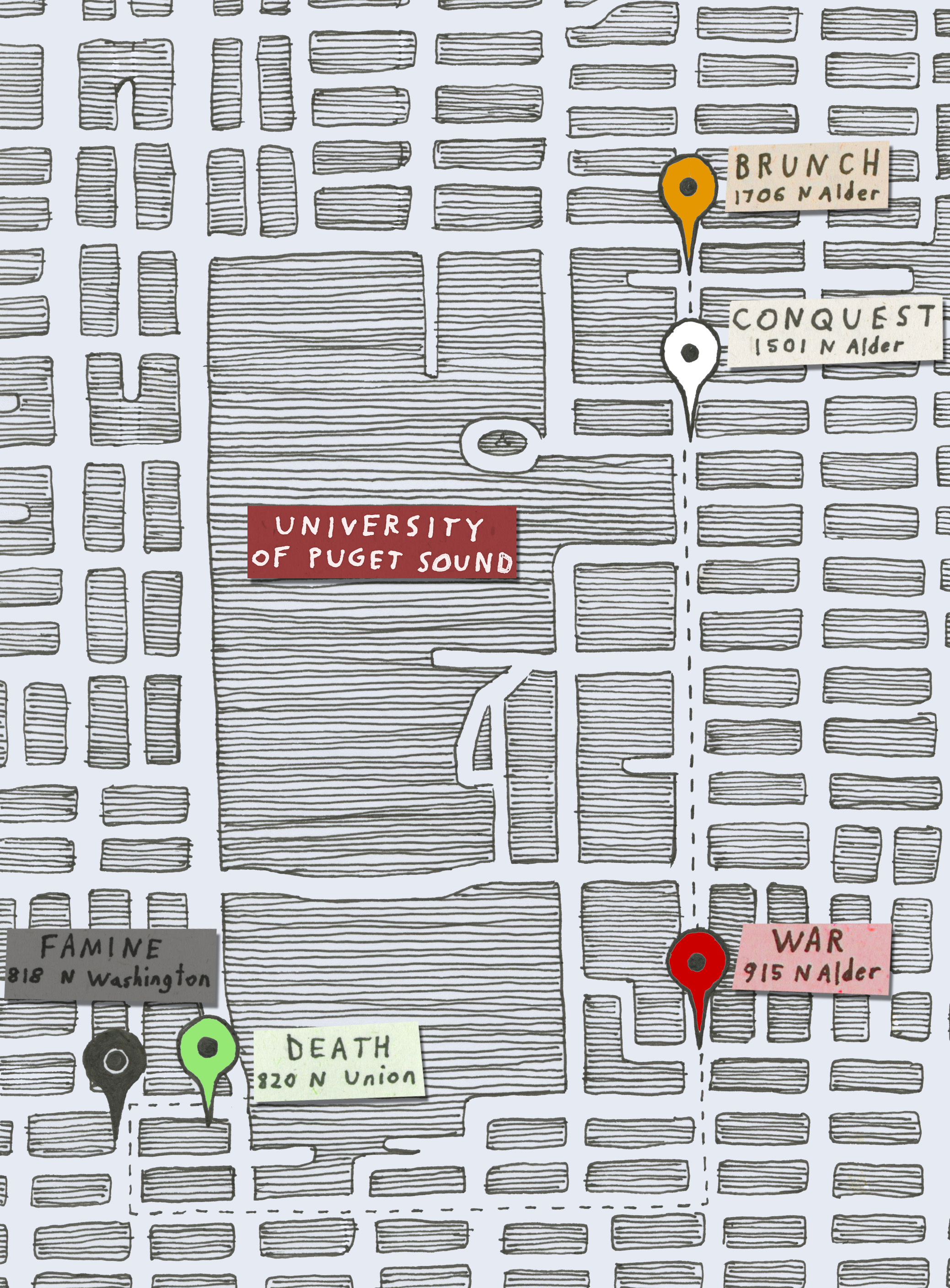 At the iconic climax of Kubrick's black comedy masterwork Doctor Strangelove, Major "King" Kong straddles the business end of a nuclear warhead as it dives from a bomber, plunging the Earth into thermonuclear war. It's the beginning of the end, and Kong waves in the apocalypse with a manic grin and emphatic sweeps of his cowboy hat.
Whether you're a senior with a premonition of grown-up doom or a freshman with an ambitious misinterpretation of the Mayan Calendar, 2012 might feel like the end of days—as you ride a volatile spring semester towards its fast-approaching terminus, you might feel like doing a little swinging and singing of your own.
Look no further than Spring's largest and loudest celebration of local color and Tacoma-grown noise, the 5th annual Alder Arts Walk. This year's theme: the Apocalypse.
The Walk, technically independent from Puget Sound and ASUPS, is a student-organized series of concerts and exhibitions spanning two days (April 27-28) and five houses (along or near Alder Street—see map).
Each house engages an idea inherent to the overarching End of Days theme, an idea that will be explored by acts and activities throughout the day: with the exception of Brunch, the houses are named for the Horsemen of the Apocalypse—Conquest, War, Famine and Death.
Morose as its namesake may be, the day should be an uplifting affair. Aside from the musical acts, the exhibitions and the possibility of strolling the North End on a sunny afternoon, the Walk will also include those two mainstays of every worthy get-together since your fifth grade graduation picnic: snacks and crafts.
You could, for example, buy an Alder Arts Walk T-shirt for $5 and screen print it with any number of quirky pics and snarky slogans!
Other activities will include body painting, henna, and paper lantern-crafting. Drum circles will be spontaneous only.
A staple of the student experience since 2007, the Walk continues to present a variety of utility: for one, it's an informal forum for student artists to share their work, interact with their audience, and then switch roles to give feedback to their fellow contributors as audience members themselves.
It's also a chance for Tacoma acts not affiliated with Puget Sound to play the college crowd, which is in turn an opportunity for those students to escape the campus bubble by getting a firmer grasp of the local music scene.
Walk organizers Kayla Gravelle and Kirsten Thom sat down with the members of Humble Cub, veterans of the Tacoma scene who played the Walk in 2009 and who are booked to play again this year.
"Any time we get an opportunity to play something that's not a bar show or a house party, and also get new ears, college ears, to listen to the music, that's a bonus," Humble Cub's bassist, Adam Hall, said.
"I'm excited about it right now," Hall said of Tacoma's music scene. "There's a bunch of stuff popping off, and watching a local act on Letterman [Brad Oberhofer], and then friends' bands, playing with them.  There are so many good bands."
Other big names to have played the Walk include the now-gigantic Starf***er, who played to a living room of sweaty bodies in late 2008.
Festivities begin Friday, April 27, with a "kick-off gala" put on by Puget Sound's first creative forum for all things sex and gender, Wetlands magazine—Friday marks the release of the magazine's first edition. The evening will feature artwork and readings from the magazine and performances by The Under Story, Bardo Basho, Erick Ryan and others.
Dawn of the Final Day: at 11 a.m. Saturday, April 28, the main event begins with Brunch, moves on to Conquest at 12, then to War at 2, to Famine at 4:30 and will end with Death from 8 to 11 p.m. (after-party to follow). Check the schedule for a more detailed line-up, and for live updates, the full Humble Cub interview and some apocalyptic historical anecdote, visit alderartswalk.tumblr.com.
At the end of Doctor Strangelove, at the end of the world, Vera Lynn tells us exactly what to do: "Lets say goodbye with a smile dear," she sings. "They'll be happy to know / That when I saw you go / You were singing this song."
PHOTO COURTESY/ANDREW OSBORNE
Tags :
Alder Arts Walk
entertainment
on-campus music