The Vagina Monologues offers valuable lessons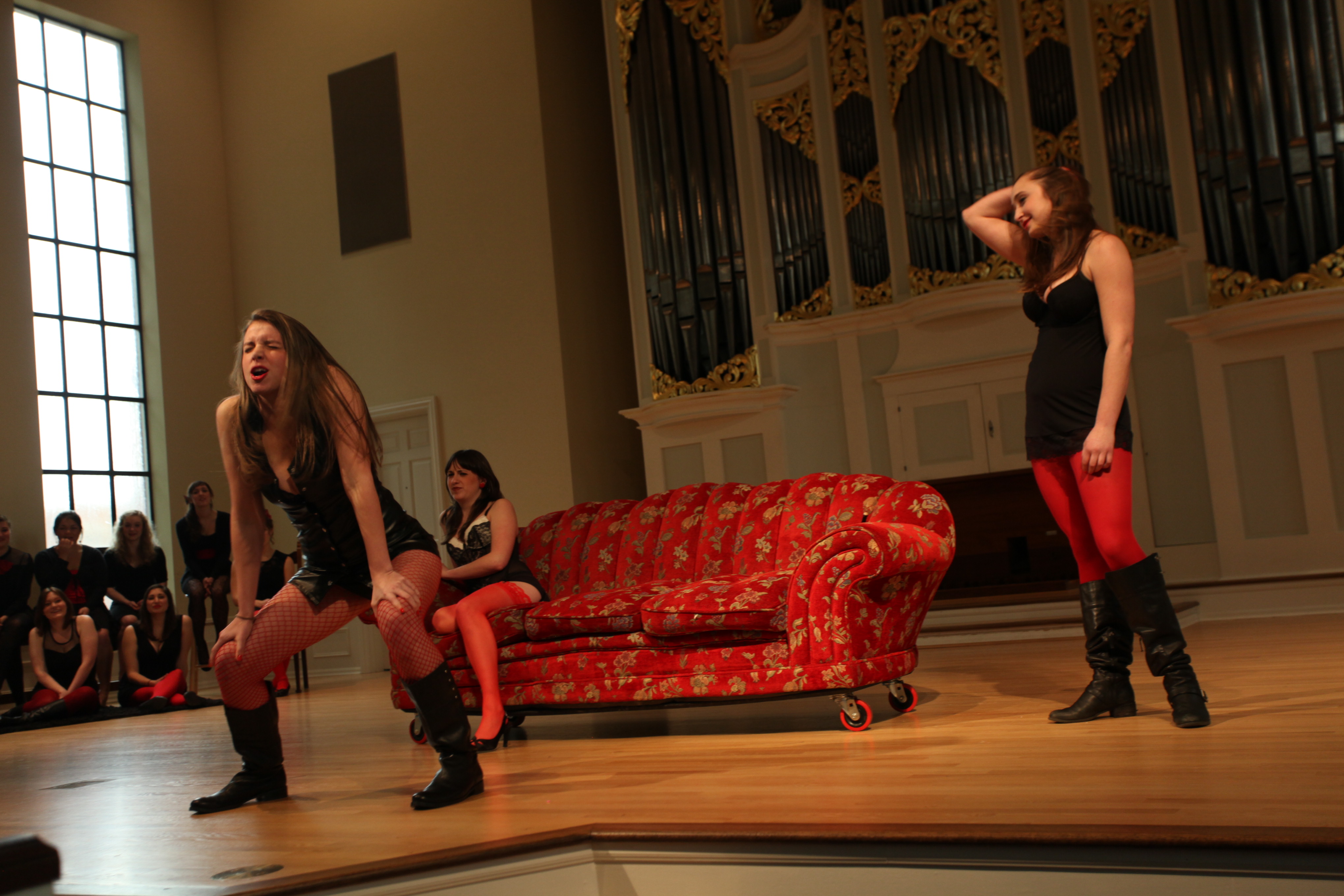 Each year the women of VAVA, or the Vulva Anti-Violence Alliance, bring The Vagina Monologues to campus.  This year's performances ran from Friday, Feb. 10 through Sunday, Feb. 12 in Kilworth Memorial Chapel.
The Monologues was created by Eve Ensler to spread the message speaking out against rape, sexual violence and discrimination against women.
VAVA holds a similar purpose and also works to create a safer, sex-positive campus for women.  They bring the Monologues to campus every year to help spread their message.
While the Monologues are an experience in and of themselves, they provide a view of vaginas and sex that also offers valuable knowledge for your sex life.  Here are three monologues from the show that can help you in the bedroom.
1. "My Angry Vagina" recounts the issues women face and the ways their vaginas are forced to look, act and feel by way of a cookie-cutter mold imposed by society.
One of the most notable lines of the monologue insists, "Don't believe them when he tells you it smells like rose petals when it's supposed to smell like pussy!"
If it's really necessary for there to be scented vaginal cleansers, why is it that we should have them smell like a flower?  Why do genitals need these regulations?
The monologue brilliantly conveys that our genitals should be up to us and should only follow our own personal standards regarding grooming, cleansing and general feel.
2.  "Hair" follows a woman's story surrounding her pubic hair.  Because she refuses to shave her pubic hair, her husband has an affair.
Pubic hair is often the untold side of someone's genitals.  You don't talk about it, and you certainly don't let it get in the way.
Some people prefer trimming or shaving, and that is okay for their personal expression.  However, pubic hair should not fall under the complete jurisdiction of just one partner in a relationship.
Communication and understanding from both partners is key in solving this dilemma.  This includes knowing that you don't have to shave if you don't want to!
3.  "The Women Who Loved to Make Vaginas Happy" relays the encounters of a female sex worker who loves female clients.  The monologue goes through the different types of moans that her clients give.
Senior Anya Callahan was one of the three women portraying the woman and her moans.  She explained that this monologue covers areas of communication and expression during sex.
"My monologue taught me the importance of being open with one's own sexuality and not being afraid to express yourself," Callahan said.  "Once [the woman] was in her zone, she was alive again and loved the fun diversity of her various sexual partners."
This monologue recounts how the ability to moan or express yourself in other ways, such as dirty talk or even screaming, can be beneficial for finding your sexual identity.
It isn't necessary for you to moan during sex, but doing so can help you find what you want or what you like about sex for you or your partner.
The Vagina Monologues brings a new perspective on sex.  The performance not only highlights themes of discrimination and violence but also ideas about how societal constraints weigh on our pussies and dicks.
The most important message that you can take from the monologues is that your genitals are your own. So stand up for your junk!
PHOTO COURTESY/HATTIE LINDSLEY
Tags :
Happy Trail
sex advice
theatre
Vagina Monologues