Campus bands Fang Chia and Cuneiform begin expanding projects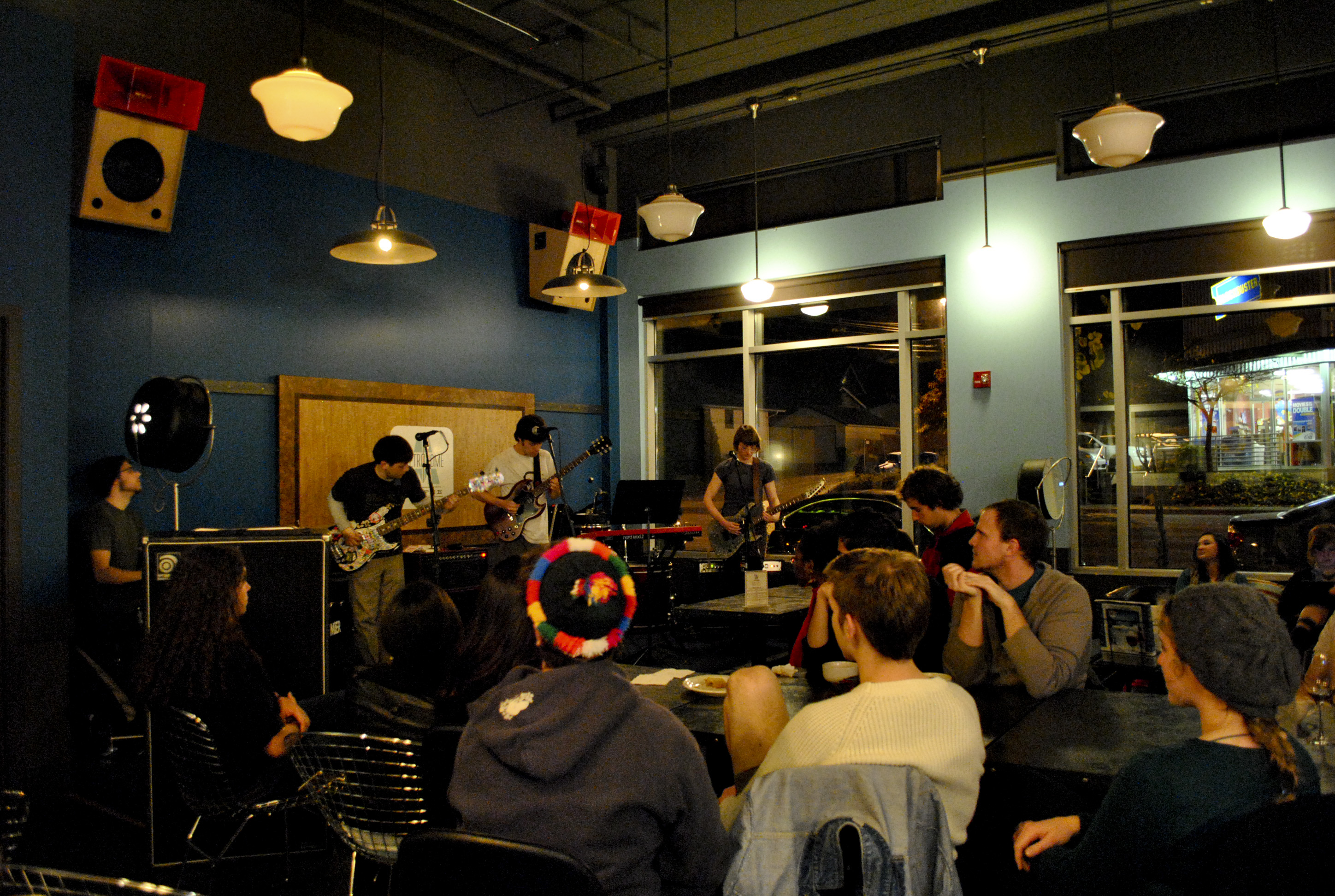 Puget Sound's experimental rock band wows its audience of students and local music fans at Metronome Coffee.
In recent months, the on-campus music scene has been teeming with activity, especially for experimental rockers Fang Chia and Cuneiform.
However, their performances haven't been limited only to occasional shows at KUPS-sponsored house parties.
Both groups have begun to expand their focus beyond campus by booking shows elsewhere in Tacoma and recording demos to hand out at venues.
Both Fang Chia and Cuneiform have exciting plans for the semester.
Comprised of current and former Puget Sound students, some of Fang Chia's members originally met during Passages, in the dorms or in music ensembles and have all been playing music together since 2009.
Their name was inspired first by the word "chia"—an ancient Chinese wine vessel. As for the adoption of their full name "Fang Chia," lead guitarist, Coby Tamayo, explained, "We wanted something with 'fang' in it."
It is difficult  to describe Fang Chia's sound accurately because it is as broad as their influences, which range from jazz to math-rock to progressive and even to Afro music.
Recently, Fang Chia finished recording their album, Everybody for Something, and has been in the process of selecting album artwork crafted by other Puget Sound artists.
However, the group doesn't think they'll be recording again anytime soon. Fang Chia's bassist, Kevin Shintaku, explained, "The recording process can be stagnating for our music. We don't plan to record for a while longer."
At the moment, the band is searching for an all-ages venue where they can host their release party for the album, which they say will probably be at Metronome Coffee sometime before the semester is over.
Cuneiform, formerly known as Miasthma, has also been searching for venues to play about four more shows sometime between now and January.
Lead guitarist Andrew Osborne told me that the recent name change was due to another band that claimed to have the same name.
To settle any confusion as to what "cuneiform" actually means, it is an ancient system of writing developed by the Sumerians.
Upon hearing any number of Cuneiform's songs, one can hear the powerful influence of black metal throughout their music.
Since the trio has already written a lot of new material this semester, Cuneiform plans to record a six-song demo and have it online by January or February.
All three members are certainly responsible for a lot of music between Cuneiform and their side projects.
Osborne plays in a death metal band called Skeptic, bassist Gabe Gutierrez plays in his ambient solo project called Haniwa Horse and drummer Alex Markey plays hand drums for Fang Chia's acoustic shows.
Both bands played at Metronome Coffee on Nov. 18 where they shared the stage with classical guitarist and fellow Puget Sound student, Minh Nguyen, for an excellent concert benefiting HIV and AIDS prevention in Africa.
Nguyen's gorgeous, melancholic fingerpicking served as a soothing introduction to the night's more jarring acts.
Fang Chia began their set with a complex, jazz-fusion jam, which was an extreme contrast to the preceding set.
The majority of the audience remained seated while they quietly sipped their coffee throughout the night, which added to the café's atmosphere which was relatively low-energy  as compared to Fang Chia's intensity.
After a distorted, foot-tapping finale, Fang Chia was replaced onstage by Cuneiform.
Their set was full of ominous psychedelic dirges, complemented with ample amounts of dissonance and distortion.
Relating to the nature of their name, Cuneiform introduced one of their more sinister songs as a divination from the Egyptian God of the Dead, Ammit.
Before beginning the song, Osborne approached the microphone with a devious grin as he informed the café audience, "After you die, she eats your heart."
For more information about Fang Chia or Cuneiform, visit facebook.com/fangchia or facebook.com/cuneiform respectively.
PHOTO COURTESY/ASHLEY KARDIAN
Tags :
entertainment
local music
on-campus