Artist of the Issue: Mya Woods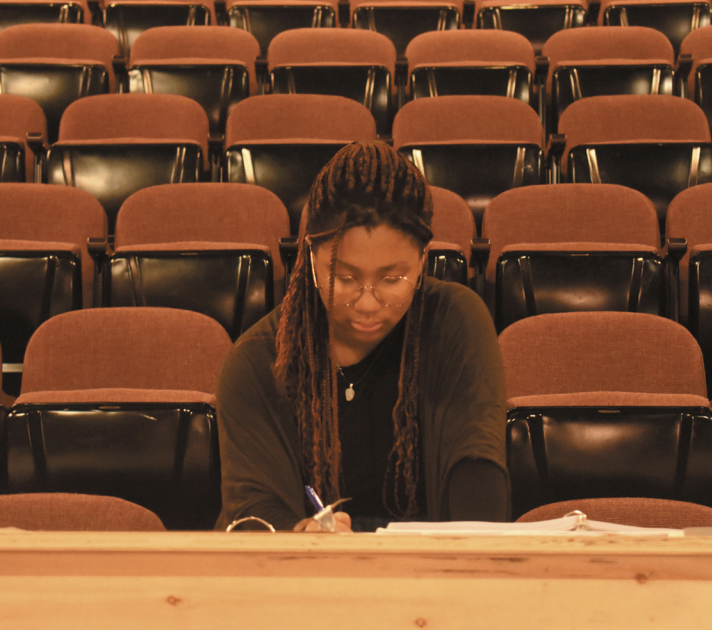 Mya Woods hard at work on their many, many, projects and responsibilities. Photo Credit: Mya Woods
By Kailey Kairo
Congratulations to Artist of the Issue, junior Mya Woods! As a musician, actor and director, Woods is an active member in the art scene both in and around Puget Sound. When she's not performing as the bassist for local band Up in the Attic, she can be found working as both an actor and leader in the University's theater department. With their upcoming debut as stage manager in the fall mainstage play, Woods has made it clear that she can do it all! Come see the results of her guidance at "Our Town" beginning Oct. 27 at 7:30pm. For even more of Woods's work, check out the Directors' Lab on Dec. 4 at 7:30pm, where her skills will be featured alongside the work of other student directors.
Q: You're the student stage manager for the upcoming mainstage play "Our Town." What exactly does this position entail, and how does your role impact the show as a whole?
A: In my position, I essentially have to keep track of all the moving parts of this show! I am the translator for director to cast, director to designer team, cast to designer team, and in all the other ways that communication needs to be had, I keep track of! My impact on the show I think is just making sure the community between everyone is respectful in and out of rehearsal.
Q: What have been some of your major goals as student stage manager for "Our Town"?
A: My first major goal was just to find my groove as a stage manager. I had never done it before and I wanted to make sure that I kept everyone but also myself organized! But overall, my main goal this entire process was/is to enjoy the ride! Shows can be majorly stressful at times, but I felt that I needed to remind myself in those times that I'm getting to work on a show I love with an amazing team and wonderful cast, so I could enjoy the time I'm having right now! Working on shows in college should be a learning experience but also so fun!! And I wanted to make sure that I never forgot to have that fun.
Q: You'll be featured as a director in the upcoming Directors' Lab. Could you share some general plans or ideas that you have in mind for this event?
A: Directors' Lab is a project that my excitement never dies down about! For this event, myself and the 4 other students in the THTR 313 class are each directing a scene from a play that we choose, and we get to facilitate the whole process ourselves. I just think that personally, I want to create space with the scene I'm directing to offer a more comedic energy to the Norton Clapp Stage, since I don't always see it in the shows we do. I also just feel so much excitement and love for my fellow directors! I really think the line-up of scenes that we have all chosen are very interesting and offer a wonderful time, both for people who want to audition, but also people who will come see the show later this semester.
Q: What has been one of your favorite moments in theater so far?
A: My favorite moment I think recently has been working on Game of Love and Chance this past spring. I really enjoyed getting to both act in/ sound design the show because it was just such a fun and comedic show to be a part of! I also think that sound designing the show Eurydice in the spring was also one of my favorite moments since I was able to write music for the sound design and composing for theater is my dream job.
Q: What are your plans moving forward in your theater career?
A: To just keep working on shows!! I think I'm at my happiest when I'm able to be creating and surrounded by people that I enjoy, and that's what I lovingly get to do at UPS, but hopefully will get to do for the rest of my life! I also always want to find ways to bring music into my theater work, since it is my second major and truly one of my passions.