Revealing Hidden Specimens: Kittredge Gallery Features Artwork From Community Drawing Nights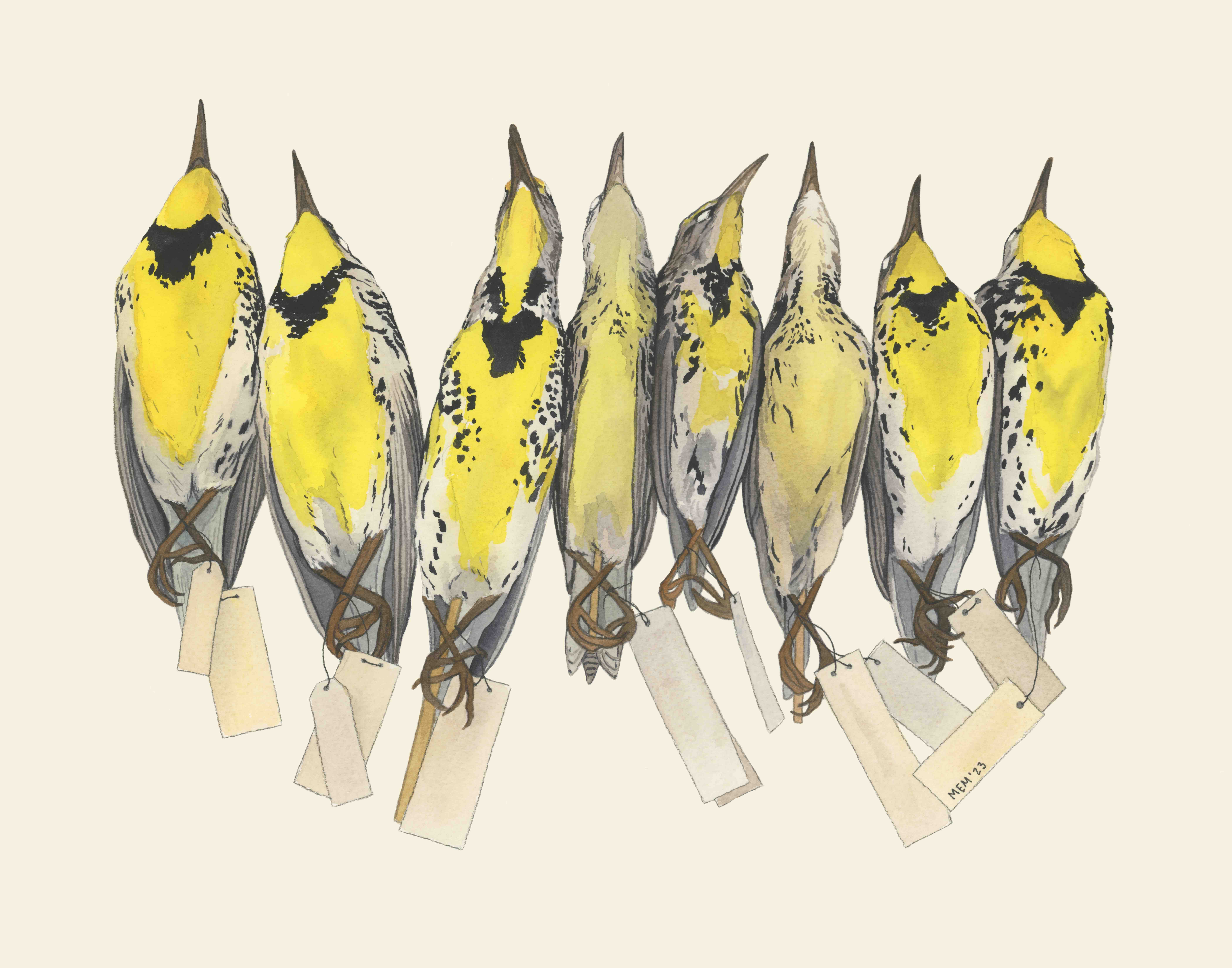 A watercolor by Madison Mayfield that was featured in "The Hidden Specimen" from Aug. 28 - Oct 14.
By Sam Gerrish
Since Aug. 28, Kittredge Gallery has been home to some pretty creative portrayals of dead things. Inspired directly by the Puget Sound Museum of Natural History' collection, gallery show "The Hidden Specimen" features pieces such as life-sized insects made out of found trash and handmade nesting dolls painted like different species of owls.
The exhibit was curated by departing Natural History Museum Education and Outreach Director Madison Mayfield, for whom a show of this kind was a long-time dream. On the evening of September 28, Kittredge hosted a reception for the show which included a presentation given by Mayfield followed by a drawing night for all interested parties over at the museum itself.
Mayfield, who has a background in science illustration, was impressed by the quality of the art produced by community members who attended the Museum's monthly drawing nights and felt that an exhibit of this kind could spark viewers' interest in the museum.
"I was kind of shocked at the level of talent, so I really wanted it to be on display, especially because a lot of those artists probably wouldn't have an opportunity to put their art in a gallery otherwise. It's really hard to create your own show," Mayfield said.
Artistic representations of the museum's specimens may also help people who would normally be wary of or put off by its collection of 100,000 dead things. It's understandable to be jarred by the sheer number of specimens, given that many were killed for the sole purpose of the collection, in the days when that was still common practice. "I think it's easier for people to digest artwork that illustrates dead birds versus just a photo of those specimens," Mayfield said. "Because we have people who come into the museum and when we open a cabinet, they're kind of shocked that there's so many dead things because it can be kind of jarring to think that someone probably went out and killed all those things." Mayfield suggests that it's easier for people unfamiliar with museum specimens to digest when it's presented as art.
At museum drawing nights, specimens are used as reference material for artists. These events are open to all, regardless of ability, but are popular enough that securing a spot at the table requires getting on the mailing list, which can be tricky. While there are a few professional artists who attend these events, most of the regulars are simply community members who value the two hours dedicated to this unique opportunity for science art. "I'm not sure how many of them have art backgrounds or formal training of any kind. But most of them would probably consider themselves just hobbyists," Mayfield said.
Natural history museums and science art have gone hand-in-hand for centuries. Prior to the widespread use of cameras, scientists used art to document their observations and findings. The gulf between science and art widened, however, when advancing technology made these skills obsolete. Mayfield feels that the demand for museum drawing nights is partly due to a recent resurgence in public interest in science art. "I think part of that is because we're all trying to connect more with nature. I think we're all kind of desperate for that. And so especially for these artists who already love nature and want to draw it, having this type of collection where you can see things up close and use them as reference is really special," she said.
Mayfield is adamant that research collections should be accessible to everyone, which is apparent in her effort to establish monthly drawing nights as opposed to one or two per semester. "A lot of collections like this are located in state universities or institutions. So, realistically, most collections like this technically belong to the people. But a lot of time it doesn't feel that way," she said.
The museum's monthly drawing nights, like its Night at the Museum events, are part of a broader effort to increase community engagement and provide an open space to anyone who is interested, especially given that the University is not a public institution. "Especially in these types of research collection spaces, for a while it has felt very closed off. If you're not a researcher or scientist with a PhD, what are you doing in that space? So this is also just a great way to kind of break down those barriers and let others into the museum to use it," Mayfield said.
While the drawing nights offer a unique artistic opportunity for locals to interact with the museum specimens, these spaces also foster community – a lot of the same people tend to show up consistently. Mayfield has gotten to know them well in the several years she has worked for the museum. "It's like a small family of people that just sits and draws. It's really lovely," she said. The gallery reception – with everyone gathered in Kittredge to celebrate the exhibit – was special for Mayfield herself, who is transitioning out of her position at the University. "It definitely does feel like kind of my last, you know, love letter to the museum. And a way to kind of, hopefully get more people inspired to visit the space," she said.