Ongoing Faculty Research around Campus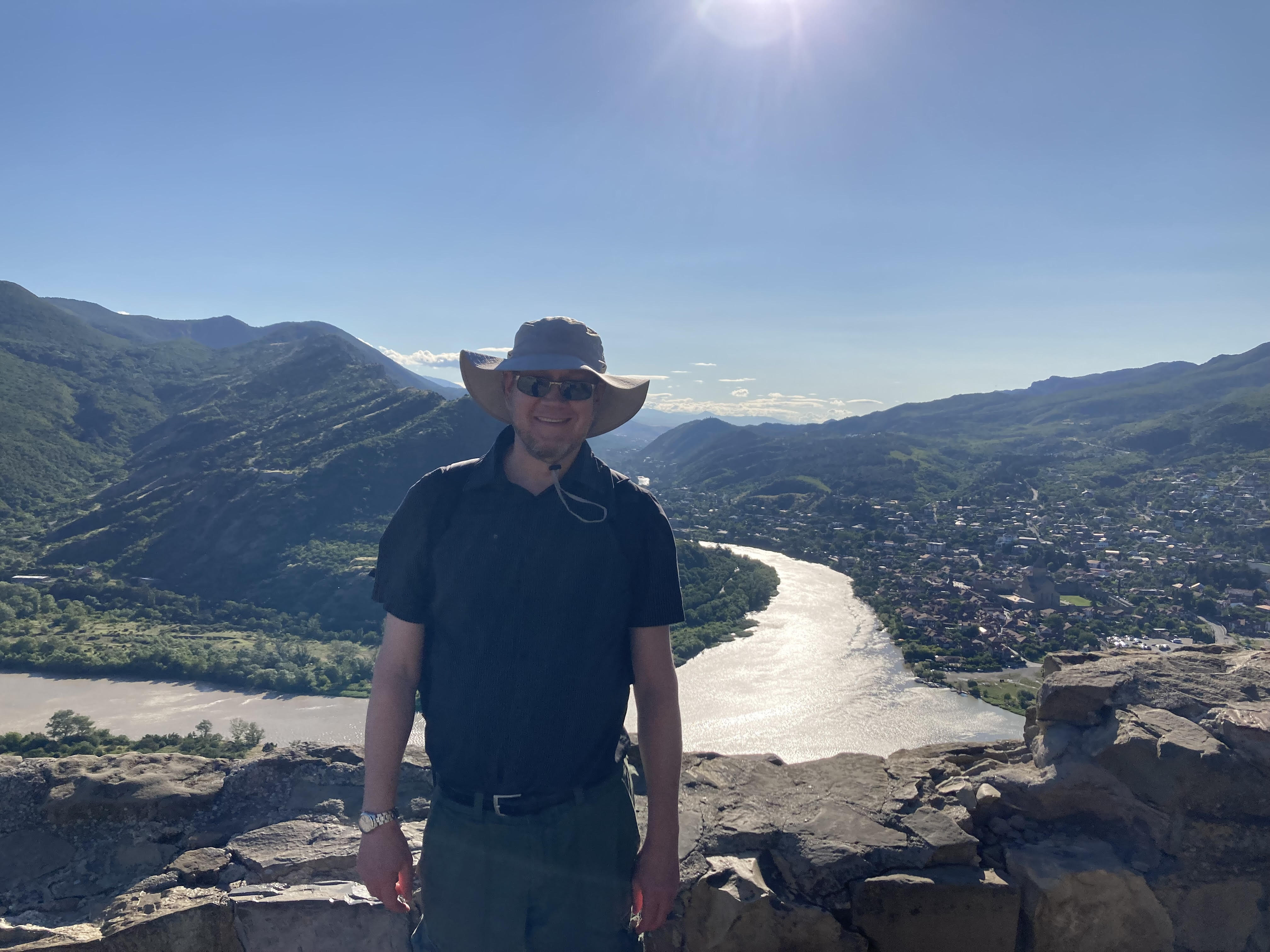 Professor Tromly on his research travels! Photo Credit: Benjamin Tromly
By Jack Leal and Caitlin Yoder
Research is a time-honored component of the university experience. Today, we'd like to take a look at some of the projects on campus that you may not have known about, highlighting specifically our campus' humanities and social science departments. We wanted to feature these specific professors as not only a way to demonstrate some of the awesome things your professors are working on, but also to showcase what research looks like in humanistic departments, as STEM research is highlighted fairly often. Research can also be a great way to get involved, regardless of whether or not you're scientifically-inclined! Many professors are open to collaborative research, whether it's assisting with their own project or beginning a student-led endeavor.
Professor Benjamin Tromly
Benjamin Tromly is a historian and the author of 2 books, including Making the Soviet Intelligentsia: Universities and Intellectual Life under Stalin and Khrushchev (Cambridge University Press, 2014). He teaches courses like "Politics Eurasia," "The Russian Revolution," "World War II in Europe," and "Modern Europe since 1815." Tromly's current research concerns historical propaganda in post-Cold War Russia. In particular, his focus is on deliberate attempts to influence collective memory, charting how the nation's perspectives on Russian history have become more glamorous and uncritical. This new history features tanks in parades, children dressed as soldiers, and a past that never happened. According to Tromly, this new wave of propaganda is a response to Russia's "unheroic history that doesn't make for the construction of a 'useful' past." These historical alterations hooraw The Great Patriotic War and glamorize collaborationists like the infamous Andrey Vlasov. During his sabbatical, Tromly spent time in the US and Germany, building his new book tentatively called The Vlasov Army: The Specter of Wartime Resistance from Stalin to Putin. In the effort to unmask Russia's biased historical narrative, he scoured German archives on Soviet operations in WW2 including the Soviet secret police, the Gulag, and (Soviet) prisoners of war. Tromly's objective is to reframe Russia's historical narratives, demonstrating that these portrayals do not benefit any greater understanding while also shedding light on the country's troubled past.
Professor Rachel DeMotts
Rachel DeMotts is a political scientist in the University's Environmental Policy and Decision Making department and teaches a variety of courses. Her research is usually based in Southern Africa, and for the past 20 years she has intermittently worked in Botswana and Namibia. During her sabbatical, she spent time in Nepal, meeting individuals doing community-based tiger conservation. These activists monitor and track tigers and other animals to better keep wildlife from entering their villages. DeMotts expresses how wildlife conservation can inadvertently exclude human experiences, like people living in these rural communities. "You can't keep an elephant out of the crop that's supposed to feed your family for the next six months, you're going to have a pretty big problem. And that's not something that usually gets talked about when we talk about national parks and wildlife conservation. So I think we need to do both," she said. Her goal was to understand the different perspectives of this community inside and out. DeMotts learned how to identify paw marks, track the tigers, and learn about other regional animals, like birds, elephants, and rhinos.
Professor Brett Rogers
Brett Rogers is a professor for the GLAM department and teaches classes such as "Ancient Greek," "Ancient Tragedy," and "Scifi, Fantasy, and Antiquity." Currently, he is co-writing a few different pieces, one of which is called "Cyber-Dogs, Gut Thinkings, and the Limits of Recognition in Homer's Odyssey." It focuses on the robotic dogs depicted in Book 7 of The Odyssey, discussing how the ancient Greeks were thinking about automation and the connections we can draw to our own modern ideas about artificial intelligence. Professor Rogers' research of medieval manuscripts led him to ancient debates about what we now call A.I. dating back to antiquity. His research suggests that these ideas are not new, they are just repackaged with modern technology. That concept of connecting present day ideas back to antiquity and vice versa is the underlying question that guides his scholarly research. "For all of our technological innovations, for all of the material differences that are so magnificent between the present moment and two-to-three thousand years ago, there are also things that haven't changed as dramatically as we think they have," Rogers said.
Professor Gwynne Brown
Gwynne Brown is a music professor who graduated from the Puget Sound School of Music. Her current research focuses on Florence Price, an African American composer and performer. Along with pianist Joe Williams, she is co-writing a chapter that discusses how Price combined elements of African American music with European traditions. Professor Brown has also been studying William Dawson and other 20th century African American composers for about a decade now. Her studies have brought her to care deeply for music by these composers, and she regards it as "some of the most distinctively American music." Furthermore, working with African American scholars has shown her how limited her perspective is due to her own identity and experience. When Samantha Ege, the co-editor of The Cambridge Companion to Florence Price, reached out, Professor Brown was more than happy to write a chapter. "For a composer as important and wonderful as Florence Price, surprisingly little has been written about her, so I'm excited to be part of this growing amount of scholarly literature on her," she says. Brown emphasizes that there is still lots of work to be done. A plethora of artists, scholars, and others who have contributed greatly to American music have not yet been written about. For this reason, she is very grateful for the opportunity to write and research about these figures. She encourages everyone to shed light on those people who are less talked about not just in the context of classical music, but everywhere. "I hope students are always asking questions and looking for places where they can contribute to the creation of knowledge," Brown says.