Artist Spotlight: Up In The Attic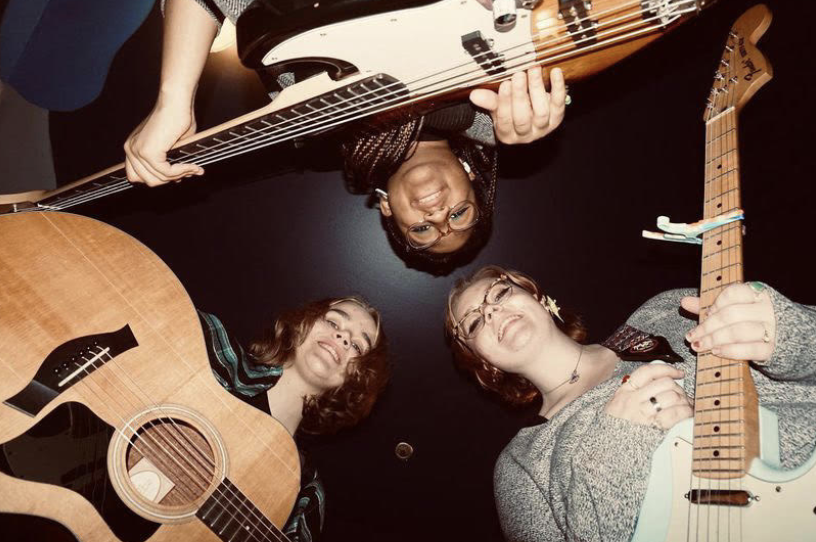 "Up In The Attic" band members (Top: Mya Woods, Left: Alex Wick, Right: Abby Carlson) Photo Credit: Gabi Marler
By Ari Lauer-Frey
"Up In The Attic," made up of singer-songwriter Alex Wick, bassist Mya Woods and arranger Abby Carlson, is a band marked by great chemistry and even better music. Forming in 2021, the group has had a consistent musical presence since the University of Puget Sound's return to campus life after COVID. They have quickly become a musical force on campus since this return, performing at multiple KUPS fests and several other shows on campus and around the Tacoma area. Their urge to create has been equally steady, as they have released multiple tracks on their Spotify page with even more endeavors in the works.
The band started exactly where their name suggests: the attic. Wick and Carlson met while taking classes in the University's music program during their first year of college. The relationship was solidified when they teamed up for a final project for their music and business class. Tasked with writing and recording a song, the pair got together and began working in Abby's attic, sharing their musical interests and ideas. "We were up in the attic and they were playing me a bunch of really, really cool songs and I thought 'why the heck don't you have a band yet, friend?" Carlson said.
It was a perfect fit. Alex had past experience in songwriting, and Abby's interests lay in their guitar and creating arrangements. And so "Up In The Attic" was formed. "I've always wanted to be in a band ever since I was little. I've been singing before I could talk. And now that it's all happening, it's out of this world exciting," said Wick.
Woods came along the following year. A proactive bassist and prospective Puget Sound student, Woods advertised their interest in joining a band on Facebook before even getting on campus. Alex responded soon after, and Woods was in the band before they had even arrived at school.
The band's exceptional origin also suggests the attitude at its core. Just as many other college bands have done, both out of necessity and because of the unique opportunities it provides, "Up In The Attic" has embraced a DIY sensibility and sound, leaving all aspects of creation, production, and promotion in their hands. As Wick stated matter-of-factly, "It's cheaper."
Technological advancements have made the do-it-yourself route a much more accessible path for young artists. "Up In The Attic" has found the DIY route to be particularly rewarding, offering them notable freedom of creativity. "There's almost nobody else in the creative process other than who you deem to be, so you're not limited by anything else," Woods said.
It's this freedom in and control over the creative process that makes it difficult for the band's sound to be boxed in a corner. They've been called everything from bedroom pop to indie folk and softcore punk. "There's never too many cooks in the kitchen or more people than need to be, which I think is why sometimes we have a sound that can fluctuate to different genres because we just want to do what we're feeling when we're writing a song," Woods said.
Though it would be hard to define their music as any one genre, it is clear to see their fondness for folk music, the band referencing Joni Mitchell, Phoebe Bridgers and Indigo Girls as major influences. There is a certain rawness of expression and sense of collectivity at the heart of folk. "It's cozy and nostalgic and most folk music you can just kind of listen to it and play along. So, I think that definitely has a draw of community, of making music with people for the sake of making music," said Carlson. The band displays these characteristics both in their love for the process of making music and the moving intimacy they create on songs like their single "Growing Up," with its personal lyrics and light but poignant instrumentals.
Up In The Attic" is also acutely aware of the self-promotional aspect of being an up-and-coming band doing it on their own. They are dedicated to creating online engagement for themselves, frequently posting music snippets and other promotional content to their Instagram page as well as having a YouTube channel with songs and even a short documentary on the making of their "Talking" EP. "We're pretty hyper-aware of social media stuff. If you aren't taking advantage of TikTok and Instagram and that stuff, you're gonna have less interaction and it motivates you to want to make more things, more songs," Carlson said
In their recent Instagram promotions, the band has hinted at a new creative project that they are working on. Though they are still keeping much of this under wraps, they were able to give a small hint, Carlson noting that "stop motion is involved." Whatever the project may be, it is sure to be impressive and endearing based on the group's past work. Be sure to check them out on their Spotify and various social media pages, and look out for whatever is next for "Up In The Attic."