Wittstruck's last concert, combined PLU and Puget Sound Symphony Orchestra dazzles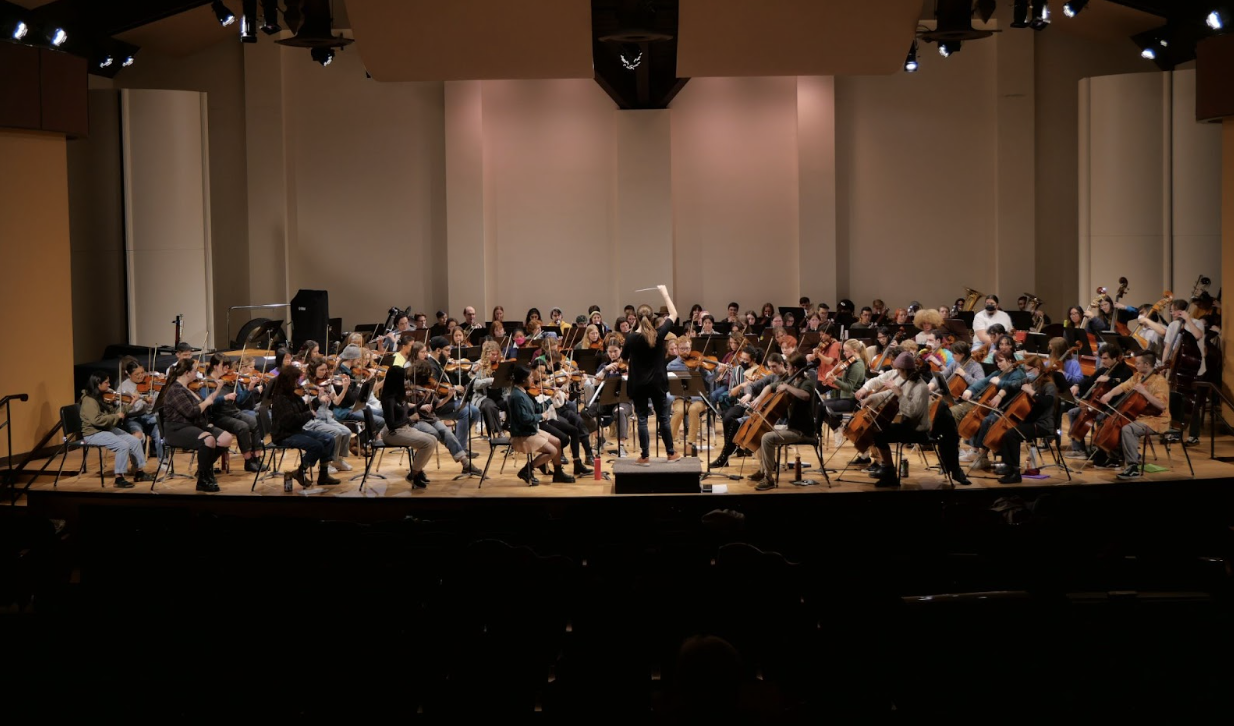 Anna Wittstruck conducts during the first PLU/Puget Sound combined rehearsal Photo Credit: Anna Mondschean
By Sam Gerrish
If you walked by the music building the evening of Friday, April 14 and thought things might've been a bit louder than usual, you were right — they were twice as loud! That's because the orchestra was twice as big that night, as Puget Sound's Symphony Orchestra was joined onstage by Pacific Lutheran University's Symphony Orchestra for a collaborative concert that was years in the making. "There was a lot of preparation that went into it both in terms of creating this collaboration with PLU and these conversations that have happened over the years," said the University of Puget Sound's Director of Orchestra, Anna Wittstruck.
The concert was held at 7:30pm in Schneebeck Concert Hall, and the stage was packed! The combined orchestra played three pieces: "blue cathedral" (1999) by Jennifer Higdon and conducted by Jeffrey Bell-Hansen of PLU, "Sea Pictures" Op. 37 (1899) by Edward Elgar and conducted by Wittstruck, and "Death and Transfiguration" Op. 24 (1889) by Richard Strauss and conducted by Wittstruck. Featured in the second piece was Raine Filbert '23, mezzo-soprano and winner of this year's Concerto-Aria Competition
Not only did the event honor the final concert seasons of both Wittstruck and Bell-Hansen at their respective universities, but it also served as a celebratory send-off to the members of the class of 2023 who are part of the University of Puget Sound Symphony Orchestra: Bennet Baynham, Chris East, Olivia Fross, Maura Lake, Holland Mueller, Christina Nguyen, Dylan Petersen, and Jules Tan. Wittstruck spoke to the attributes of each of the eight students, remarking on their growth as individuals and their contribution to the orchestra as a whole.
Wittstruck herself has contributed to the University's orchestra over the course of her six-year career as director of orchestra and assistant professor of musicology. She feels that working to bring together the academic and performance aspects of music for her students is one of the most rewarding parts of her job. "I have a lot of students in the orchestra who are also taking my romanticism course or taking my introduction to historical musicology course. And so, we're able to have these moments of critical reflection in the class room and then also share these moments on stage and in rehearsal. And through that there's this privilege of getting to know your students in a different way and also accessing the material very interdisciplinarily," said Wittstruck. 
Another aspect of her job she finds gratifying is being able to provide her students with unique experiences, such as meeting Caroline Shaw — the composer of one of their pieces — via Zoom over the pandemic, or working with South Asian composer Reena Esmail and Hindustani singer Saili Oak as a part of the Symphony Orchestra Pan-Asian Contemporary Music Celebration earlier this semester. "These opportunities to partner with guest artists in a way where the students are having meaningful interactions with them, and getting to play music and play music with people on stage with them in this way that's just so energizing and electric and stylistically diverse, culturally relevant, those have been projects I've been really proud of," said Wittstruck.
Wittstruck is moving on to the position of associate professor of the practice at Boston College, and this concert was the last she will conduct at the University of Puget Sound. In her new position, she will direct the college orchestra and instrumental chamber as well as teach courses. She is looking forward to bringing her integrative approach to music to this new role. "It allows me to continue to be part of that development of musical performance opportunities for students and also to be in the classroom and interacting with them that way. But it's just in a new environment, a kind of new stage of my career and new coast," she said.
Still, Wittstruck will miss the students she leaves behind at Puget Sound. "The students in my orchestra, their capacity, their compassion, it's, it's special. I hope that they know that," she said.