What does it mean to be a Jewish bluegrass band?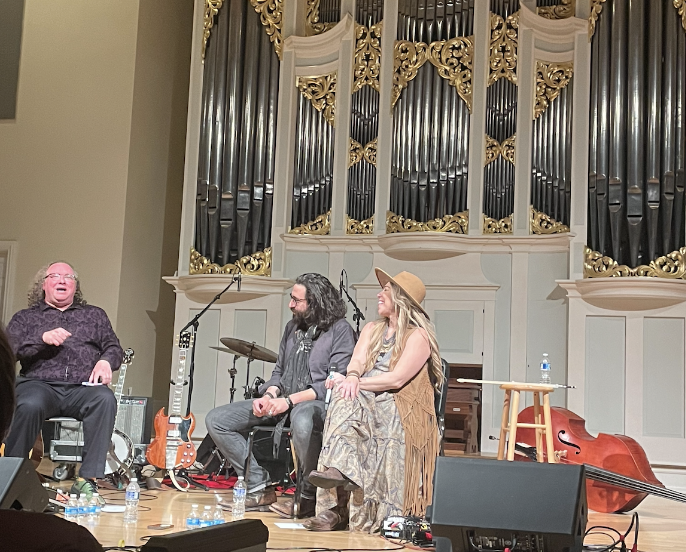 Nefesh Mountain (Eric Lindberg, Doni Zasloff) talks with the University Chaplain at the Spring 2023 Swope Endowed Lecture "Songs and Stories of Spirit." Photo Credit: Kaya Heimowitz
By Kaya Heimowitz 
In a cozy room in the basement of Kilworth Chapel, while their two-year-old daughter happily ran around the room and played with tea packets, I sat with Doni Zasloff and Eric Lindberg to talk about Nefesh Mountain, their Jewish bluegrass band. The band's name, I learned, pretty much sums up a lot of their identity. "Nefesh" comes from the Hebrew word meaning soul, and "Mountain" comes from the band's love of mountains and the importance of mountains in Jewish history as well as bluegrass music. Lindberg explains that "Nefesh" was not chosen because of its religious significance, but its association with the concept of transcendence, or as he defines it, "The power of soul and the idea of folk music kind of transcending genre and time and being music for people to reach a different place."
Zasloff and Lindberg have been drawn to folk music for different reasons. Zasloff has always been passionate about bluegrass and folk music, and she explains that it was the most natural sound for the band. "When it came to us, putting our hearts out through music, it was kind of like, what just came pouring out," Zasloff said. Lindberg, on the other hand, was drawn to the call-to-action present in most folk music, and explained, "Part of the mission of the band is trying to like, you know, help things that are wrong, this tikkun olam sense of like, we want to repair things that are broken or that are seemingly broken in the world."
The love Nefesh Mountain hopes to share with the world is easy to see within the pair's dynamic both as band members and a couple. During the interview, they take turns answering questions, suggesting that the other speak on something more specific, and shift between answering questions and entertaining their daughter.
Nefesh Mountain has traveled across the country and to various music festivals to perform and share their stories. They travel with their youngest daughter, who, by the time she turned one, had visited 29 states. While traveling with those you love and meeting new people has many benefits, publicly being Jewish in the bluegrass world means they are not always welcomed with open arms. There have been times the band has encountered bluegrass and folk radio stations that refuse to play their music because it is too religiously "Jewish." These stations would not even play an instrumental song performed by Nefesh Mountain, suggesting that the issue wasn't the music, but the band members being Jewish themselves. Amid these struggles, Nefesh Mountain continues to be open about their Jewishness.
Musically, Nefesh Mountain pulls from American folk music, not Jewish folk music. Pieces of Judaism can be found in songs, whether that's a few lines in Hebrew here and there, a prayer for travelers inspiring a song, or a song written in response to the Tree of Life shooting. Zasloff explains that their band puts out their stories, and because Judaism is a part of them, it makes its way into their music. "It's how we identify, and it's who we are and what we're proud of," Lindberg explained.
Nefesh Mountain is always going to be Jewish, but don't see themselves confined to just "Jewish bluegrass." "Our Jewishness shouldn't be condensed into being a shtick and the bluegrass shouldn't be condensed," Lindberg said. They want to expand and experiment with music beyond traditional bluegrass that tells their stories and does not hide their Jewishness.
Creating music and performing as Nefesh Mountain has helped Zasloff and Lindberg deepen their relationships with Judaism. "This music, it's my Rabbi, it's my I don't know. It's my way of staying connected to my Jewish spirit," Zasloff said.
Lindberg expressed that he struggled with what to do with his Judaism as a college student who studied jazz music. He felt pressured to balance being a musician and a so-called "good Jew," a concept that many Jewish people struggle with. "This band has freed me to be like, I can just always be that. It's always there alongside me," Lindberg said.
Nefesh Mountain will soon finish recording the second half of a new EP, including some cover songs and new sounds. Lindberg has been conceptualizing a new direction for the band that breaks out of the mold of traditional bluegrass, adding in drums or electric guitar in addition to acoustic guitar, upright bass and the mandolin. The band navigates these experimental sounds as new ways of exploring music and telling their stories. More music, performing, radical love and traveling together is in their future